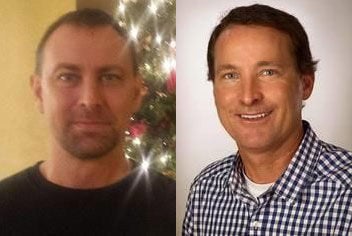 It took a little time away from home before Dothan District 6 Commission candidates David Crutchfield and Gary Roney, Dothan natives, could truly appreciate the circle city.
Crutchfield moved to Tampa, Florida, around 1993 for work. Almost immediately, he began trying to figure out a way to get back to Dothan.
Roney moved to Atlanta for work around 1985, managing grocery stores and working for Hitachi. He moved back to Dothan around 1990.
"Atlanta is a great place to visit. You don't want to live there," Roney said.
District 6 residents will go to the polls Tuesday to determine who will fill the seat left vacant by Hamp Baxley, who resigned late in 2015. The seat is held on an interim basis by Steve McCarroll.
Roney was born and raised in Dothan while Crutchfield moved here in the fifth grade. Their stints away from the city during their working years may have helped push each of them to public service.
"We quickly realized we wanted to be back here," Crutchfield said. "I think that is one of the reasons I put my hat in the ring. We love Dothan. It's a great place to live and raise a family and I just want to be a part of what has already been done to make this a great place."
Crutchfield attended Heard Elementary, Girard Junior High School and Northview High School in Dothan. He received a degree from the University of Alabama and later attained a master's degree from Troy University-Dothan.
He said many residents in District 6 are concerned about the sewer-related costs incurred by the city. Dothan is in the midst of an Administrative Order on Consent with the Environmental Protection Agency, requiring massive improvements to the city sewer system, which deteriorated to the point that numerous sewage overflows were occurring in several parts of the city.
Crutchfield attended most of the commission's strategic planning session last month and said he learned a lot about the commission's deliberative process.
"Everyone had a voice and communicated their ideas really well," Crutchfield said. "It took a long time, but when you take more than 100 ideas and you get it down to six priorities, that's going to take time."
Roney said he is also hearing sewer-related concerns from District 6 residents, as well as questions about the city's landfill expansion plans and racial tension in Dothan.
Roney organized opposition to a proposed development near his neighborhood last year. He and many residents in and around the Woodsvale Subdivision opposed a mixed single-family and duplex development on an undeveloped piece of property near the subdivision. Residents voiced opposition four times at Dothan Planning Commission meetings and the proposed development ultimately failed to gain approval.
Roney said his involvement led others to suggest a run for office.
"You've got to go voice your opinion. You have to get everybody together. I think we have helped several other neighborhoods with similar issues satisfactorily resolve situations. A lot of people think when something like this happens, they just have to live with it. Well, they don't," Roney said.
Roney said a vote for him would be a vote for the blue collar worker.
"Of course I plan to represent the whole district but I think maybe it is time for a blue collar voice, maybe a different perspective. Everyone's voice is equally important," Roney said.
Crutchfield said his election would signal that District 6 residents see him as a trusted liaison and someone who is going to provide an answer to questions, even if it isn't the answer people want to hear.
"I think a win would mean the people trust I will do the right thing, listen to them and keep them informed. People want to know their needs and issues are heard. I want to make sure people get an answer and an explanation. Knowledge is important," Crutchfield said.
-------------------------
Below are the contributions to the campaigns of Dothan District 6 candidates David Crutchfield and Gary Roney, as listed on their Campaign Finance Reports.
John and Beverly Mitchell $300
James and Allyson Powell $100
F.M. and Susan Detulius $250
Billy and Beverly Mason $100
Brent and Elizabeth Cook $250
Davis Body Shop – Enterprise $250
William and Ann Thompson $500
Tom and Jane Ziegenfelder $301
John and Gail Watson $500
G. Mack and Nancy Dove $500
Sonia Crutchfield (loan) $225
Prim & Mendheim, Law Firm $100
Prim & Mendheim Collections $200
Shane and Christina Sinquefield $250
C.W. & N.M. Northcutt $100
Dr. and Mrs. Dan Denny $500
Dow Huskey Acct. No. 2 $200
Leon A. and Barbara D. Minsky $200
Daniel F. and Julia G. Johnson $150
Wholesale Wood Products $500
Mr. and Mrs. James C. Ellis $200
Alabama Builders PAC $500
Alabama Realtors PAC $250
Jim and Martha Thagard $50
William and Carmen Adams $250