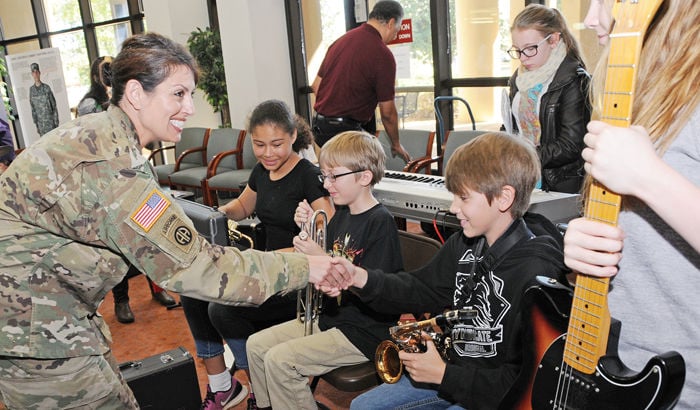 In 2015, the Army reported 2,660 cases of child abuse, with 25 cases reported at Fort Rucker alone, but according to the garrison commander, even one case is one too many.
Col. Shannon T. Miller proclaimed Fort Rucker's commitment to child abuse prevention by signing the Child Abuse Prevention Proclamation during a ceremony in the atrium of Bldg. 5700 where people gathered to show their support for the effort.
"As garrison commander, I'm calling on all of us, military and civilian, parents and non parents, to unite for a common goal – to end child abuse and to make a commitment to this prevention effort," read the proclamation. "I am committed to ending child abuse and educating our community on prevention methods."
April is Child Abuse Prevention Month, and this year's theme for the observance is, "Child Safety to Prevent Child Neglect."
During the signing ceremony, students from the Fort Rucker Elementary School provided musical entertainment, and it's because of children like the ones who performed that it's important the post takes a stand against child abuse, Miller said.
"Children are the future of our nation and it's our job to keep them safe," she said, adding that one of the main forms of abuse that many don't realize is neglect.
According to Miller, of all the reported incidents of child abuse, 83 percent of incidents were that of neglect.
"This is the age of technology and we all get distracted, but those seconds of distraction could be the difference between life and death for your child," said the garrison commander. "Careful supervision is paramount to prevent accidents and injuries."
Miller shared a story about a friend she was introduced to who lost her children to an incident of child neglect.
"One day, when her children were about 8 and 12 years old, they went to spend a day on the beach," she said. "While they were there, she had to leave to go to the restroom, so she left them under the supervision of another adult."
When the mother returned to the beach, her children had been swept up by the undertow and drowned.
"Children are considered our precious cargo – they are our future," said Miller, and because of that fact, the Army has many programs to help parents with parenting, whether they are new parents or seasoned veterans, she added.
The Fort Rucker Family Advocacy Program offers programs like the new parent support program and ScreamFree parenting to help parents who might be going through difficult times, she said.
"Everyone in the Army community has a responsibility to step up and let people know about the resources that are available to them," said the garrison commander. "We've had too many cases here at Fort Rucker and (abuse) isn't something we want happening to our children."