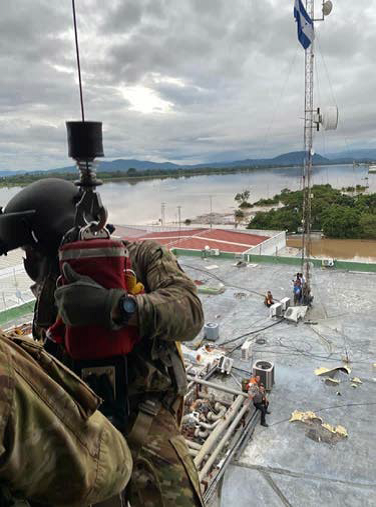 SOTO CANO AIR BASE, Honduras – As Hurricane Eta pummeled through much of Central America in early November, a joint disaster relief response leapt into action, sav­ing at least 289 lives and delivering life-saving supplies to the storm-ravaged region.
Eta was the deadliest storm to hit the re­gion in two decades. Its forceful winds and torrential rainfall left a trail of destruction in its wake, resulting in deadly floods and mud­slides, especially in Nicaragua, Honduras, Panama and Guatemala.
On Nov. 3, the historic storm made land­fall as a Category 4 hurricane in Nicaragua and left countries reeling, said Col. John Litchfield, commander of Joint Task Force-Bravo, or JTF-Bravo. "[We] maintain a high level of read­iness to respond to crisis, particularly hurri­canes and other disasters that require military support."
JTF-Bravo began operations in Honduras on Nov.5, followed by Panama on Nov. 7 and Guatemala on Nov. 10, as each country de­clared a national state of emergency and re­quested the U.S. government's help.
Around 250 troops from JTF-Bravo, U.S. Army South, U.S. Special Operations Command South, and other U.S. Southern Command teams were deployed to Central America's hardest-hit areas.
"We've been able to help out partners in Central America," said 1st Lt. Paige M. Ziegler, a CH-47 Chinook pilot with Charlie Company, 1st Battalion, 228th Aviation Regiment, as­signed to JTF-Bravo. "We're proud to assist in their time of need."
For many of the people they helped, it was their first time seeing a U.S. Army helicopter, she added.
"We're landing in these incredibly remote areas and being able to assist them," she said last week, "and seeing how gracious they are for our help has been the most rewarding mis­sion I have done to date."
Capt. Max Vandervort, commander of Bravo Co., 1-228th Avn. Rgt., flew missions around the region, including to Guatemala.
"It is the unfortunate truth that this country [Guatemala] is extremely versed in handling natural disasters," Vandervort said. "Through all of the mudslides, high-water lev­els, and illnesses, the Guatemalan people have been so friendly and appreciative.
"We are all Americans, and I know that they would do the same for us if the roles were reversed," he added.
Once the storm made landfall, Litchfield said his troops were able to get out and save lives. "The first 72 hours were almost exclu­sively on search and rescue," he said. "People who were trapped, and in very dire circum­stances."
After the initial lifesaving efforts, "we started to transition to places where people were isolated and needed to be extracted or needed life-saving supplies," he added.
JTF-Bravo then expanded its mission, which concluded over the weekend, from res­cue to delivering life-saving supplies and hu­manitarian aid to stranded communities. The first round of humanitarian aid was delivered Nov. 9 to the Cortes Department of Honduras.
"In addition to standard [UH-60] Black Hawks, we have several that are specially con­figured for medevac missions," Litchfield said last week. "We also have Chinooks, our heavy cargo helicopters, which is our most capable platform in terms of range as well."
The Navy, Coast Guard, and the British military also supplied manpower and helicop­ters toward the mission, he said.
Military personnel were deployed to some of the most gravely affected communities, Litchfield said, and a daily haul of more than 378,000 pounds of life saving aid was deliv­ered.
"I'm extremely proud of the tireless efforts the men and women of the Winged Warriors have demonstrated to save lives and bring comfort to those affected by this devastating storm," said Lt. Col. Adam R. Bock, com­mander of the 1-228th Avn. Rgt. "What we do here matters, and it's inspiring to see everyone working together towards a common goal."
This common goal, as Bock said, is an all-hands effort that has included host nations' governments and organizations. Litchfield es­timated that for every life saved by Americans, Honduran forces have saved 10.
"There hasn't been any challenge that we couldn't overcome, either overcome as a task force, or more importantly, with our host na­tion partners," Litchfield said.