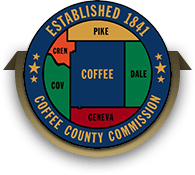 Coffee County Emergency Management Agency Director James Brown reported a slight drop in cases and hospitalizations in the county at Monday's county commission meeting.
Although the county has improved in recent weeks, Brown said that hospital intensive care units (ICUs) in the area are still well over capacity.
"This is always concerning because people have to call around and find a place to put people," Brown said. "I read an article the other day where they had to call 40 different hospitals to find a place for a person to go, and they ended up transferring them down to Mississippi about two hours away."
While Brown said that overall the situation is still bad, the slight drop in hospitalizations is probably due to cases also going down. He said that although this is a good thing, they are not sure if this is a trend and are still watching the numbers. Cases could also have a small increase soon from the Labor Day holiday, as they have usually seen an increase around two weeks after holidays.
"We really think that because hospitalizations come after the cases, we're probably going to remain in this high area for another at least three to six weeks in our area," Brown said. "It may be in the state for the foreseeable future because cases seem to be moving from the south to more north, so the cases haven't really dropped as far as the state goes, but a little bit in our area."
Brown also reported that the county's positivity rate has dropped. On Sept. 3, Coffee County's positivity rate was reported as 30.7 percent and has since decreased to 22.9 percent. Brown said the ideal rate would be at or below 5 percent, meaning community transmission is low.
Vaccinations have increased both in the county and statewide. Alabama reports 51 percent of the eligible population with at least one dose of the vaccine and 40 percent of the population being fully vaccinated. Brown said Coffee County needs to see more improvement and reported that 37.3 percent of the county has received at least one dose and 29.78 percent has received both doses.
"Again, we highly encourage everybody to get the vaccine. It will more than likely keep you out of the hospital," Brown said. "I know we see hospitalizations with people who have had this, but usually those are people with some underlying condition, like they have cancer or something like that, so their immune system didn't necessarily really build up the antibodies the way it should."