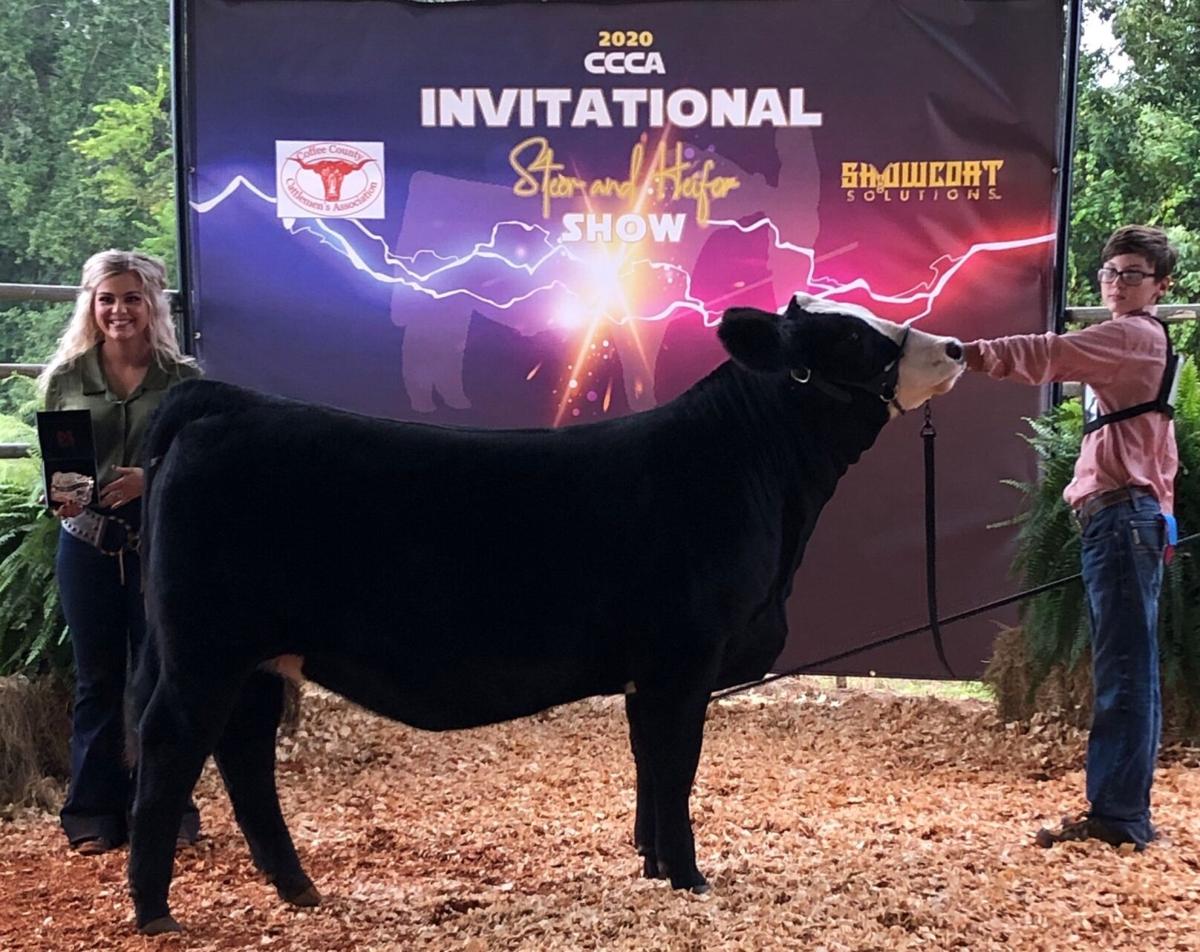 An Enterprise High School student's show heifer won the title of Grand Champion Heifer at the 2020 Coffee County Cattlemen's Association Invitational Steer and Heifer Show at the Coffee County Ag complex in New Brockton last Saturday.
Dow Boyd first started showing heifers five years ago when he was 9 years old. His father, Bo, who grew up on Boyd Farm outside of New Brockton and also showed steers, said it runs in the family's blood. After a few "bumps and bruises" along the way after showing his first heifer, Bo said his son grew to love it.
"It's really something that's kind of his sports," he said. "It's his football, baseball, basketball; it's what he spends the majority of his extra time doing. He's in the barn working with his calves on a daily basis and on the weekends, so it's almost like a full-time job. He takes it seriously and puts his heart into it."
When most people not involved with raising show cows think of these competitions, they think of the grooming and behavioral  aspect, like making sure the cow's coat is clean and shiny, the weight is correct and that the animal is well-behaved. Bo said much more goes on behind the scenes than meets the eye, including embryo transplants and artificial insemination.
"This deal is more than just the show aspect of it. This is a project where he's been able to make breeding decisions with his animals," he said. "He chooses the bull he wants to breed his heifer to, and there's definitely some technology behind this. It teaches you a lot about animal science, animal husbandry and genetics. There's a lot that goes into it. It's just not all what most people would consider is just a farm deal."
Calves can be shown between the ages of 6 months and 2 years old. At just 14 years old, Dow has raised a total of 35 calves, and every heifer he's shown has had a calf. In fact, his first heifer just had her fourth calf on Friday. Bo said every calf the heifers birth goes right back into his son's herd or are sold to other showers for their genetics.
"These aren't spike yard animals," Bo said.
Dow said every day when he gets home from school, he goes straight out to the barn to wash the calves that he's already preparing for future shows.
"I have four calves to wash every day and get their hair brushed to get them ready to show," he said. "What you feed them every day is really important, and also how you work them. You need to get out and be able to set them up like you're supposed to when you're actually in the show environment. You've got to practice these steps so they'll succeed in the showroom and you'll be able to win."
Dow is no stranger to winning. He said he's won Grand Champion "many times," state once, reserve twice and third overall once. His successes aren't limited to Alabama or the Wiregrass, either. He and his dad have traveled to Georgia, Mississippi, Florida and Tennessee.
"Basically all around the South I've been able to show and win," Dow said.
Because Bo showed steer when he was Dow's age, the after-show process was different to say the least — the cows most often didn't come home. Dow said it was important to his dad that he have the opportunity to look back on his accomplishments and also see his cows having a good life.
"He wanted me to show something that I could show and still bring them back to the house and be able to produce show calves," he said. "He really wanted me to have something that I could look back on and be able to say I raised calves that were able to win in the show room and be able to be a momma cow when they go out and can be in the pasture."
This win in particular was special, Dow said, because it really showed off the heifer's progress and his hard work.
"It felt really good seeing my hard work pay off and being able to win with one of my favorite heifers I've ever had. It was a great feeling just to see how she's turned out," he said. "I've had her since March when she was 5 months old, and now she's a year old this month so seeing that progress was a really great feeling."
Dow lives with his three younger siblings and his parents in Dothan, but he goes to school in Enterprise. Bo said his son approached him and his wife, Hope, earlier this year with his desire to transfer to Enterprise.
"Enterprise has the reputation of having a very good agriscience program. Dow approached us about making the change, and we wanted to support him and do things that he thought would help push him toward animal science," he said. "It's more than show. It's something he's really enjoyed and gotten into, and it's probably something that later on down the road could be something he wants to do from a business standpoint."
For Dow, it wasn't just the opportunities that Enterprise offered him, it was the culture of the school and community that drew him in, too.
"They just treat you like family. Enterprise is built on helping others, and that's really what I wanted to be a part of," he said. "They have a great school system. The teachers ask you if you need help, and they'll do anything for you. They really just treat you like you're family. They're great people to be around and it's a great school environment. 
"Everyone should go there. They have a really great agriscience program, and their FFA succeeds in the Alabama State FFA Convention every year. They're always one of the top chapters."
Bo said they travel for shows as often as they can. This weekend, Dow competed in the 2020 Livestock Expo in Montgomery at the Alabama National Fair, and they'll travel soon to Louisville, Ky., to the North American Livestock Exhibition, the largest purebred livestock show in the world.
Bo said the long car rides together have given them further opportunities to bond and joked about the next generation bringing him back into the fold after he decided to pursue law.
"It's kind of funny how things come full circle," he said.
The 2020 Coffee County Cattlemen's Association Invitational Steer and Heifer Show featured over 80 head of steers and heifers exhibited by 54 youth from 4-H groups, Future Farmers of America clubs and Junior Cattlemen's Association chapters from Alabama and Florida.
Greer Jones of Brundidge had the Grand Champion Steer in the competition.
The show consisted of a Showmanship Class for all exhibitors, a Novice Showmanship class for first time exhibitors, and steer and heifer classes all judged by Kylie Patterson from San Antonio, Texas.
This year's show also featured a livestock judging exhibition for youth during lunch. The Coffee County Cattlemen provided a hamburger lunch to all the exhibitors as well as their families. The show was made possible by the Coffee County Cattlemen's Association and many corporate and individual sponsors.
Be the first to know
Get local news delivered to your inbox!