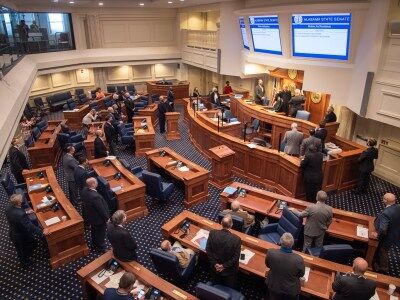 Policies focused on growing Alabama's economy and elevating its communities are a high priority of state lawmakers in this year's legislative session.
The 2021 legislative session opened on Tuesday in Montgomery. Discussions quickly centered around ways to help the state continue its recovery from COVID-19, among other pressing issues. State Sen. Greg Reed of Jasper said lawmakers are committed to helping Alabamians overcome hardships caused by the virus.
"We've been able to fare much better than a lot of other states and the credit for that goes to the people of Alabama and their work ethic and diligence," Reed said.
A bill that will ensure that those who received federal coronavirus aid dollars "will not pay one penny in state income taxes on that relief."
Legislation to renew economic incentives that have helped build Alabama's economy.
A bill that will prevent businesses and health care providers "from frivolous lawsuits that might come because of COVID-19."
"Those are going to be the three priorities," Reed said. "We're going to be working diligently on those."
"It's a critical issue," Scofield said. "I'm very proud of the work we've done so far, (but) we could definitely do more, and I look forward to having a real impact on making that happen."
Another initiative gaining traction is the work of the Alabama Innovation Commission, created in 2020 by Ivey to develop a policy roadmap that will build an inclusive economy that supports growth in technology and entrepreneurship. Alabama native Condoleezza Rice serves on the commission's advisory council. The Hoover Institution at Stanford University, a public policy think tank promoting the principles of individual, economic and political freedom, is led by Rice and is partnering with the Innovation Commission. The commission earlier this week launched its "Innovate Alabama" website to highlight growth efforts and raise awareness and engagement.
"Alabama is well-poised in being able to grow entrepreneurial opportunities and high-tech opportunities as a result of things going on in Alabama," Reed said. "There's a lot of opportunity and Alabama needs to seize it."
Tuesday's legislative session marked a change in Senate leadership. The upper chamber unanimously elected Reed to replace state Sen. Del Marsh of Anniston as Senate president pro tem, a position Marsh resigned from Tuesday after serving 10 years in the role. Marsh said he resigned because he plans to leave the Senate when his term expires in two years.
"I was ready," Marsh said. "I told my colleagues I want to work on specific legislation my last two years and to do that, you really have to be able to focus on it."
Reed, whose father is an Alabama Power retiree, said he is honored to serve.
"It is a distinct privilege to serve in this role," Reed said. "It comes with a lot of responsibility and I'm up to it and eager for it and will ask for the prayers and support of all of my colleagues in being able to serve together."
Reed had previously served as Senate majority leader, a position senators on Tuesday selected Scofield to fill.
"This is a great honor," Scofield said. "I'm looking forward to working with all of you."