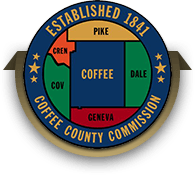 During Saturday's bout of severe weather, 36 downed trees over 29 different roads were reported to authorities along with four fallen power lines, two weather-related accidents, two fires believed to be caused by lightning and two possible tornadoes, Coffee County Emergency Management Agency Director James Brown told commissioners Monday morning.
Brown said the potential tornadoes still needed to be investigated and confirmed but added that the location—deep in parts of the county's wooded areas—would make investigating difficult. He also said one law enforcement vehicle was damaged on County Road 617 and several homes received hail damage. No injuries were reported.
Despite the rough conditions, Brown and E-911 Director Dean Blair commended emergency services and first responders for communicating efficiently.
"It was a busy weekend, but we made it through and we're happy everyone was safe," Brown said. "Overall, it was a good response and I want to thank everyone that helped out. Without all the volunteer fire departments, our engineer office and our Sheriff's department, we couldn't do this thing. We appreciate everyone's response."
Blair added, "Thank you to everyone who helped Saturday. I've mentioned this before, but we have such great teamwork."
Commissioner Josh Carnley also recognized Brown and the EMA for their accuracy in when to expect the weather to hit.
In the briefest COVID-19 update of the year, Brown said the numbers keep going down.
"I looked Friday and the numbers kept going down. We're looking good right now; hopefully we missed any bump from spring break, and we hope that maintains," he said.
He also said they're watching the situation in Michigan closely and that it seems to be one of the variant strains.
According to the Michigan health experts, the state is currently experiencing the most dangerous outbreak of COVID over the entire pandemic with more younger people being admitted to hospitals with the coronavirus than at any other time since COVID was reported in the United States. Michigan hospitals are now admitting about twice as many coronavirus patients in their 30s and 40s as they were during the fall peak, the Michigan Health & Hospital Association reported. Public health experts say the outbreak is driven by the B.1.1.7 variant, which is known to be more contagious and more severe.
In other business, County Engineer Marty Lentz requested to purchase a 2015 F-350 diesel pickup truck from the state surplus at a cost of $25,890 and to sell the county's current 2010 F-350 pickup truck, citing a "severe engine problem" that would cost approximately $8,000 to $10,000 to repair. The truck in question is the county's litter pickup truck and as litter pickup is resumed, the need to replace the truck arose.
Lentz said the county has hired two temporary workers from an agency in Dothan until inmates become available through the work release program in Elba. Commissioner Jim Thompson asked when that would resume, and Lentz said he believed it is up to the State Department of Corrections to make that decision.
"The best information I've gotten is that the state has not made a decision as to when they're going to allow the work release (inmates) to get back out. I'm hoping it's soon," he said.
The county also received three bids for corrugated metal pipes, and all came in higher than normal: Twin Oaks was the low bidder at $16,080, but did not include the bands to accompany the pipes because the company does not make them. The second lowest bidder was Empire Pipe and Supply at $20,515.10, and Contec Construction was the high bidder of $20,818.62.
After a brief discussion of the price disparity compared to usual times—since COVID has increased the cost of building materials and other metals—Lentz recommended the commission reject the bids and amend its pipe policy to allow the use of dual-wall, high density plastic to keep the price in line with what is currently being paid, or about a 20 percent decrease compared to what was paid back in January for the corrugated metal pipes. The plastic has been approved and is used by the Alabama Department of Transportation.
Carnley asked if they would have to re-bid for the plastic pipes, and Lentz said Covington County has a bid for the region with a supplier in Andalusia they can purchase from, so they will not have to re-bid.
County Agent Gavin Mauldin reported about 25 people participated in the Forestry Landowner Tour on Friday at the National Security Recreation Property in Elba and recognized Coffee County's 4-H Shotgun Club junior team for bringing home first and third place awards in the state competition several weekends ago.
Mauldin also reminds those interested that a litter cleanup day in Elba, "Don't Drop it on Elba," will begin at 8 a.m. Saturday.