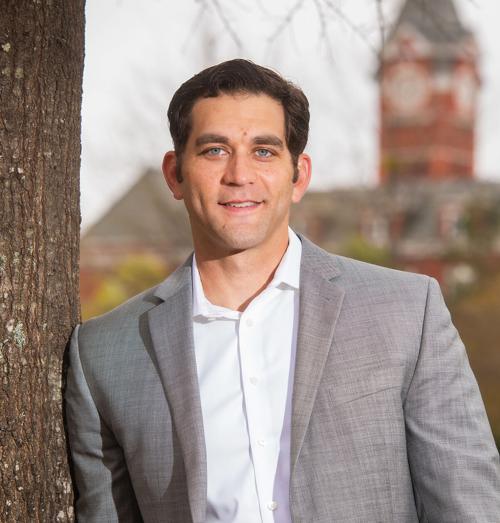 AUBURN, Ala. – Robert Sitze, a native of Enterprise, Alabama, has been selected as the student marshal for Auburn University's School of Forestry and Wildlife Sciences in the university's spring 2021 commencement ceremonies scheduled for April 30-May 3.
Each college enlists a special committee to select a student marshal who best represents the values and level of excellence within the college and carry its flag at the front of the commencement procession.
Sitze, who now lives in Pelham, will receive his bachelor's degree in forestry. After graduation, he plans to work as a forester in the Cahaba region of Alabama and has accepted a position with The Westervelt Company in the forest resources division.
At Auburn, he was a member of the Forest, Environment and Wildlife Leadership Academy, Vice President of the Auburn chapter of the Society of American Foresters and member of the Forestry Club. He serves in the Alabama Army National Guard's 20th Special Forces Group and is a forestland owner with the hope of restoring his property as a pine plantation and family recreational site.
"During his time at Auburn, Robert took every opportunity to leverage his studies with the experiential learning opportunities available to our forestry students," said Janaki Alavalapati, dean of the School of Forestry and Wildlife Sciences. "In these roles, Robert was able to interact with industry leaders and legislators, which provided him with valuable opportunities to expand his knowledge of real-world issues and policy development.
"Robert presents himself with a maturity and poise well beyond his years, and we fully anticipate he will continue to flourish as a leader and forestry professional."
Auburn's commencement will take place in Jordan-Hare Stadium, contingent on current health and safety guidelines and weather. In place of larger ceremonies that combine multiple colleges and schools, graduates will participate in individual college and school ceremonies in Jordan-Hare.
Beginning at 8 a.m. Saturday, May 1, the university will host 10 undergraduate ceremonies at assigned times throughout the day on Pat Dye Field. The School of Forestry and Wildlife Sciences ceremony begins at 1:10 p.m. The times for all schools and colleges are listed on the commencement website. On Monday, May 3, the university will host ceremonies in Auburn Arena for graduates from the Harrison School of Pharmacy and the College of Veterinary Medicine.
Plans for the spring ceremonies come as the university continues to monitor health scenarios associated with COVID-19. All graduates and guests are required to adhere to all safety protocols, posted on the commencement website.
Contingency plans have been developed in the event of changes to existing COVID-19 regulations or severe weather. These plans include continuing the ceremonies if light rain occurs, adjusting the schedule as needed, and in the event of inclement weather, transitioning the ceremonies to Auburn Arena where they will be livestreamed without guests.
Additional information is available on the commencement website, and information will be posted on the university's commencement Facebook and Instagram accounts.