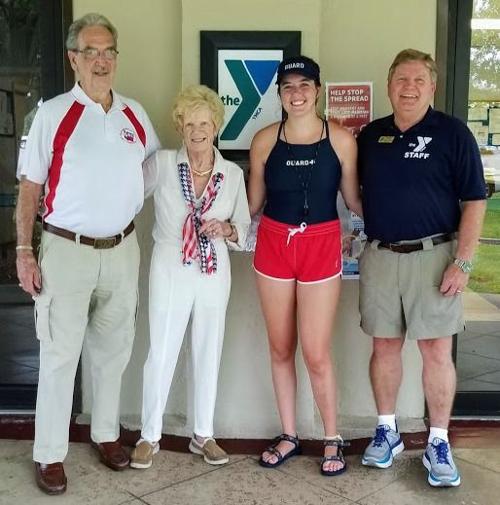 Certified YMCA Instructor/Lifeguard Kaki Holcek is the recipient of the $500 Cooper Scholarship awarded by Bob and Ditte Cooper.
The Enterprise YMCA is very grateful for the tremendous support the Coopers have given to the swim program and many families in the community.
Holcek was in the Y's waterbabies classes in 2001-2002. She took swimming lessons in 2014 and came back to teach in 2019 and 2020.
She earned her lifeguard, CPR and First Aid certification through the American Red Cross.
She is currently attending Auburn University and studying communications and foreign languages with a concentration in communication disorders. Holcek was enrolled in five classes while teaching and lifeguarding this summer.
"I am very thankful for all that the Y has done for me," Holcek said. "I will use this money to help pay for my education."
Her grandparents, Everett and Kay Roper, are very active participants and supporters of the Enterprise Y. Holcek added that her grandmother, Kay Roper, taught her everything she knows.
Mrs. Ditte Cooper touched many lives in the 1980s and 1990s at the Enterprise YMCA and Enterprise & Elba Recreation Centers. She taught children to swim and trained young adults in lifeguard classes.
Ditte was an Olympic hopeful but injured her ankle during the training process. During her five years as a swim instructor at the YMCA, Ditte became interested in a group of children that has given her one of her greatest pleasures, working with special needs children.
Enterprise YMCA Director Richard Pipkin said you can register now for preschool ages 2½ to 5, and after school camp ages 5-12, youth soccer ages 3-17, Taekwondo and more.
For more information on YMCA programs call 334-347-4513 or 334-347-4513.
Be the first to know
Get local news delivered to your inbox!