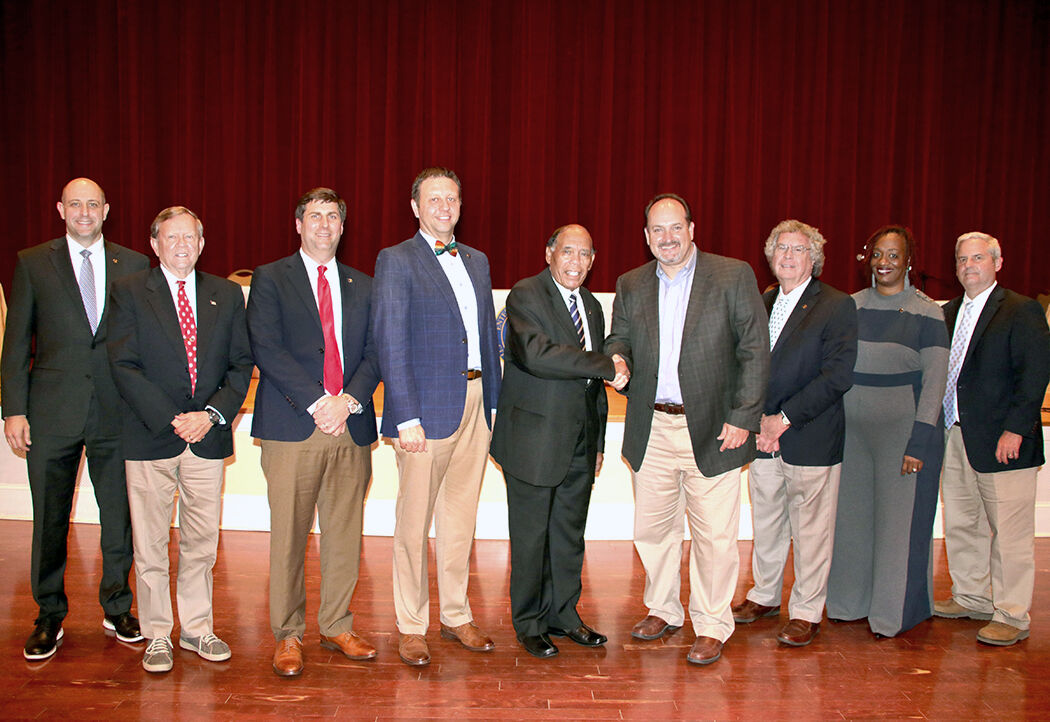 The Enterprise City Council welcomed Barry Mott to the team of department heads after appointing him as City Engineer and Director of Public Works at last Tuesday's city council meeting at the civic center.
Mott previously worked as Vice President and client service leader for Barge Design Solutions in Dothan, a company the city frequently uses for design and engineering services. Most recently, Mott has worked with the city on the new airport terminal at Enterprise Municipal Airport and on the roads analysis back in 2020.
"I've always enjoyed working with Barry and always thought that he was very professional, a good communicator and brought a lot to the table," Council President Turner Townsend said. "I was super excited and thought it was a homerun hire by the mayor. I really could not be more excited."
Townsend said that not only was Mott "uniquely qualified" for the job because of his engineering experience, but also because of his knowledge of the inner workings of the city.
"He already has those relationships—he knows our city, knows the system, knows the people—so the learning curve will not be near as steep as if we went with someone outside of our relationships," he said.
In other business, the Enterprise City Council:
Authorized contract billings with: Beasley Construction Services for one invoice in the amount of $41,965.15 for construction services for the new airport terminal; Lewis, Inc. for one invoice in the amount of $18,500 for demolition/clearance services for the CDBG Demolition Project; Ewing-Conner and Associates, Inc. for one invoice totaling $2,000 for administrative services for the CDBG Demolition Project; CapRisk Consulting Group for one invoice totaling $5,950 for professional services for the preparation of actuarial valuation; and GovDeals for one invoice totaling $46.87 for contract services for online auction fees in February. The total amount of approved contract billings was $68,462.02.
Approved travel requests from: Director of Human Resources Christina Meissner to attend the AAPPA Annual Conference in Mobile from July 28-30 at an estimated cost of $1,213.16; firefighters Zachery Malkovich and Aydan Tate to attend an airport firefighter certification class in Muscle Shoals from April 5-9 at an estimated cost of $1,407; firefighters Tony Odom and Kyle Donaldson to attend a vehicle and machinery extrication class in Tuscaloosa from April 19-22 at an estimated cost of $1,425; and Police Sergeant Adair Lee, Detective Angela Brown and officers Tina Johnson and Andrew Shelton to attend AASRO Annual Training in Orange Beach from June 7-11 at an estimated cost of $4,594.50.
Approved a request to dispose of the following items: seven metal boxes, four office chairs, two keyboards, two four-drawer file cabinets, a Fellowes air filter, an electric stapler, a calculator and a NOAA weather radio.
Introduced a request from San Marcos Mexican Grill and Sergio Meza d/b/a Sidelines Bar and Grill for a Restaurant Retail Liquor (on premises only) license. San Marcos Mexican Grill is located at 1009 Rucker Boulevard and Sidelines Bar and Grill is located at 920 Rucker Boulevard. A public hearing for both requests was scheduled for April 6.
Appointed Councilman Greg Padgett as the city's voting delegate for the 2021 Alabama League of Municipalities Convention.
Approved a $2,000 salary adjustment for the fire chief position.
Authorized the purchase of six new police cameras and docking stations at a cost of $9,182.90 for the first year, $3,450 per year for an additional two years. This is a budgeted cost.
Approved the sale of five surplus police vehicles to the city of Elba at a cost of $2,500 per vehicle, plus the donation of two vehicles in exchange for training expense forbearance.
Called for a motion to authorize Mayor Bill Cooper to enter into an agreement with the Alabama Department of Transportation regarding the roundabout on Shellfield Road and Hwy. 27 that is contingent upon legal review by the city attorney. The motion passed.
Authorized the mayor to enter into an agreement with CDG engineers related to the roundabout and intersection improvements contingent upon legal review by the city attorney.
Approved a request from Billy Powell, Parks and Recreation director, to purchase a 72'' Hustler Super Z3 5hp riding lawn mower for $10,246 and a Polaris 500 Ranger utility vehicle for $9,800. The council also approved a second request from Powell to shoot fireworks on Saturday, May 1 during the Children's Festival in the Park event. The display will be contracted through J&M Displays, and the $4,000 cost will be paid by sponsorships.
Called for a motion to declare surplus property and approve the execution of the deed by Mayor Cooper to cure title issues associated with 525 Glover Avenue adjoining the Public Works facility in exchange for acknowledgement of sewer easements. The motion passed.