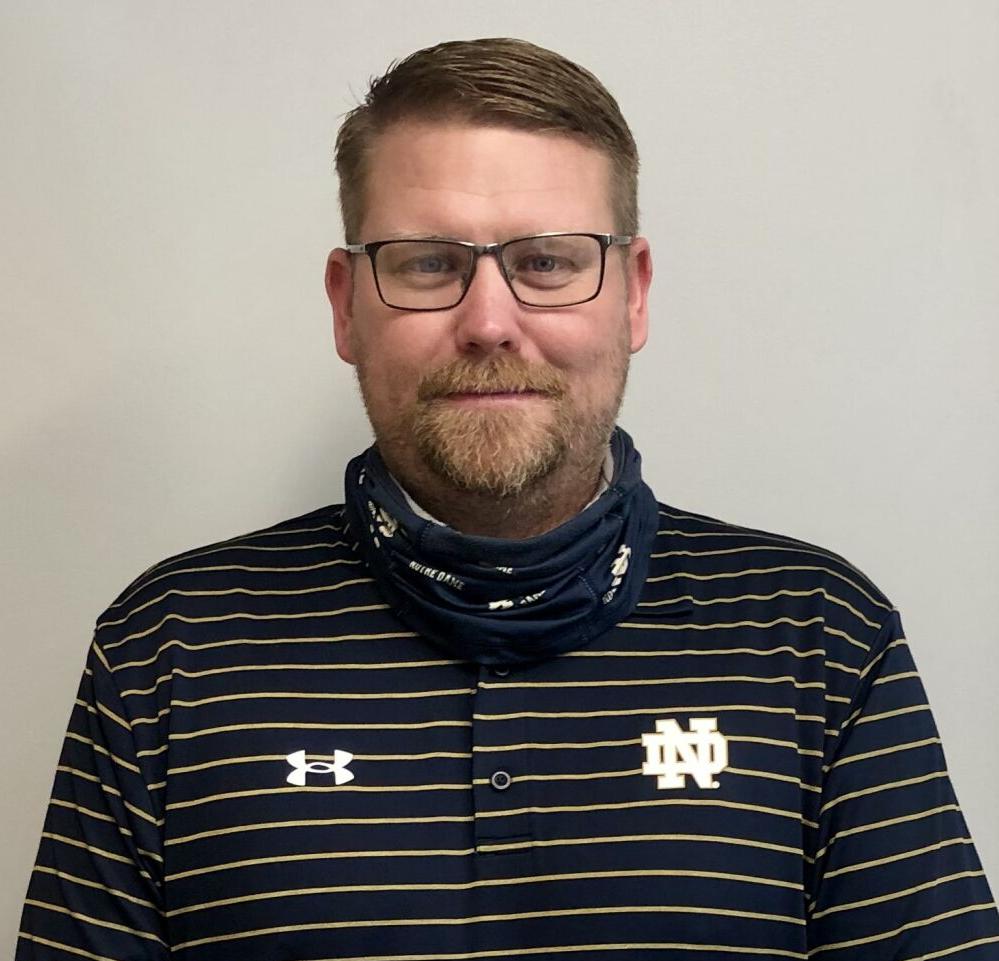 Unlike many teachers in the profession today, newly-promoted Dauphin Junior High School Principal Drew Danner didn't grow up dreaming about becoming a teacher, or a principal.
For the Geneva native and avid lover of math, the plan was to go to graduate school and pursue a career as an actuary, someone who deals with the measurement and management of risks and uncertainty.
"To be honest, that was never really in the thought process when I did my undergraduate. I loved math, but education wasn't even a thought in my mind," he said. "I never grew up thinking I wanted to be a teacher; in fact, it was pretty much probably the opposite because I knew I would have to deal with kids like me."
The plan changed when he got a call from his former football coach telling him about an opening for a math teacher that came with the possibility of coaching football or baseball, but there was still a lot to consider with deviating from the path he'd envisioned for himself, not to mention he was preparing to marry his now-wife of 15 years, Kara.  
"Obviously, all of those things were things I had a passion for. There's a lot that had to factor into that decision," Danner said. "Kara and I were going to get married later that year, but we decided to go ahead and get married a little earlier. I knew that would give us stability and a way for me to provide."
Danner graduated from Auburn University in Montgomery in 2005, where he also played baseball for four years, with a degree in mathematics. He then accepted the job at Dale County High School—my alma mater—where he was able to coach football and baseball. While teaching at DCHS, he earned his master's in instructional leadership from Troy in 2013.
Danner taught at DCHS for eight years before serving as assistant principal at George W. Long High School for six years, and his next move was to accept the assistant principal job at Dauphin.
Like his initial foray into teaching, moving up into an administrative role was a combination of the right time and opportunity.
"I knew I couldn't coach forever. My kids were getting older, and I knew sometime Drew Parker (their oldest child) was hopefully going to be getting into sports and I wanted to spend that time with him, and I felt like that move would give me the opportunity to do that," Danner said. "But it was also a chance to advance. We're always wanting to learn and grow, and that's the great thing about being in education— you have those opportunities."
Although worried about dealing "with kids like me," Danner has an exceptional ability to connect with his students, a fact I'm able to say with certainty as I was his student in ninth grade geometry and twelfth grade calculus. While tough and challenging—especially to someone who gravitated more towards English and science—his class was also one of the most enjoyable, especially when we were able to get him off topic. He credits starting out as a young teacher as part of the reason he was able to relate to his students so well, but also a desire to share his knowledge.
"When you have a passion and you know you have the knowledge of the content, I think wanting to share that with my students was the thing. I did start out at a young age, so I was able to relate to my students," Danner said. "I was 21 teaching students from 16 to 18 years old, so I think that helped. I think all teachers have a lot of the same traits in terms of they're able to relate to their students and they're able to build relationships. They're able to let those kids know they're there for them, but being there for them also means that you're going to hold them accountable.
"The expectations were the same for every student that ever walks through my door, and no different for the students that walk through these halls here or the ones that walked through the halls at G.W. Long. They're all held to the same standards, but that doesn't mean I don't love and care for them and want the best for them. Each one of them."
Danner recalled his first days at Dauphin and what a unique experience it was to go to one end of the school and hear kids singing during choir and then to go to the other end and see students learning about STEM and robotics.
"It's been a really, really good learning experience; another opportunity for me to grow. Enterprise has a lot to offer kids," he said. "They're offered a lot of different avenues and opportunities at a young age, so for kids to be able to experience those different types of electives is really neat, I think, and something that's unique for this area."
No matter the position he takes or the new responsibilities he faces, his ultimate goal is to leave each place better than he found it.
"It's a simple approach, but it's really just about trying to raise the expectations for these kids and trying to create the habits that they need in order for them to be successful as they move into high school and then onto a career, college, or the military, whichever avenue they choose. We want them to be able to develop those traits and habits that will give them those tools to be successful," Danner said. "It's no different than the math students I had in my class at Dale County High or the baseball program when I took it over; I just wanted it to be better than I found it. So for me, that's where we start and continue to build on the leadership and direction that Mrs. (Judy) Thomas had Dauphin going. She had this place headed in the right direction already, I've just got to keep it on the tracks and try to improve it."
Much like anyone who has ever spent any time with him, Superintendent Greg Faught had only good things to say about the new principal.
"His leadership skills are evident in how he communicates and supports the faculty and staff at DJHS. His strong administrative abilities are recognizable among students and parents, as well." Faught said. "Mr. Danner is a very intelligent, fair-minded, and hard-working administrator who always puts others first. In short, he is a true leader and will be an outstanding principal at DJHS."
Danner and Kara, who will celebrate 16 years of marriage this summer, have four children—Drew Parker, Ana Kate, Michael Jude and Jackson Ryne—with the two eldest pulling them between baseball games and dance competitions. Mrs. Danner, as she will always be to me as another former teacher, has taught biology at Wallace for the last 10 years, and Danner credits his wife as the driving force behind his successes.
"My wife is a rock star, there's no doubt about it. She takes the reins; I don't know how she does it," he said. "She has really given me the opportunity to pursue this and without her, it's impossible. There's no way I'm here in any shape or fashion without her. My success is 100 percent her success, too."
An odd commodity in southeastern Alabama, Danner cheers on Saturday afternoons in the fall for the shiny-helmeted Notre Dame Fighting Irish. His father, Al, was born in Long Island, New York into a military family and eventually ended up in Geneva with his wife, LeAnne, and opened a law firm. Danner has two siblings, Heather Harp, who also works in education, and Daniel, who is a civil engineer.
Even though this venture may not have been his childhood dream, it's obvious this profession is where he is meant to be. From pushing his students to do the best they can and better in the classroom to expecting excellence on the baseball field to writing recommendation letters that some of us—me—still have a copy of eight years later, it's not a matter of if, but when, the students at Dauphin will feel the effects of his leadership.