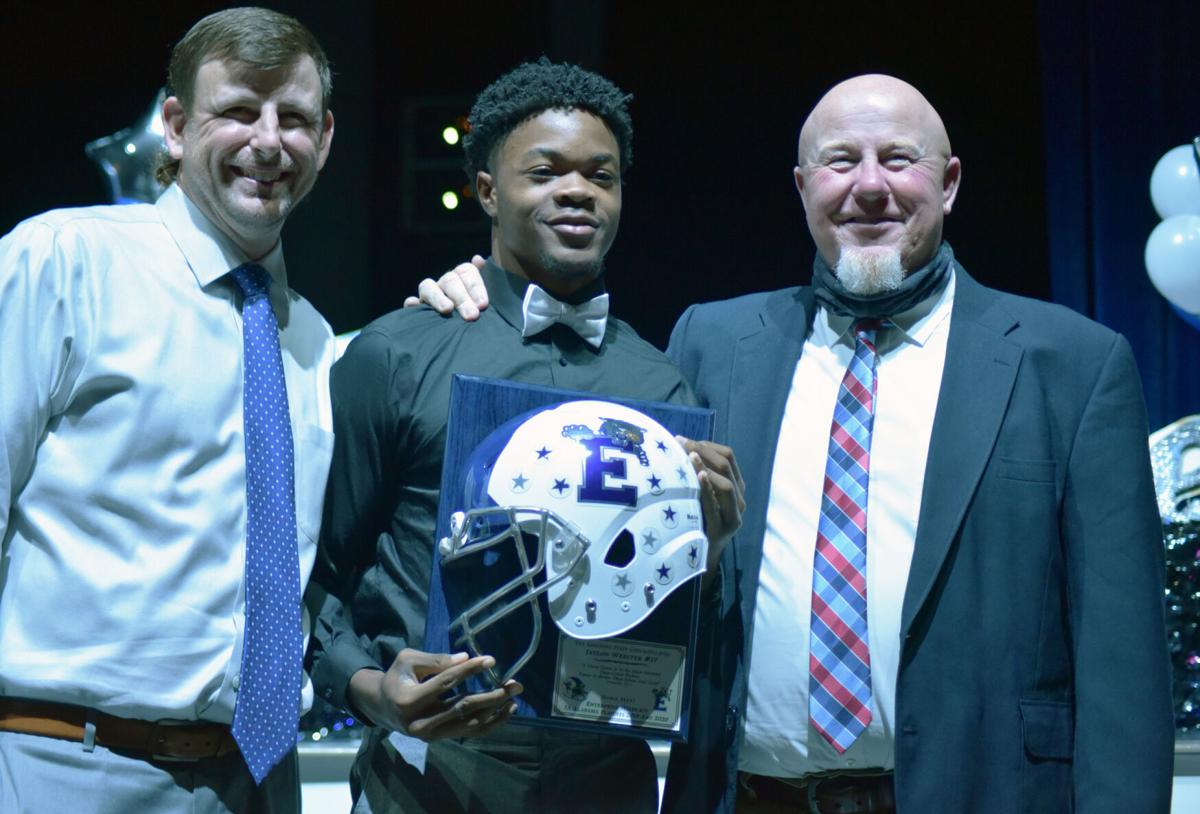 When defensive backs coach Gary Dugger arrived on Enterprise's campus in early 2020, he was able to quickly form a connection with senior defensive player Jaylon Webster. Everything was going according to plan until the main event of 2020 struck.
"He was working hard in the weight room and we had an opportunity in class before the pandemic hit to where we were able to go outside and do some things a couple of times. You could see what type of athlete this kid was and how hard he wanted to work to be really great his senior year and to improve our defense," Dugger said at the Jan. 7 football banquet. "And then the pandemic hits, and you hate it for all these kids because they're preparing so hard for a great senior year. Then we don't see them from mid-March until June 1, and this kid stayed in touch with me over the pandemic and was texting me and Coach (Brad) Fortney multiple times, just figuring out what kind of things he could be doing on his own to continue to work so he didn't drop off. He knew that this was his opportunity and he wanted to make sure he had a great senior year."
Over the last two seasons, Dugger said Webster had played every defensive back spot on the defense, and this year he also took over a new role on the team: calling coverage checks.
"That's one thing Coach (Jed) Kennedy and I talked about doing a little different this season was installing a couple of different checks within the game plan and letting the safeties make those calls based on what the offense comes out in," he said. "I didn't hesitate. I said, 'I know this young man is going to be able to take whatever we put on him. He can handle it.' He did, and he had a great year."
Aside from his athletic capabilities, Dugger said the one thing that has always impressed him was Webster's consistency and his desire to improve through hard work.
"He's a very approachable young man. I've heard Coach Kennedy say this a lot, and that is one thing you hope for from players is that they stay consistent," he said. "They're the ones that are the easiest to coach because you already kind of know what you're getting, and he's that way. He's not going to be way up here or way down here; he's consistent and always hard working."
Though his recruiting was affected in ways because of COVID-19, Webster signed his letter of intent to the University of West Alabama during a signing ceremony held at EHS on Wednesday, Feb. 3, where he'll have the opportunity to face off against teammate Jared Smith (University of West Florida).
"It will be something to watch," Webster said. "The (Enterprise) coaches have already been talking about coming to that game. I am ready for it. Jared and I have been battling in practice throughout the years, but we have never had that feeling of being in a game (against each other)."