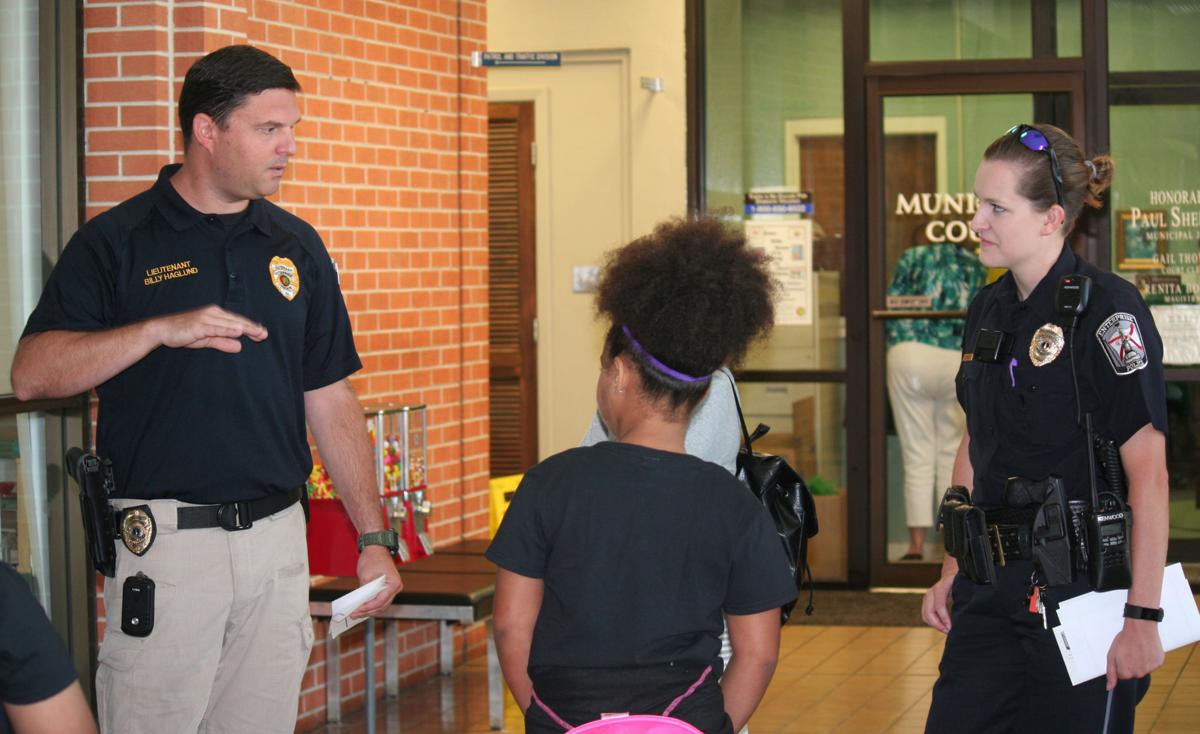 Police officers are known to assist the community in a variety of different ways and situations, but thanks to a joint effort between the Enterprise Civitan Club and Hand Up Enterprise, the Enterprise Police Department helped young area residents with a task that's a little more personal: back to school shopping.
On Monday, five area children were given the opportunity to participate in the first annual "Shop With a Cop" program organized by the Civitan Club and Hand Up Enterprise. The event included a wide range of activities for kids and their police officer partners, including tours, shopping, lunch, a movie, and Milky Moo's ice cream.
After beginning the morning with doughnuts, young participants were assigned an officer to partner with and got to visit with their partners for a few minutes prior to beginning a tour of the Enterprise Police Department. Part of that tour took place in the council chambers, where each child was assigned a job during a mock courtroom trial.
Mayor Bill Cooper also made an appearance on the tour, greeting each child and offering advice regarding the upcoming school year.
"Do your best to keep a good attitude in school, because you can never learn too much," Cooper said. "School is very important, not only for learning things now, but for your future."
After further exploration of the jail and the police cruisers, each child joined up with their partners for a shopping trip to Walmart. The officers, who represented both the Enterprise Police Department and the Sheriff's Office, helped their young counterparts select the items they needed for school using donated funds from various merchants, businesses, churches, and civic groups.
Following lunch at Chick-fil-A and further shopping, the group was treated to a viewing of "Hotel Transylvania 3" at Clark Cinemas. After the movie, both cops and kids convoyed to Enterprise's WVVL radio station for another tour. The activities concluded with ice cream at Milky Moo's.
According to Travis Parker of the Civitan Club and Hand Up Enterprise, the idea for "Shop With a Cop" has been in the works for some time.
"We had the idea that the 'Shop With a Cop' thing would foster some positive interaction between the kids and the police department," Parker said. "We got the idea about a year ago, and we're trying to do something to help keep open doors between the police department and the community."
Jennifer Nichols, founder and president of Hand Up Enterprise, said that "Shop With a Cop" is a good way for the community to show its younger generation a little love.
"We work with the families, and we get a unique perspective because we go to their homes," Nichols said. "We kind of go on instinct when we meet some of the children that have maybe had a rougher time of it, or there's not been as much stability. Sometimes, if there's been an older sibling that's kind of fallen off the track, we kind of pick that child out and give them a different perspective, that there's good choices and bad choices. This is a good, positive experience for them. All these children need to be welcomed more by the community, and feel like they're part of the community."
Lieutenant Billy Haglund said that the Enterprise Police Department is excited not only for Monday's "Shop With a Cop," but for the possibility of future activities as well.