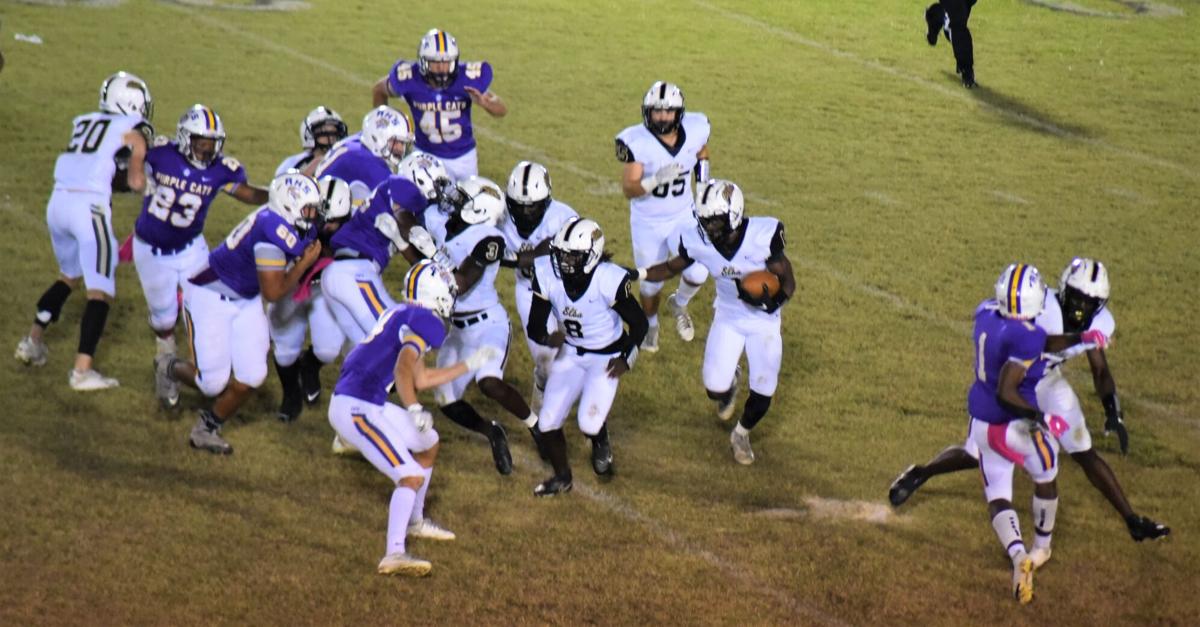 ARITON – Ariton quarterback Ian Senn rushed for 172 yards and four touchdowns and running back Jordan Smith ran for 162 yards to carry the Purple Cats past Elba 45-32 and almost certainly into the Class 2A playoffs.
The defeat likely knocks the Tigers out of the playoffs unless Ariton (4-5, 3-3 2A, Region 2) loses to Cottonwood next week. The last time Elba missed the playoffs was 2006.
Big plays hurt Elba (5-4. 3-3) throughout. Senn and Smith combined for six carries – three each – of at least 23 yards. Senn's rushing touchdowns came on plays of 1, 16, 45 and 39 yards. The Purple Cats added a 1-yard TD run from Zachery Phillips, a 10-yard TD run by Landon Thrash and a 10-yard TD reception from Senn to Thrash.
"We just couldn't get enough stops defensively," Elba head coach Marc Sieving said. "Then we did a few things in the first half that hurt us."
Both teams moved the ball impressively throughout the first half, but Elba made more mistakes than the Purple Cats. Ariton then dominated in the second half.
The Tigers took the opening kickoff and went 67 yards in six plays. Ja'Quez Prince completed a 44-yard pass to Peyton McCart to the Ariton 8-yard line. After a 5-yard penalty, Prince passed to Duck Lane for eight yards on a quick screen in the left flat.
Prince then carried up the middle on a 5-yard touchdown run. He added the two-pass pass on a jet sweep to Collin Harrison for an early 8-0 Elba lead.
Ariton answered immediately. The Purple Cats (4-5, 3-3) went 63 yards in five snaps, mostly through the air. Senn threw to Thrash for 28 yards on their first offensive play. Isaiah Johnson picked up a 14-yard completion. Senn-to-Thrash capped the march on a 10-yard touchdown. The two-point play failed, leaving Elba in front 8-6 less than four minutes into the game.
After Elba went three-and-out, Ariton came back on the ground. Senn scored on a 16-yard keeper and added the two-point run for a 14-8 advantage.
The Tigers took the lead back on their next drive. Harrison carried the final five plays, gaining 15, 14, 9 and 5 yards before running off left tackle and scoring on an 11-yard run. He also scored the two-point play that put Elba up 16-14 with 25 seconds left in the first quarter.
Ariton answered with another big rushing play, Senn's 45-yard touchdown run on a third-and-14 play. The two-point play failed, leaving the score 20-16 Ariton.
After a rare exchange of punts, Elba looked like it was driving for a go-ahead score, but a key sequence late in the first half changed the momentum.
The Tigers had a first down at the Ariton 43. Prince ran for an apparent touchdown that was nullified by a holding penalty. On the next play, a shotgun snap eluded Justin Coleman and Ariton's Cade Webb jumped on the loose ball on the Elba 29 with 2:54 left in the half.
Ariton picked up 19 yards on a carry by Jordan Smith. On fourth-and-goal from inside the 1, Senn scored on a sneak that took second and third effort to break across the goal line on the final play of the first half. The point after kick failed, but the Purple Cats took a 26-16 lead into halftime.
"The turnover there was big. That definitely put us behind," Sieving said. "Ultimately, we've got to play better defensively and we just weren't able to do that tonight.
"I give a lot of credit to Ariton. They had a great plan. You could tell they just wanted it more than we did tonight."
The home team got the ball to start the third quarter and took full advantage. Ariton went 70 yards in six plays, capped by Senn's 39-yard touchdown run around right end with a nice cutback to the center of the field. Senn's PAT made it 33-16.
A special teams play kept Elba alive. Coleman blocked an Ariton punt and Peyton McCart recovered at the Ariton 21. The Tigers seized the opening and Harrison scored on third-and-goal from the 1. He also took a jet sweep flip pass from Prince around left end for the two-point conversion that cut Ariton's lead to 33-24 with 2:12 left in the third quarter.
But the Purple Cats answered with a gut-wrenching, ground-oriented drive that covered 74 yards in nine plays and took nearly four minutes off the clock. Landon Thrash scored on a 10-yard counter run around right end. The two-point play failed, but Ariton had pushed its lead back to 15 at 39-24.
Elba was stopped on downs on its next possession near midfield, then a long pass by Prince for McCart was intercepted by Landon Tyler at the Elba 38. Smith responded with a 37-yard run on a handoff. Senn covered the remaining yard with a quarterback sneak on the next play for a 45-24 lead.
Elba scored on its final drive. Prince hit Caldwell on a 12-yard touchdown pass on third-and-10 with 2:21 remaining. Harrison again scored on a jet sweep pass around right end to make it 45-32.
Ariton made a first down on Smith's 23-yard gain, then took a knee to run out the clock.
Harrison finished unofficially with 112 yards on 21 carries and two touchdowns for the Tigers.
Barring a major upset, Elba ends its season with homecoming next Friday against visiting Houston County.