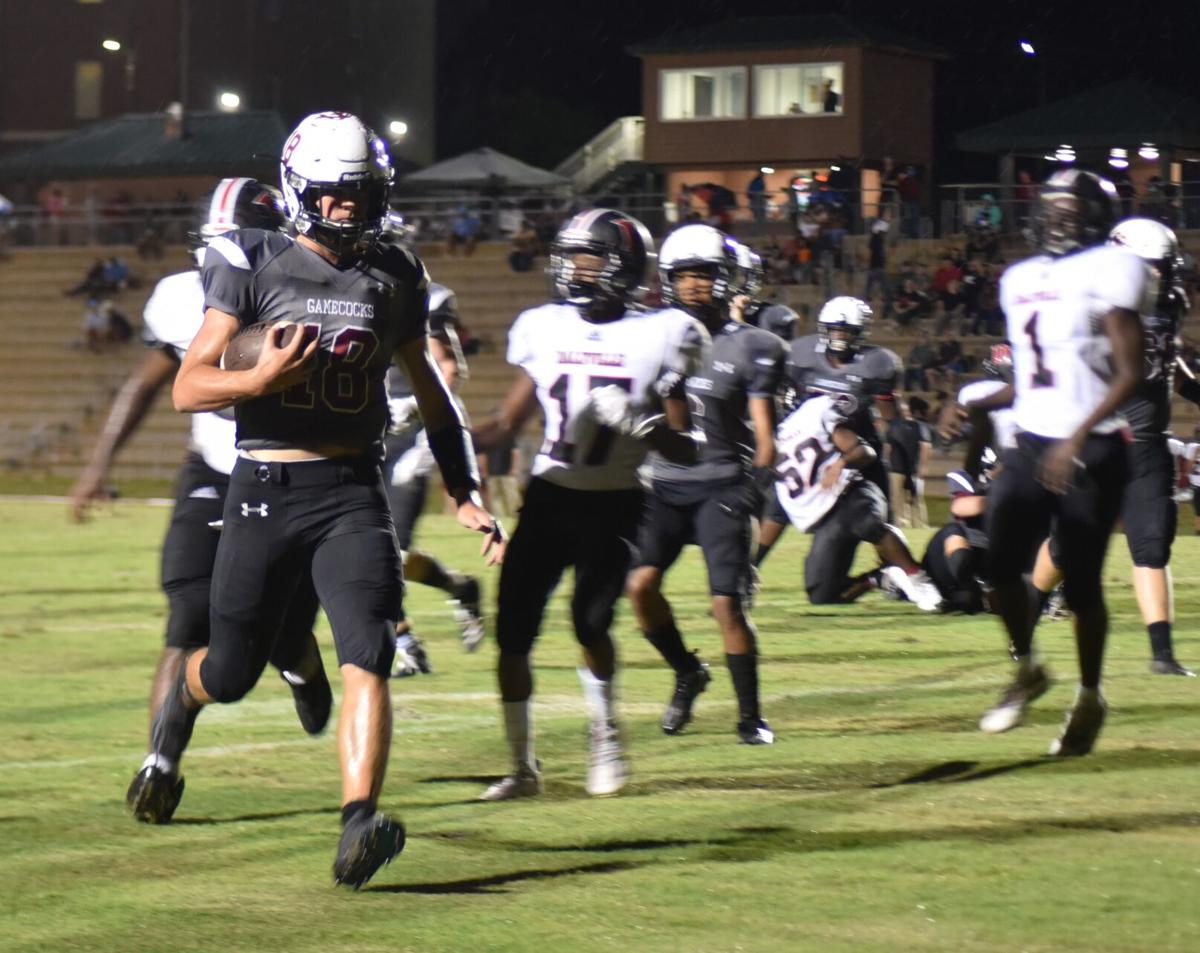 New Brockton quarterback Kaden Cupp threw for more than 200 yards and ran for more than 120 in a first half full of big plays in the Gamecocks' 47-8 victory over Daleville at Bates Memorial Stadium in Enterprise.
Cupp had three completions for 50 yards or more in the first half, when he completed 7 of 13 passes for 225 yards, unofficially. Two of those bombs went to Colton Marsh for an 80-yard touchdown and to Julian Noble for 50 yards and a TD. He also completed a 68-yard strike to Damarion Holt that set up a 6-yard touchdown run by Jordan Tacey.
New Brockton coach Zack Holmes said the Gamecocks showed a lot of improvement in all three phases after last week's opening loss at Opp.
"Defensively we were much better – not a lot of big plays after we settled in and a lot of negative plays," Holmes said. "Offensively, getting those explosive plays were phenomenal. We wanted to be more explosive because we weren't last week.
"And we created turnovers in the special teams. Last week we gave those up. We've got to continue to improve, but I'm proud of the guys and how they've worked over the past seven days."
The big play to Marsh came on New Brockton's second play from scrimmage. Jacob Bustamante made the extra point that gave the Gamecocks (1-1) a 7-0 lead.
Daleville (0-4) answered just two plays later. Cedreon Wiley raced around left end and motored 74 yards to the end zone. The Warhawks converted on the 2-point conversion to take an 8-7 lead with 6:30 left in the first quarter.
Cupp again drove the Gamecocks into the red zone. He got loose on a 37-yard keeper up the middle for a first down at the Daleville 17. But he tried to force a pass and Daleville's Omarion Pinckney intercepted the pass.
New Brockton's defense settled down and shut out the Warhawks for the last 3½ quarters. A poor punt gave New Brockton the ball back on the Daleville 15. Cupp's "pass" to Tacey on a jet sweep around right end for seven yards and a touchdown for a 14-8 lead with 1:41 left in the first quarter.
Cupp then found Noble behind the secondary for the 50-yard touchdown pass with 10:02 left in the half.
The bomb to Holt produced Tacey's 6-yard TD run and a 28-8 lead at the 7:12 mark.
Cupp later ran for 17 yards, hit Brandon Johnson for 14 yards to the 3 and then finished the march with a 1-yard run with 46 seconds left in the half.
It almost grew. New Brockton's Tre Boland recovered a sky kick that bounced along the sideline, but the Gamecocks couldn't capitalize and went to the half up 35-8.
At halftime, Cupp had, unofficially, 11 carries for 123 yards. He finished the game with 14 rushes for 131 yards. Passing, he was unofficially 8 for 16 for 229 yards.
"We thought we could take advantage of some shots in the game. Kaden played well," Holmes said. "He forced a couple balls a couple times that were intercepted. He's a competitor; he wants to make the play every time. He had a good game, but they all did – the offensive line for giving him time and the receivers for catching the ball."
After a scoreless third quarter, New Brockton added two touchdowns. Cupp scored on another 1-yard run with 10:30 left in the game for a 41-8 lead.
Boland again picked up a fumbled kickoff and set up the final score. Jamarcus Brown added a 5-yard touchdown run with 7:05 remaining.
Daleville had five turnovers – two on kickoff returns. The most costly may have been on the game's first drive. The Warhawks marched to a first down on the New Brockton 17 before quarterback Jordan Mcdonald lost the ball on the snap from center and Boland recovered.
Marsh and Noble also recovered fumbles for New Brockton.
"We were plus in the turnover margin, which was huge," Holmes said
New Brockton plays at Wicksburg next Friday.
Be the first to know
Get local news delivered to your inbox!