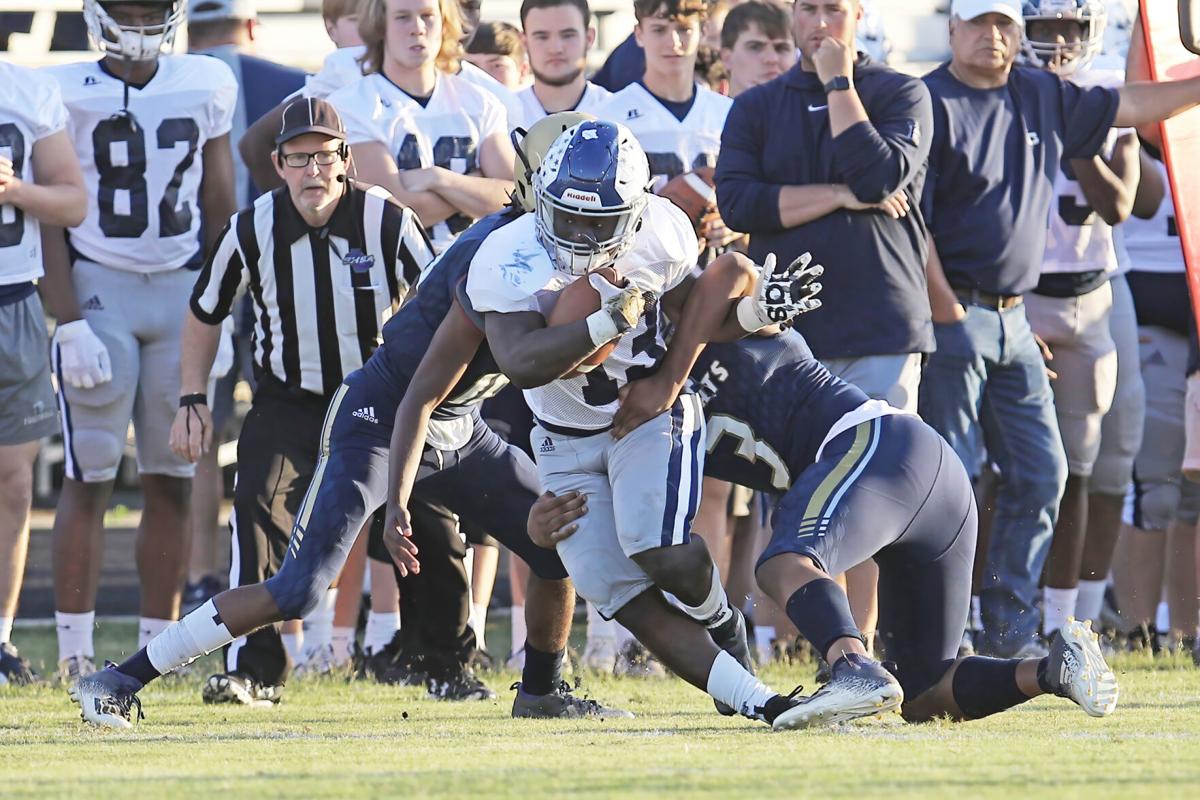 BLAKELY, Georgia – Enterprise High School's 42-13 win against Early County High School's Bobcats Friday night came in a spring training game but, still, the 2021 Wildcats did something no previous Enterprise teams have done in three tries: the Cats won a football game in Georgia.
Prior to Friday, Enterprise teams had lost two regular-season games in Bainbridge and one in Moultrie (Colquitt County) as part of an all-time 4-5-1 record against Peach State teams.
The Cats are 2-2 against Bainbridge, 0-2 against Colquitt County, 0-1 against S.W. Macon and 1-0 against Columbus High, all in games that go into record books.
The tie, according to the Alabama High School Athletic Association's historic site, was a scoreless game against Thomasville High in 1925, a game that was suggested but likely never played.
Friday, the Cats did play and claimed the one-sided win despite the absence of 18 players who didn't dress out for the game and seven who didn't make the trip.
Blakely High, a 2A school also without several players due to COVID-19 considerations, faced Enterprise with numerous regulars who'd come off the list of COVID victims Wednesday.
The Bobcats are coached by Joel Harvin whose dad, Graham, was a lineman at EHS in the late 1960s; Joel's older brothers, Brian and Lee, were EHS footballers in the 1990s.
Enterprise opened Friday's game with a 10-play, 70-yard drive that produced a one-yard touchdown run by sophomore Amare Griffin with 7:19 to play in the first period. Sophomore kicker Andrew Pickard added the PAT for a 7-0 lead.
After Enterprise defenders limited Early Co. to four snaps, the Wildcats launched a second drive from midfield that ended with a 26-yard Griffin run. Pickard's PAT increased the EHS lead to 14-0 with 13 seconds left in the first quarter.
Both teams went liberally to their benches throughout the game. Enterprise used nine ball carriers in its wing formation, including junior Mykel Johnson who capped the Cats next scoring drive with a 1-yard run at the end of a 54-yard drive with 3:41 left before halftime. Pickard added the PAT for a 21-0 EHS lead.
Early Co. earned two first downs on its next possession but turned the ball over on downs with 40 seconds left in the second period.
The Bobcats scooped up an EHS fumble on the second snap of Enterprise's possession and ran into the end zone for a touchdown; the missed PAT left Enterprise ahead 21-6 through the third period and almost three minutes of the fourth quarter.
Enterprise capped a 9-play drive with a 2-yard touchdown run by senior Zy'Air Boyd, putting EHS ahead 27-6 with 9:15 remaining in the game.
Early Co. broke a 70-yard run on the first play of its ensuing possession and added the PAT to cut the EHS lead to 27-13 with 9:01 left on the clock.
The Cats used seven plays on their next series to pad the score. The touchdown came on a 28-yard run by junior Jackson Bailey with 5:47 to play.
Sophomore Raymond McGoley ran for the 2-point conversion, lifting EHS to a 35-13 lead.
Enterprise defenders continued their stingy play and got the ball back for their offensive teammates with 1:28 remaining to be played.
The Cats used four plays to end scoring; the touchdown came on a 36-yard run by Boyd, and Pickard's PAT was true, bringing the score to its 42-13 final margin.
Enterprise earned 28 first downs on 57 rushing attempts for 400 yards and completed one of four passes for 10 yards.
Johnson led the Cats with 130 yards on 18 carries. Boyd earned 126 yards on 17 rushes, and Griffin had 64 yards on nine carries.
Bailey (2-for-34), junior Alex Greenwood (1-for-20), freshman Tomorris Green (5-for-14), McGoley (1-for-12) and sophomore Mason Forehand (1-for-0) added rushes and blocking to the EHS attack.
Enterprise defenders surrendered 182 yards on 33 carries and 57 yards on a 6-10-0 passing night for Bobcat quarterbacks.
Enterprise will return to game action on Aug. 20 when the Bay High School Tornadoes (Panama City) come to Wildcat Stadium for the first game on the stadium's new artificial surface.
The Tornadoes will be looking to even the series at 6-6 in a rivalry that began Sept. 9, 1967, with a 14-7 Bay win in R.L. Bates Memorial Stadium. The Cats were 2-3 against Bay in Bates Memorial. Enterprise and Bay last met in 2005.