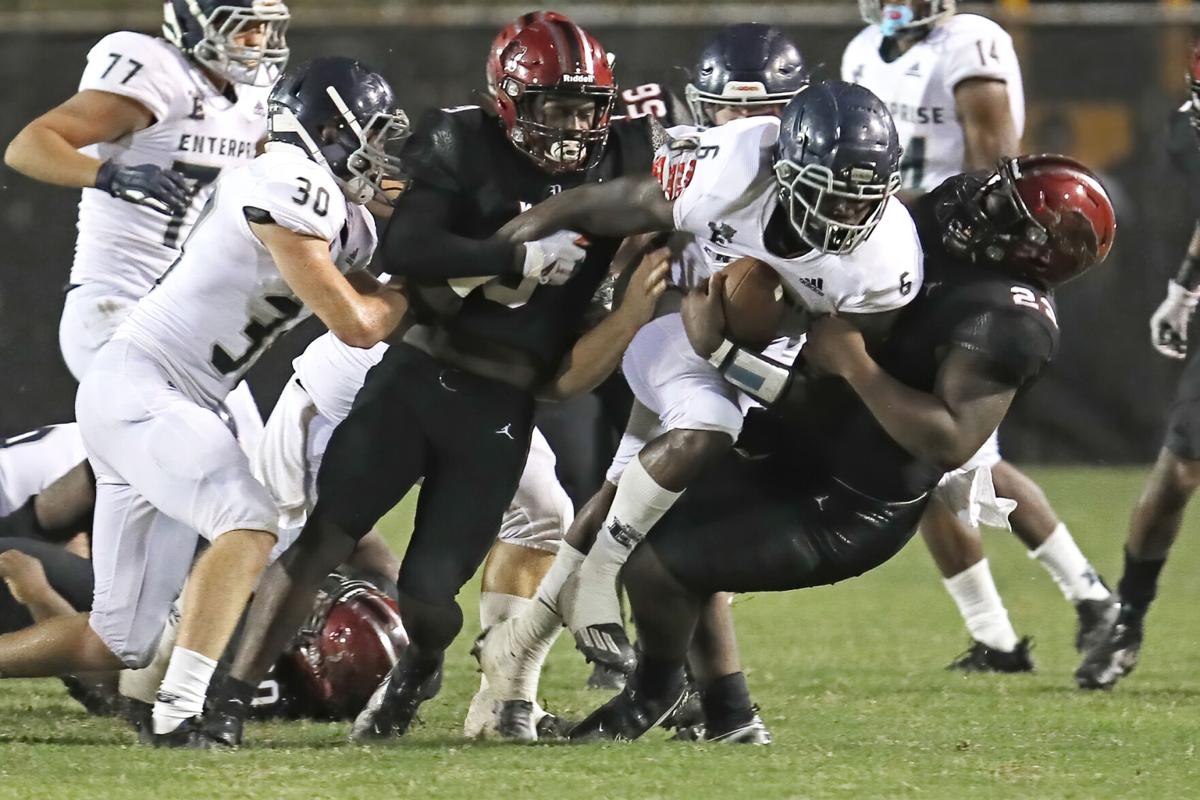 Davidson head football coach Rick Cauley says he'd seen it before when he turned on the film to watch Enterprise in action.
Cauley said now-Enterprise High head coach Rick Darlington was a mentor to him when he was the offensive coordinator at Murphy High when Murphy ran the single wing offense.
"We'd send him our game film every week and he'd tell us what we were good at and tell me what I was being dumb about. He got us going in the right direction," Cauley said this week. "There's nobody better than him at doing it. He was a great resource for us. I've been able to call him or text him over the years and just say, 'Hey, I'm lost.' He's always been great."
So when he turned on the film in advance of Friday night's game in Mobile at Baker High School, Cauley wasn't surprised.
"You can tell he coaches that team. I don't care what size the offensive line is, when he's the coach they are good. They are really good up front," Cauley said, adding that Enterprise has added wrinkles to fit its talent. "The way that he's meshed the flexbone with the single wing and his spread stuff is impressive. He's not great by accident."
Cauley said Enterprise's skill players – particularly quarterback Quentin Hayes and running backs Josh McCray and Mykel Johnson – are impressive.
"Any time the quarterback is a threat it puts a lot of stress on the defense," Cauley said. "Plus, the things that they do, you don't see it a lot. So it makes it hard to prepare for.
"They can score a lot and they can score quick. By the time the defense has an opportunity to say, 'OK, here's what's happening to us,' they've got 21 points on the board. It forces the other team's hand to play a different style. It's a very good system they have."
Davidson (0-2) opened its season with a 42-7 loss to Daphne and a 22-7 loss to Murphy last week.
"We played Daphne pretty tight for a little while and then they just kind of ran away with it," Cauley said. "Murphy was another game that we felt good at halftime and it got away from us late. We're still figuring things out. We're extremely young and inexperienced.
"I mean, when you're starting a freshman at left tackle in 7A football, sometimes it's rough. We're just small. The kids are still working hard. We've had a good week of practice. I'm proud of the way they've responded. If people can be patient I think we'll get this thing moving in the right direction. It's just going to take some work."
The Warriors are led by running back Jaylen Nash, whom Cauley called "probably our best playmaker." Micah Brown, a junior, keeps improving at quarterback.
Defensively, end Noland Asberry and cornerback Jeramiah Martin lead Davidson, Cauley said.
Darlington said Cauley's team looks pretty athletic. Having to travel to Mobile isn't ideal – the game was originally scheduled for Enterprise (2-0) – but the Wildcats would rather play the game than not play. So, it's on to Mobile at Baker High School.
The Enterprise coach said the Wildcats have to look everywhere for games.
"It's hard for us to get games where we're located. There's nobody else big on this side of the state," Darlington said. "The 5As and 6As won't play us. It's hard to get games. So we have to go to Mobile and Georgia and Florida to pluck games out."
Be the first to know
Get local news delivered to your inbox!