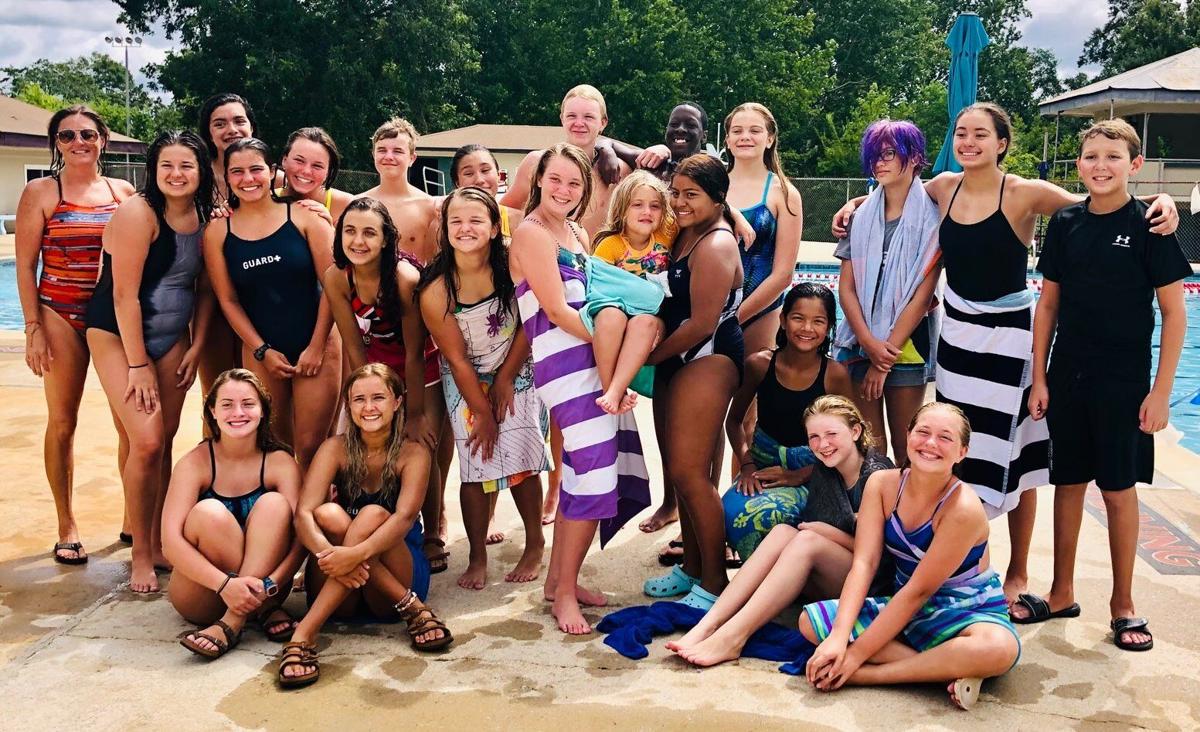 The Enterprise High swim team is churning toward its season opening meet in September.
The Wildcats completed preseason conditioning last week, held tryouts on Monday and are practicing almost daily. A normal in-season practice routine starts next week – during which students return to school.
"These kids are very dedicated," EHS coach Sarah Thorn said. "We'll have regular evening practices 5:30 to 7 Monday, Tuesday and Thursday and early morning practices they come 6 to 7 on Wednesday and Friday."
Thorn, who is also the Enterprise YMCA's Aquatics Director, talked about her appreciation for the team's use of the Y's facilities, particularly the resurfaced pool.
"Until the offer of this partnership came from Mr. Richard Pipkin, we weren't sure if we would have a season this year," Thorn said. "Our usual facility is provided by MWR at Fort Rucker, which continues to be unavailable due to the COVID situation.
"We are grateful to be working with the Enterprise YMCA to build both the EHS Swim Team and the Y's own aquatics programs and hope that this will be the start of an ongoing cooperation to benefit both organizations."
Pipkin, Director of the Enterprise Y, said it's another example of this community working together.
"We're excited to have the opportunity to work with the Enterprise High School swim team to practice and possibly have some meets one day," Pipkin said, adding the addition of starting blocks and lane markers would be necessary.
"We're excited that Coach Thorn is on board with us. We work well together. And we have to thank the community for supporting the Enterprise YMCA and this beautiful facility."
Thorn said the team is planning to swim almost exclusively at AHSAA high school meets this year, which is a big change for the program.
"In past years, we have swam mostly USA Swimming meets as a part of Wiregrass Aquatics Club until we reached the sectionals and state meets," Thorn said. "While we still exist as a branch of WAC, we are growing into a more independent group during the high school competitive season, which moves us more integrated into the EHS athletics program for the entire season. It's a great feeling to be making that connection and building our presence at EHS.
"We are looking forward to an exciting and successful season with all the extras that come along with being an EHS team. We are planning several fundraising, community service, and social events to grow our program as well as reach out to show appreciation and gain recognition in our community."
Thorn said her team includes swimmers from all grades 7-12. She said there is a good mix of experience and first-year swimmers.
"Every swimmer on our team has shown a willingness to work hard and to encourage each other to put forth their best effort," the coach said. "I'm so proud of the progress they've already shown and am looking forward to amazing results."
Thorn said she is hopeful the team can compete for a full high school season. While the Wildcats' problem was finding a facility to train, all programs are evaluating the COVID-19 pandemic.
"Hopefully, we'll have smooth sailing. We're going to keep pushing forward and hope this season ends on a high note," she said.
Be the first to know
Get local news delivered to your inbox!