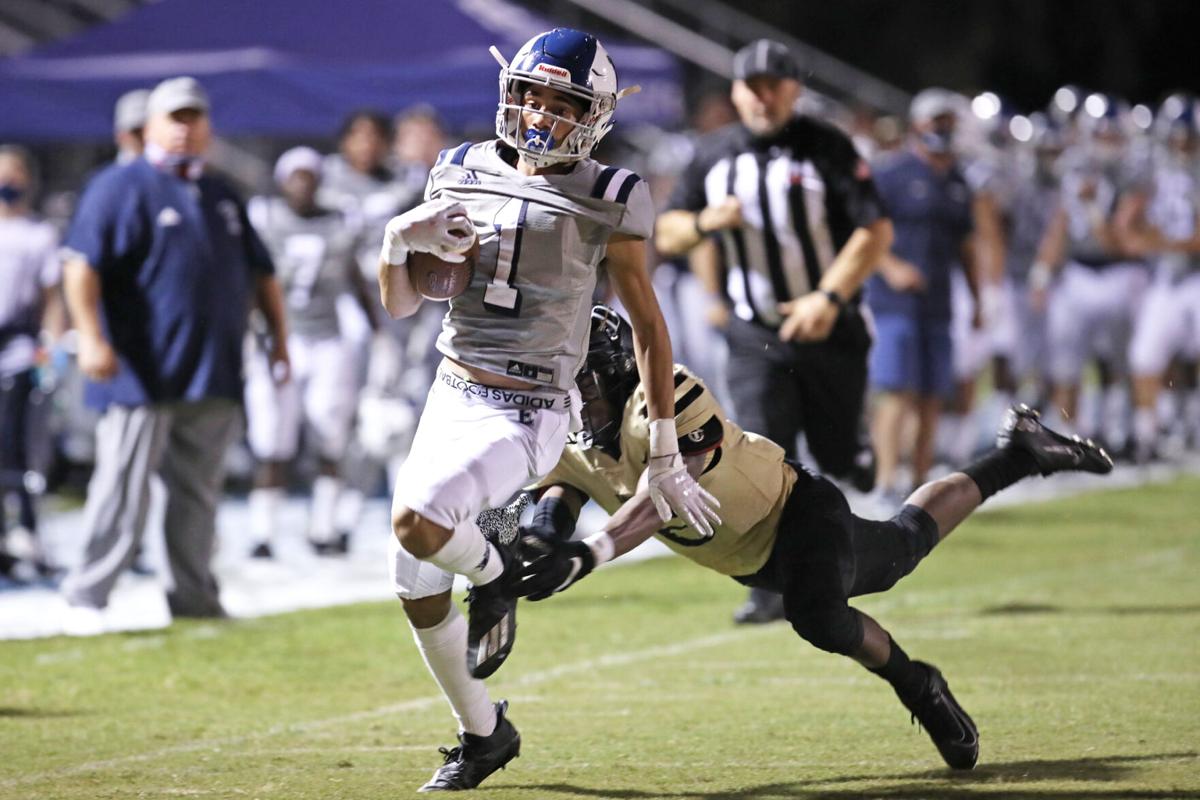 The fast starts continued for Enterprise last Friday in Mobile.
The Wildcats (3-0) piled up a 38-0 halftime advantage and cruised from there to a 52-13 victory over Davidson at Baker High School.
"It's good to go get a win. They're hard to come by," EHS head coach Rick Darlington said Monday, adding the early leads have been "helpful." "Every game we've deferred and the defense has gotten us the ball.
"It's good to go out there and try to put up points quick and make the other team play from behind. That was good. It's better than the other alternative."
Another positive sign was big plays provided by more Wildcats than the "core" producers of running backs Josh McCray and Mykel Johnson and quarterback Quentin Hayes, who threw touchdown passes to Jared Smith, Cole Hooper and Aiden White all in the first half.
"Yeah, that was good to spread the ball around a little bit. It's not so much by design," Darlington said. "You call a pass but you don't know who he's going to throw it to. We're not trying necessarily to spread the ball around, but when you throw a pass or run the option you don't really know who's going to end up with the ball.
"It's good that different guys are getting involved. I've always thought that was a good way to have a team, with lots of guys who can touch it and do stuff with it and hopefully score."
Smith caught a 32-yard pass from Hayes one play after a short Warrior punt for a 16-0 Enterprise lead. Hooper got behind the defense on a 62-yard touchdown pass. And with 41 seconds left in the first half, White converted on a 78-yard pass from Hayes that made the halftime score 38-0.
The Wildcats continued an early defensive trend by being tough on third down. Davidson was just 3 for 13. Defensive coordinator Jed Kennedy said that has been an emphasis throughout the offseason.
"We weren't very good on third downs last year," Kennedy said. "We made it an emphasis when third down comes to get off the ball. To me to be good on third down you have to get them in third-and-longs, not third-and-3, third-and-4.
"We've done a good job putting them in pass situations where we could unleash some blitzes and we've been fortunate to be able to get some pressure."
The Wildcat defense also has improved in the number of big plays opponents have made.
"With the exception of the long run in the third quarter (a 70-plus yard burst), even the drives we got scored on, they've had to earn it," Kennedy said. "If you make them snap it again you've got a chance. You can't give up the easy ones. That's been a big improvement over last year."
A number of factors have contributed to turn that around for the Wildcats, Kennedy said, and that includes familiarity.
"Our kids are getting to the ball so much better, playing a lot harder. They know what to do," the defensive coordinator said. "You figure it's the first time in four years they've run the same thing two years in a row.
"Defense is reactive. If you're trying to figure out what the heck you've got to do how can you worry about what the other team's going to do? Our kids have a better idea what they have to do where they can at least give themselves a fighting chance."
The Wildcats travel to Phenix City to face the Central Red Devils (2-2 with losses to Hoover and Eufaula) on Friday night.
Ticket information: Below is a link to purchase tickets for Friday night's game at Central in Phenix City. Any Wildcats fan will need to purchase tickets by Wednesday night because they will go on sale to the public on Thursday morning in Phenix City.
You will have to sit in the section you buy your tickets in. Section J is the 50-yard line. Central High also has a clear bag policy. Game time is 7 p.m. CT.
Game canceled: Enterprise again is looking for a Sept. 25 opponent after Early County (Ga.) informed the school Monday that it would not be coming to Enterprise as scheduled.
The game was not on the Cats original schedule, but Early County agreed to play this summer when Enterprise lost its season opening opponent Miami Somerset Academy.
It is the second time the Cats have lost a home game. Last Friday's game vs. Davidson was originally set for Enterprise but it was moved to Baker High due to COVID-19 travel restrictions.
EHS athletics director Trent Trawick said Enterprise is trying to fill the date.
"Early County cannot come. We're looking for somebody to come and take their place if we can at all find somebody, but that's probably going to be slim and void," Trawick said. "We got word this afternoon that they were not going to be able to come.
"We were going to recognize our seniors that night. They're not coming, but we're trying to find another game if we can."
Be the first to know
Get local news delivered to your inbox!