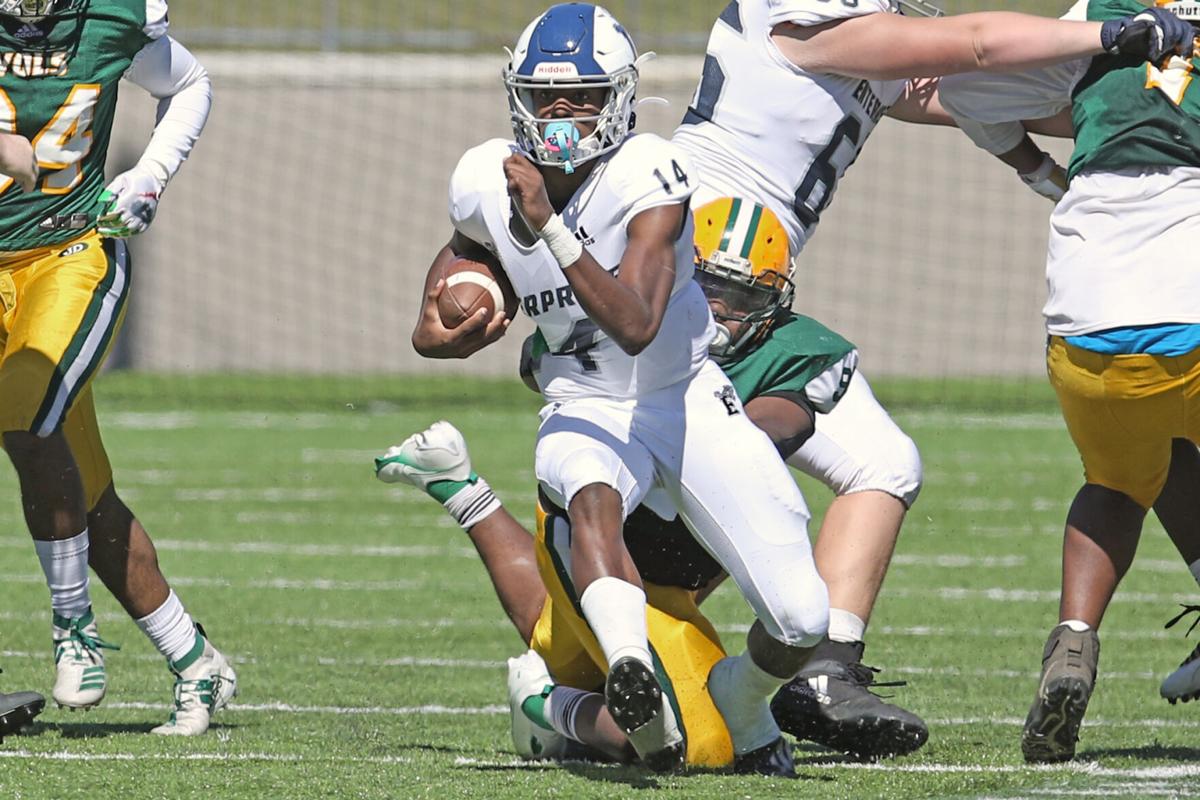 Everything about Enterprise High quarterback Quentin Hayes' impact on the Wildcats was on display in Saturday's 39-6 victory over Jeff Davis in Montgomery's Cramton Bowl.
He made plays with his arm. He made plays with his feet. He made good decisions, mostly, with the football.
"I think he's just very smooth," Enterprise head coach Rick Darlington said Monday about the junior quarterback. "I think he throws the ball so much better than he threw it last year and even in the spring.
"When we first went out in the spring and started putting some stuff in, he couldn't throw a spiral from here to the door. He's gotten a lot better and gotten more confidence."
Hayes completed 9-of-14 passes for 153 yards on Saturday. He threw a touchdown pass and had another picked off in the end zone, bringing his season total to 13 touchdowns and four interceptions.
"He's got the highest completion percent of any quarterback I've ever had," Darlington said as Hayes' number hovers near 70 percent.
In addition to all of those positives, even the parts of his game that need the biggest improvement were evident on Saturday.
"I hate interceptions and he hates them," the coach said. "But he's got a lot more touchdowns than interceptions. The one the other day wasn't a good one. The one area he's got to look at is he's got to see the big picture. …
"Sometimes he'll try to force the ball in to someone who has two people covering him when there's someone else wide open. He's got to do a better job of seeing the big picture, and getting a pocket presence so he doesn't get sacked. He can get away because he's an elusive dude."
The rest of Hayes' skill set, combined with eight games under his belt, helps the Enterprise offense keep getting better.
"The thing is, he's very athletic and he's such a great character kid. He's just fun to coach because he's so calm and smooth and quiet," Darlington said Monday. "You never worry about Quentin being arrogant, not humble.
"He's a great person before a great player – and he's definitely developing into a great player. He does good things. He's only going to continue to get better and better and better. And we get him for another year."
Darlington knew about Hayes before he saw him on the practice field.
"I'd heard when I came here he was a quarterback on the freshman team," the coach recalled. "I saw him athletically when I watched him play basketball. I was very impressed with him. I know that basketball was his thing.
"So I was glad he hung in there last year, especially with the broken thumb. He hung out and played behind Jackson (Darlington), learned a lot about leadership and playing quarterback. He was ready to take over this year and has done great."
Hayes' athleticism has helped the Wildcats avoid more negative plays than they have taken. Darlington said what happens on Friday nights happens during the week, too.
"He makes at least one or two plays a week in practice that we all go, 'Wow. That's Q being Q,'" the coach said. "He just does a good job of distributing the ball around and doing good things. We want to continue to coach him and make it simple for him. With simplicity comes confidence."
Darlington said while at first being "aghast" of playing on a Saturday and missing college football, it worked out nicely for the Wildcats (6-2, 3-2 Class 7A, Region 2).
"The weather was nicer than normal. It turned out to be kind of a cool thing. ... It felt almost like we got the early game in college football," the coach said. "I love playing up there. You've got a locker room, a coaches' locker room, a great field. Playing at Cramton Bowl is good. I think it's a great venue.
"It's always good to get a region win. Wins are hard to come by here. We've got six of them so far. Disappointed in the two we lost."
Enterprise plays its regular-season home finale Friday night against region champion and undefeated Auburn High.