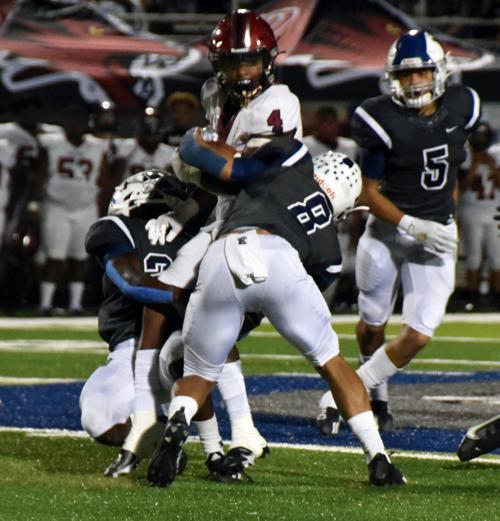 Barring a major electrical blackout, tonight's Enterprise High School football game here against Mobile's Davidson High will be easier on the eyes than last year's meeting in Mobile, at Baker High School's Hornet Field.
Can't recall a game played in a gloomier stadium that's darkness made Wildcat Sports Network analyst Rex Bynum look either half or twice his age.
Speaking of Baker High, the Hornets were the last team Enterprise beat in a playoff game, 51-14, in 2016.
With COVID-19 more widespread than it was a season ago, there's no guarantee there'll be playoffs this season; with the recent uptick in COVID cases, it's miraculous teams are getting to play at all. At least two dozen high school games in Alabama haven't happened.
The weekend of Aug. 20 saw 11 games postponed, canceled or forfeited, but Enterprise's Wildcats got to play in the weekend featuring the end of Barbour County High School's 66-game losing streak with a forfeit win against Stewart County, Ga.
The weekend of Aug. 27 saw eight games scratched, including Barbour County's forfeit loss against Russell County, meaning the Jaguars stood at 1-1 without having played a game.
Nothing unusual for the Clayton-based team that went 0-6 a year ago when the Jaguars played no games, then got blasted 70-0 last week by perennial 1A Region 4 powerhouse Maplesville.
The takeaway from this is to enjoy every game and hope for the best the rest of the season.
Last year was a forgettable one for the once-powerful Davidson Warriors that were 1-9, a record that included the loss to Enterprise that evened the series, spawned in 1968, at 3-3-0.
Davidson had a pair of forfeit losses, recorded as 1-0 final scores, the two closest defeats on its 2020 record.
The 2021 Warriors lost their season-opener 54-14 to Daphne, but beat Murphy 30-7 in their second game last week.
Meanwhile, the Wildcats opened by routing Bay High 57-21, scratched out a 28-12 win against underrated Carver, then routed Dothan 48-14 last week.
In the Davidson series, Enterprise claimed wins in 1996 (42-17), 1997 (31-28) and last year (52-13).
Davidson has produced big-time players since it opened for football business in 1961
Richard Todd, who quarterbacked at the University of Alabama and with the New York Jets, may be the most familiar Warrior, but Bobby McKinney, Freddie Robinson, Mark Reese, Roderick Bradford and Earl Collins also played at Alabama.
Davidson graduates Mike Davis, Gabe McKenzie and Michael McNeil played at Auburn, and Roderick Anderson played for then-Troy State.
Former Davidson players joining Todd and Robinson in the NFL were Jaquiski Tartt, Jimmie Ward and Louis Watson.
Davidson beat the Cats in the 1968 regular season (13-7), with McKinney's 99-yard punt return TD securing the victory.
The Warriors also beat the Cats in the first round of the 2004 playoffs (27-3) and the second playoff round in '05 (24-7), when Corey Patterson had a 78-yard run.
For the record, Enterprise has played 11 Mobile teams a combined 34 times; the Cats are 17-17-0 in those games.
The 2021 Cats are averaging 44.3 points a game, and EHS defenders have held three opponents to a 15.7 points-per-game average.
Tonight's game is scheduled to begin at 7 o'clock.
Check the EHS website for 2021 Wildcat Stadium rules.