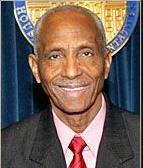 As I reflect upon the celebration of Black History Month, I think about the unlikely heroes who profoundly touched the core of the African American community.
You won't find their names in the history books, nor are they on a plaque in the town square. Nevertheless, their contributions changed lives, caught those who were slated to fall through the cracks and left lasting impressions.
lf you would, indulge me for a moment to share the stories of these outstanding folks.
Let's start with the woman, affectionately named Ma Dear or Big Mama. She lacked a whole lot of education, but was one of the wisest women in the family. She could take an empty cupboard and prepare a feast for 12 children. Though she possessed little monetary resources, she instilled in her children a work ethic that produced countless professionals--including me, a politician.
Her heart was big, empowering her children to become a servant of the people. Her strength yielded food for the community and books for school children, and her kindness propelled other children to succeed in life. Her love was unconditional for all, looking past individual flaws to see future potentials in society.
Though her love was tender, her discipline was tough, but it defined an individual's movement in life. Big Mama/Ma Dear's labor produced doctors, lawyers, professors and even political leaders. Her name ought to be in the history books because her contributions are immeasurable, touching lives powerfully. But, it's not. However, I always salute the legacies of the Ma Dears and the Big Mamas because she is in every family.
I'd also like to spotlight my father, called Pa or Papa, who was the strong foundation that set families on the right road.
He was a soft spoken man who worked tirelessly in the fields to feed his crew. He prayed to a merciful God to protect his family and community. The sweat of his brow led countless souls to achieve ultimate success, and his callous hands and leathery face should be in the history books. Though it's not, I applaud Pas and Papas during this month.
Let's look at Miss Hettie, the old woman who was childless but loved on all the neighborhood children. Her story is not recorded, but she helped a lot of youngsters to stay on the road of success. At the time, many labeled her nosy, but now they realize she cared enough to insure their success.
I have come to realize that all heroes and sheroes are not only in the history books, but they are within our midst, in our families and communities. As Booker T. Washington said, "Success is to be measured not so much by the position that one has reached in life as by the obstacles which he has overcome while trying to succeed."