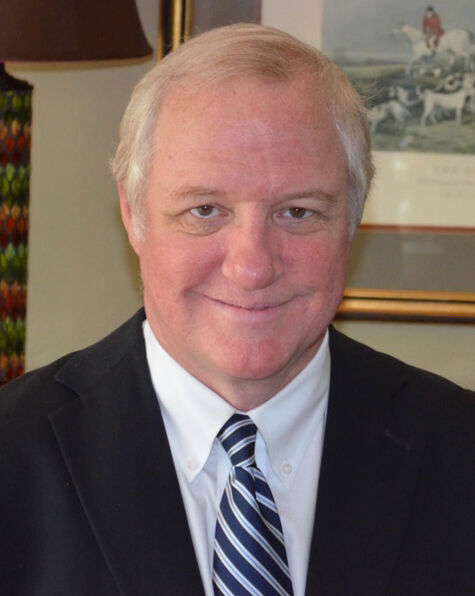 I read the other day that Major, one of the President Joe Biden's German Shepherds, had to be put in time out after biting a Secret Service agent at the White House. It made me remember the first dog KM and I bought after we were married in 1980.
He was a Chesapeake Bay retriever we named Sam. My friend Joe had been trying to make a duck hunter out of me and had talked me into buying a hunting dog. I think I took Sam hunting once, and eventually, Joe gave up on me as well.
As Sam got a little older he began growling at me while he was eating. But, we'd had a Kerry Blue Terrier when I was a boy who used to do the same, so I thought it was normal, thinking you just needed to give them some space at dinner time. We also had a new baby girl and Sam was a big dog, so KM and I worried, and we finally decided to sell him.
I ran an ad in the paper asking $75. I was going to give him away, but Joe said I needed to put a price on him – "to keep the weirdos and perverts away." I never really knew what Joe meant by that. And can't a pervert get his hands on $75?
A few days later, a couple interested in buying Sam came to my house. They quickly decided they liked him enough to buy him, and since they didn't seem perverted, we had a deal. I admit I cried a little when they drove off. You get attached, even to the surly ones.
A couple of weeks later there was a knock at my door. It was around nine o'clock in the evening. I opened the door and it was the couple I had sold Sam to a few weeks before and I invited them in. After taking a seat the woman pulled some photographs from her purse that showed Sam running with other dogs on their farm. They told me what a wonderful time he had been having the past two weeks, which I was glad to hear, while at the same time wondering what they wanted. I was about to ask when the man said, "I'm sorry but we have to give him back."
I inquired as to the problem and the woman said that whenever Sam was eating he would growl at them.
"Oh that," I said. "You just need to give him some space until he's done."
But they still seemed worried and expressed concern for the safety of everyone on the farm, not only themselves but the cows and chickens as well. Then the man asked me if Sam had ever been known to suck eggs. I told him we hadn't had that problem since he hadn't figured out how to open the refrigerator.
I thought about the predicament and said I'd give their $75 back, and they agreed to use it to get Sam some counseling. It seemed a good plan and they left, and I never heard from them or Sam again. Hopefully the counseling worked out for him and he was finally able to chill at passersby during dinner time.
As for us, we weren't without a pet for very long. Our next dog was a Sheltie we named Lacy, who was different from Sam in pretty much every way. She was nervous from the beginning, and after our young son dropped her into the lake from our party barge one summer day, she was always looking over her shoulder.
Our last dog was Gus, the Cairn terrier. He had wanderlust in his blood but never growled when he ate. And since I never had any secret service agents hanging around, that wasn't a concern either.