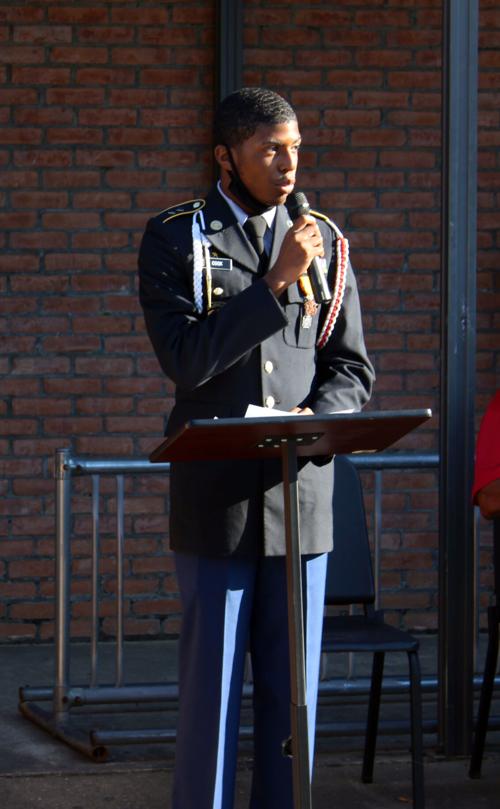 Eufaula High School's JROTC squadron held a memorial ceremony Friday morning on the eve of the 20th anniversary of the Sept. 11, 2001 terrorist attacks that killed nearly 3,000 people.
Cadet Lt. Col. Antonio Cook spoke during the service and said that although none of today's students were alive to witness the day's events and the days after firsthand, they understand the sadness surrounding this anniversary each year.
"Our history teacher would tell us about it, and we might even have had a project to do to learn about it. I can't speak for all of us, but I know when my teacher showed us those old videos of the news footage from that day, I felt great sadness," he said. "I understand that when the first tower was hit, everyone was in shock and horrified at what they just witnessed, yet most thought it was just a freak accident involving a small plane. Then, 17 minutes later, with all the cameras on the towers, the second plane, an airliner, crashed into the other tower and everyone immediately knew that it was no accident. Everyone who saw that event had an immediate chilling understanding that the country was under attack in a most unexpected and ugly way.
"The United States had long enjoyed the protection of two large oceans patrolled by the largest and best Navy in the world, and no one imagined that anyone would be so low or desperate to use a plane full of people and fuel to conduct their attack."
Cook also expressed sympathy for those who died, the families of those who would never return home and those who had to experience the attacks in person.
"As a student, I can't even really start to comprehend how it must have felt that day to be in New York that day to be on the streets close to that terrible calamity, seeing the plane hit, hearing the explosion, watching the terrible inferno and actually witnessing the sight of people having to choose between burning to death or jumping from 110 stories," he said. "Those were people suddenly faced with the truth that they wouldn't come home that night, they wouldn't see their husband or wife, their kids or any family and friends ever again. I wasn't there. I wasn't born yet, but I still get choked up and filled with emotion whenever I see those images or consider what happened."
Of the 2,977 people who died, 400 of them were first responders. Cook said their willingness to sacrifice their own lives in order to save the life of someone else is one of the greatest showings of what it means to be an American.
"There were people there that saw heard and witnessed all of those things, and instead of letting their fear show, they chose to run towards the towers, toward the fires, toward the explosions. Those men and women, those first responders, rushed to help the people in those towers," he said. "It was their job, yes, but it was more than just a job for them on that day. It was their spirit. It was their will to save those people as if it were their own family in those buildings that was one of the best showings of what it means to be an American and to be a part of this country."
A fourth plane, United Airlines Flight 93, crashed in Somerset County, Pennsylvania after passengers learned about the other attacks, realized their plane was also hijacked and fought to gain back control. All 44 people on board were killed.
"Even though they were strangers to each other, not caring about race, not knowing anyone's past or their religion or any of that, they banded together and acted. On that day they, determined they were not going to allow their home to be harmed any further, and they fought back," Cook said. "That courage and sacrifice was a perfect showing of the American will to fight to overcome any challenge and to protect our home. Even though we are here remembering a tragedy, we are also here remembering and celebrating the heroes that laid down their lives on that day."
The ceremony was led by Cadet Command Sgt. Maj. Jasmine Davis. The rifle team members were Cadet Maj. Ken'Darius Bouyer and Cadet Capt. Jacoby Rumph, and the flag team members were Cadet Capt. Breasia Woods and Cadet Sgt. Chris Dutill. EHS band member Jacob Williams also played the trumpet.