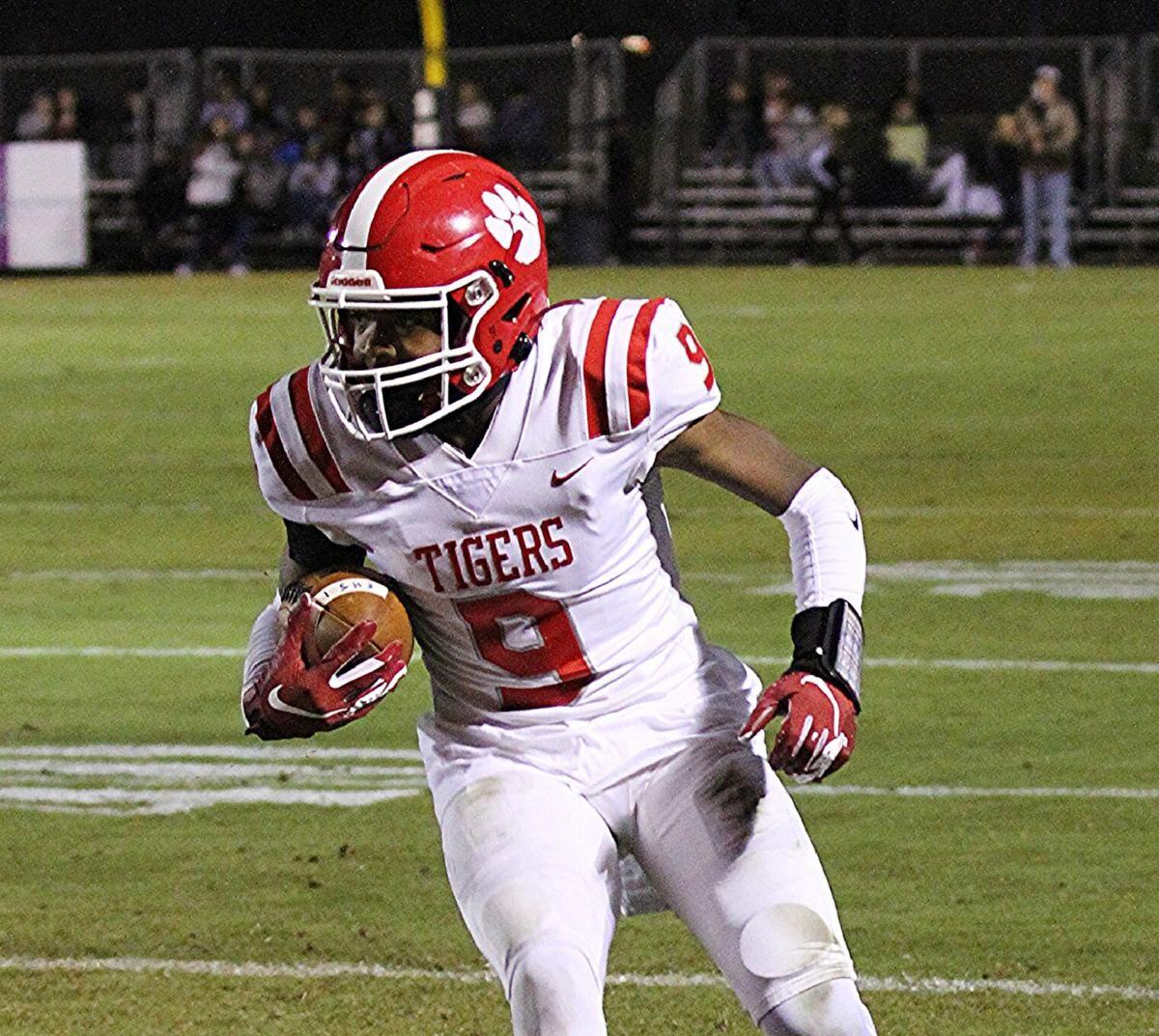 Rodarius Thomas' voice went up a couple of notches when asked about the chance to play for Mississippi State's Air Raid offense under head coach Mike Leach.
"Oh my goodness, I am ready to leave right now," Thomas said in a phone interview. "Coach will throw it around."
The Eufaula senior wide receiver, who goes by Rara, will get the chance to play in Leach's famed offensive system which this season has averaged 54.3 passes a game. The 6-foot-3, 190 pounder signed with the Bulldogs on last Wednesday.
"I feel it is a place that I fit in," Thomas said. "Ever since Mississippi State has been watching me, I sit down and watch them every game and I feel I fit in with the receivers they have got."
Thomas was one of three Eufaula players to sign college scholarships. Fellow wide receiver JayJuan Townsend inked with South Alabama and defensive end Dimonyai Lacey signed with Murray State.
Several other Tigers are expected to join them at a signing ceremony in February. The group of seniors helped Eufaula to a 9-2 season this past fall with an appearance in the second round of the Class 6A state playoffs.
Like Mississippi State, Eufaula wasn't afraid to throw it too this past year as quarterback Hess Horne threw for 3,040 yards and 35 touchdowns. Thomas and Townsend were two of the top targets with Thomas catching 55 passes for 945 yards and 13 touchdowns, all second best totals in the Wiregrass. Townsend caught 45 passes for 645 yards and five scores.
"I go up and get anything," Thomas said. "I just have to get more aggressive and get my speed up."
In addition to his success as a senior, Thomas also caught 45 passes for 957 yards and 14 touchdowns as a junior, strong numbers considering he didn't play the sport prior to that season.
Thomas, according to rivals.com, received offers from South Carolina, Troy and Western Kentucky in addition to Mississippi State. He initially committed to South Carolina, but de-committed from the Gamecocks when head coach Will Muschamp was fired during the season.
"When coach Muschamp left, I decided to de-commit cause I didn't know if the next head coach would throw it around a bit or not, so that is why I took the Mississippi State offer," Thomas said. "I didn't want to wait too long and lose Mississippi State."
Because of the COVID pandemic, Thomas has not had a chance to visit the Starkville campus, located just five hours from Eufaula, but he has seen it through a virtual tour on the web.
Growing up in the state of Alabama, Thomas was hoping to get offers from the two main in-state schools, Alabama and Auburn, but neither did, though both expressed some interest.
"I was looking forward to getting offers from them, but it didn't happen," Thomas said.
He is already looking forward to playing both fellow SEC West teams every year.
"I will be playing against them, so they are going to see," Thomas said.
Townsend sticks with South Alabama
Less than two weeks ago, South Alabama made a coaching change, letting go Steve Campbell and hiring Indiana University assistant Kane Wommack.
Despite the change, Eufaula's Townsend stayed with his commitment with the Jaguars.
"I was still solid with South because they still contacted me and let me know they still wanted me," Townsend said, indicating that he talked with Wommack. "There were other coaches (at other schools) contacting me, but I wasn't worried. I was still focused on South."
Townsend said signing with South Alabama was "a blessing."
"It feels outstanding," Townsend said. "It feels like they are giving me an opportunity to show my talent at the next level. There is not much to say. God has blessed me."
Townsend said he chose South Alabama over offers from Coastal Carolina, Austin Peay and Army. He plans to join the program in Mobile in January.
"I like the facilities," Townsend said. "I like the (new) coaching staff. They keep everything real."
The Jaguars began recruiting Townsend before the season and the Tiger senior was impressed with the new Hancock Whitney Stadium.
"When I saw they were building a new stadium and playing in a new stadium, that was exciting," Townsend said.
Though undersized at 5-foot-11, 180, Townsend said he plays bigger than his size.
"I am explosive," Townsend said. "My size doesn't look like it, but I am strong. I am able to go make a play when they need me."
He said he expects to see playing time next year as a freshman.
"I am coming in as a person who will be able to come in and play probably second string receiver," Townsend said of his expected role by coaches. "I will be able to show my talents early as a freshman."
Lacey heads to Murray State
Eufaula's Lacey, a 6-foot-5, 240-pound defensive end, signed with Murray State, a Football Championship Subdivision program in Kentucky that plays in the Ohio Valley Conference, the same conference as Jacksonville State.
"It feels good to have the stress gone, to know where I am going and to be able to map out my future more now," Lacey said of signing.
The Tiger defensive lineman chose Murray State over interest from Memphis and Missouri State.
"They always told me that they just don't want a coach to player relationship, but that they want to have a better relationship than that," Lacey said of what impressed him about the Murray State program.
"A big part of the decision was they said that I could come in and make a name for myself and that I will have a big role throughout the three, four years I am there."
This past year in 10 games, Lacey was credited with 22 tackles, including three for losses and two quarterback sacks. He also forced a fumble.
"I am faster than the average D-lineman and a little stronger, so I have a speed to power thing," Lacey said.
In going to Murray State, Lacey said he feels he has a chance to compete for a starting job in his first year, but knows there will be a lot of competition.
"They said they signed a lot of recruits at the D-line and there would be some open spots there this year, so I will try to fight for that starting spot next year," Lacey said.