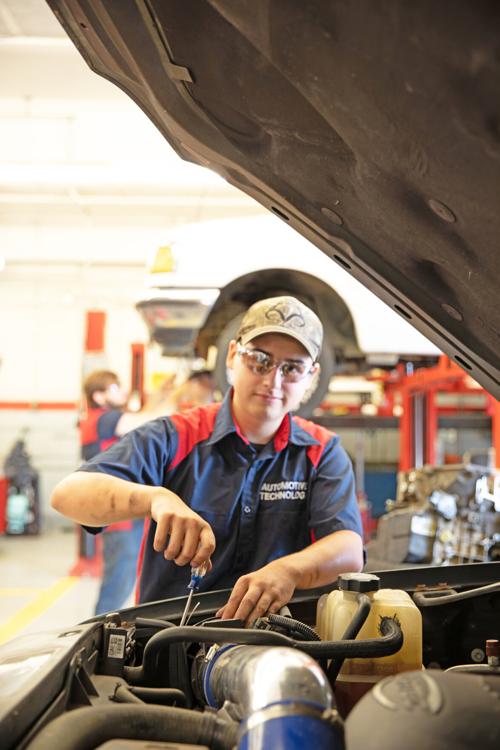 Everyone needs a reliable vehicle, and the booming automotive industry needs educated technicians to keep those vehicles moving safely on the road.
Wallace Community College – Dothan (WCCD) offers students an associate in applied science degree and certification testing opportunities with the National Institute for Automotive Service Excellence (ASE), so they can enter the workforce with greater earning power.
According to Greg Odom, WCCD automotive program director, a formal education is key to success in the industry.
"Finding employment is not an issue," Odom said. "Demand is so great that jobs are there in dealerships and smaller shops. We just need students to help fill those jobs."
John Beasley, service manager at Action GMC in Dothan, says graduates of the WCCD program can currently start at $10 to $13 per hour and earn an increase of approximately 30% for completing ASE certifications.
"We are perpetually in need of good techs," Beasley said. "The industry as a whole, beyond city-wide, needs good trainable techs, and Wallace graduates come to us with their feet already wet, so to speak."
Eighteen-year-old Cameron Payne of Dothan exemplifies the opportunity for early success in the industry. A 2021 graduate of Dothan High School and WCCD freshman, Payne began his automotive journey as a dual enrollment student and has already received several job offers.
"They want to hire me now," Payne said. "One company even offered to hire me on the spot at $16 per hour."
Payne said automotive technology was not his first career choice.
"I originally wanted to be a veterinarian," Payne said. "But, my grandfather suggested I should at least look into mechanics. I used to help him fix tractors, so I thought, 'Why not?' I like to tinker with stuff. I tried it and found out I was really good at it."
Payne is also currently working on his first ASE certification while studying at Wallace. Eight ASE certifications are available in the industry, and Odom says WCCD graduates can typically walk out of the program with two under their belts.
"They can earn the others over the course of their career, and they will get a pay raise with each level they complete," Odom said. "In fact, consumers should really look for an ASE patch on the technicians' sleeves when they drop off their vehicles, so we really encourage our students to get those certifications."
Completion of all eight certifications earns the bearer the title "master technician," together with the potential earning power of $75,000 or more per year. Payne said that is his goal.
"I started out changing oil and working on small engines and then helping my grandfather with tractors," Payne said. "Now I am one step closer to becoming a master mechanic, which is my ultimate goal, so I can perform higher-level jobs with a higher pay rate."