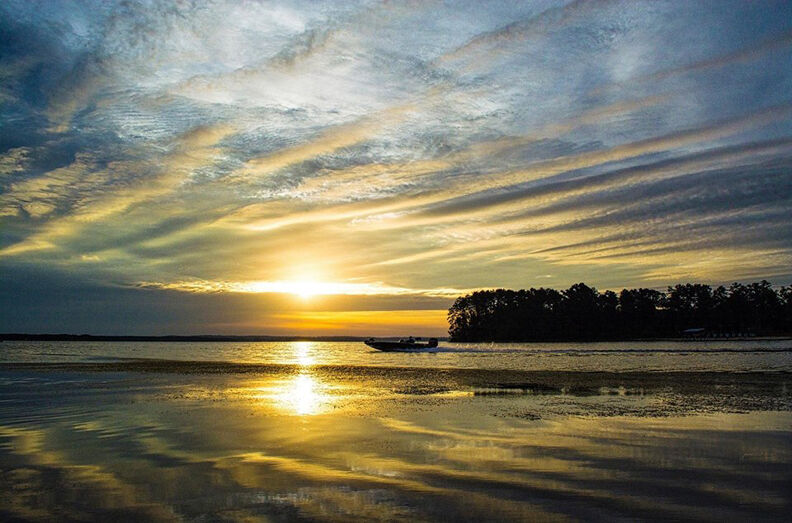 The Eufaula Tribune will publish a Lake Eufaula Fishing Report in each weekend edition with local fishermen discussing local conditions and best tactics. We will also publish pictures when possible. If you'd like to have your fishing photo published, email kmooty@eufaulatribune.com.
Sam Williams – The fish continue to transition in response to the cooler water and dropping water level. The shad are moving shallow with the cooler water and this is making the shallow fishing continue to get better before the sun gets up high. Late afternoon shallow bite is also getting better. Popping frogs, spinner baits and flukes worked over this cover are getting some action. Shaky heads, Texas rigs and chatter baits worked on the outside of these areas is also getting hits.
The fish are full and must be finessed into a bite. The hard hitting strike is not as prevalent with the bigger bass, watch for your line to be moving or swimming. The smaller bass are tapping like a heavy bream bite. Bend the point of your hook back towards the shank and you will eliminate a gut hood set on those fish that are swimming and swallowing your soft bait. You will hook them in the lip every time. The deeper bass are still scattered on the man-made and natural structure in up to 25 feet in the creeks and river. Heavy jigs, Texas rigs and Carolina rigs worked really slow is the trick in these areas is the answer. Large jigging spoons are also working. Watermelon green, watermelon candy and June bug colors are a good choice both deep and shallow. Watch for the birds feeding on the schooling shad pods. Chatter baits and top water twitch baits worked through these pods are a good bet. Throw a rattle trap or crank bait beyond the school and work it back under the fish and you will get the bigger ones this way.
Crappie are working the creek drops moving shallow and the fishermen using spider rigs are doing better. They continue to tip their jigs with minnows. The deeper crappie are on the trash piles and eating minnows placed just above them.
Bream continue to hit worms and crickets on the bank areas where you find blow downs and bushes in the water.
Catfish are enjoying the cooler water and doing well on jugs baited with cut bait, shrimp , hot dogs and chicken livers.
Please keep posted with the latest news from the Alabama Classic Bass Tournament by visiting www.alclassic.com and signing up for our newsletter. We now have a Title sponsor with Alfa Insurance Company and our new purse is $15,000 with $5,000 guaranteed for first place. We are also planning an online auction to present the items we were not able to share at the June safety meeting and tournament.
Be safe on the water; keep plenty of water and sunscreen. Watch the clouds for the afternoon storms, if you hear thunder, you can be struck by lightning. God has provided us with a beautiful river to enjoy, take your family for an outing, the memories can be precious.
Pray for our leaders and one another, God is still in control.
Lake Eufaula reading: Sept. 2
Water Temperature – Mid-80's
16-20 – Georgia Bass Federation Top Six
3 – Three Rivers Throwdown (Eufaula High Bass Team)
3-4 -- T-H Marine BFL/FLW
9-11 – Alabama Bass Nation High School Regional Qualifier
10-11 -- Bass Pro Shops Series-Area Championship AL South/GA
6-7 – Alabama Bass Nation State Championship
21 – Wiregrass Student Angler Trail
22 – Southern Collegiate Fishing
Be the first to know
Get local news delivered to your inbox!