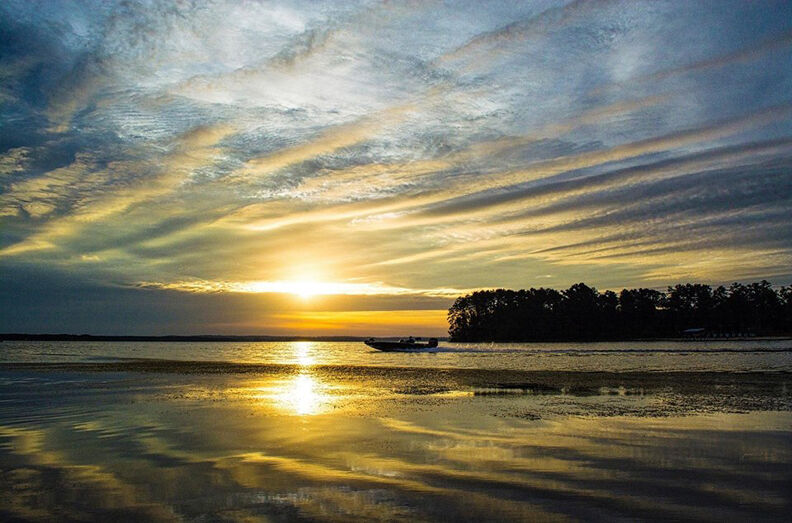 The Eufaula Tribune will publish a Lake Eufaula Fishing Report in each weekend edition with local fishermen discussing local conditions and best tactics. We will also publish pictures when possible. If you'd like to have your fishing photo published, email kmooty@eufaulatribune.com.
Sam Williams – The cooler weather and lack of rain this week has made for some comfortable fishing on the river. The fish are enjoying the cooler water and have begun to move up. The shallow fish are continuing to hit popping frogs, blade baits and weightless flukes worked over the grass and pad areas. The bite is lasting longer as the sun rises. The shad have come up shallow as well and when the sun gets higher, you will see more action as the bass begin to feed. Twitch baits, small shallow crank baits and lipless cranks worked in these feeding schools will get a strike. Texas rigs, shaky heads and jigs rigged with trick worms and creature baits are a good choice in these areas.
Plastic colors of choice are Watermelon green, watermelon red, Red shad and watermelon candy are a large jigging spoon. Use your electronics and locate the deeper bass on the trash piles on the drops up to 20 feet deep. Carolina rigs, deep cranks and jigging spoons are a good choice here. The fish are full so if you locate them, continue to work the area and aggravate a strike. They still need to be finessed. If they refuse to hit the soft plastics or the crank bait, vertical jig among them with a large jigging spoon 'till you stir the up.
Crappie are still working the creek ledge tops a little better. I still see some of the old timers catching a few working their spider rigs with minnow tipped jigs. The deeper fishermen are working the man made trash piles with minnows just above the schools. Remember, a crappie will not look or go down for bait, you must keep your presentation above them.
I talked with some bream fishermen this week and they are continuing to catch a few along on the bank cover and blow downs using wigglers and crickets. Beetle spins with a black and chartreuse body are also a good bait in the cleaner areas near grass patches.
Our trusty 'ole Catfish are always willing to give us a good meal as they continue to hit jugs in the creeks baited with cut bait, hot dog and chicken livers. If you have a cast net, use it around the docks and bridge pilings to get some fresh shad. This is the best you can get for the catfish. They will also work for the bottom fishermen as well.
Be safe on the water, keep an eye on the river cans, the creek poles and your maps on your electronics. The river continues to get lower as the work at the damn continues. Keep your water and sunscreen on board and enjoy what God has provided for us. School is back in for most but the weekend is a great time to get the youngsters outside and make those family memories.
Please visit www.alclassic.org , sign up for our newsletter to and stay up date on the great future in store for our fishermen for the June 13, 2021 tournament. The first place team will now enjoy a guaranteed check for $5,000 thanks to our new title sponsor, Alfa Insurance. The total purse is now $15,000 paid down to 15th place.
Pray for each other and reach out a helping hand where the opportunity presents its self. We are all God's family and HE is still in control.
Lake Eufaula reading: Sept. 9
Water Temperature – Mid-80's
Stained to slightly muddy
16-20 – Georgia Bass Federation Top Six
3 – Three Rivers Throwdown (Eufaula High Bass Team)
3-4 -- T-H Marine BFL/FLW
9-11 – Alabama Bass Nation High School Regional Qualifier
10-11 -- Bass Pro Shops Series-Area Championship AL South/GA
6-7 – Alabama Bass Nation State Championship
21 – Wiregrass Student Angler Trail
22 – Southern Collegiate Fishing
Be the first to know
Get local news delivered to your inbox!