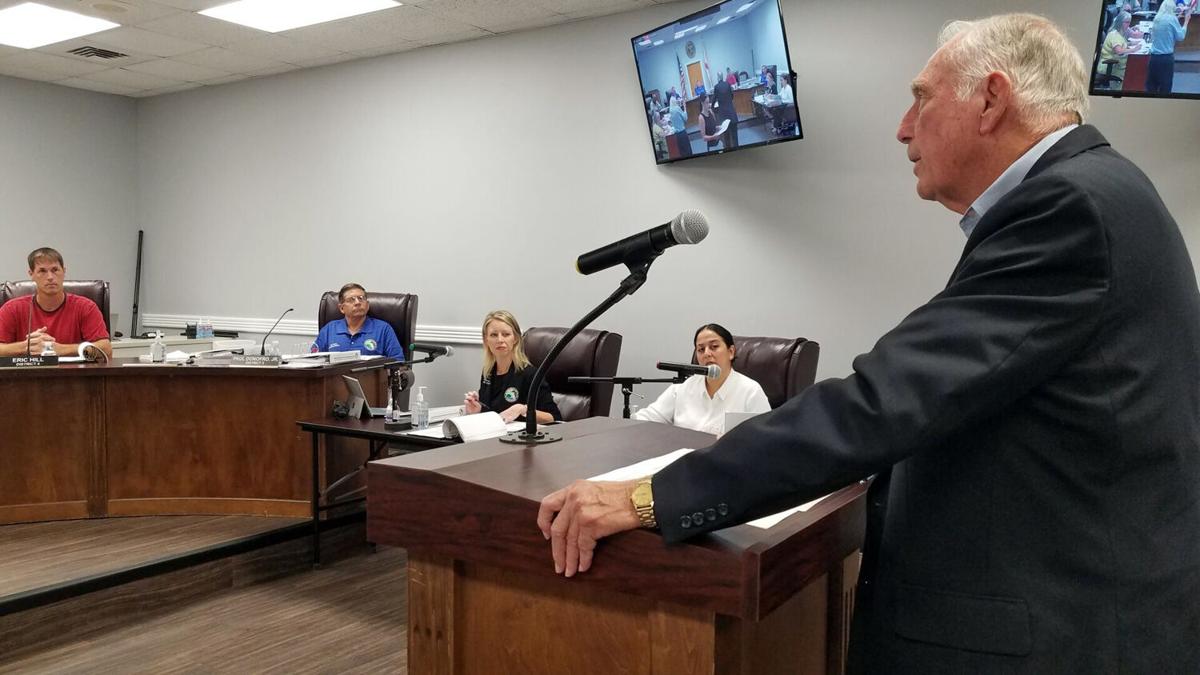 Jackson County Commissioners on Tuesday took two votes that would have implemented a proposed additional five-cent local option gas tax if the motions had passed, but the required super-majority of at least four positive votes could not be reached.
The matter was idled even though most board members expressed some personal support for considering the tax increase during discussion.
The county currently has a six-cent local option tax. The additional nickel tax would cause motorists to pay 11 cents of local option tax. The county is required to share a portion of the existing six with their eligible municipalities and would also be required to share a portion of the extra nickel.
At issue Tuesday was language in the proposed ordinance that, in the event that the extra nickel was imposed, would have deprived the county's municipalities of a separate penny of state tax that the county chooses to shares with them.
That penny is separate from the local option gas tax. It is an unrelated state tax that the county was never required to share with municipalities, but has elected to share for many years.
The notion of ending that sharing of the income derived from that state penny came up as the county began considering the implementation of the unrelated addition nickel of local option tax.
Discussion Tuesday indicated that the thought was that, since municipalities would be gaining revenue with the shared nickel, the county could benefit itself holding the whole state penny it wasn't required to share but could avoid hurting the municipalities since they'd be benefitting more from the nickel.
Most commissioners said they were reluctantly in favor of the extra nickel, based on the budget pressures the county now faces, but most also disagreed that the municipalities should lose their penny of state tax as a result of implementing the additional five cent local option tax.
Commissioner Clint Pate offered a motion to deny the ordinance as written and schedule a public hearing for an amended ordinance that would have removed the language regarding the take-back of the unrelated penny of state tax. That motion failed 2-3, with Pate and Jim Peacock voting yes and Alex McKinnie, Eric Hill and Paul Donofro Jr. voting against.
Then Donofro offered a motion to pass the ordinance as it exists but to set another public hearing for the purpose of potentially amending it to remove the language that calls for the county to take back the unrelated penny of state tax. That one received a 3-2 vote, usually good enough to pass, but not in this case. The proposed increase in the local option tax requires a super-majority vote of at least four affirmative votes.
Ultimately the county has one more shot to consider the local option tax increase in time for it to be implemented in January of 2022. Although no immediate action was taken to do so, the county could advertise a Sept. 28 public hearing and potentially vote on an amended ordinance.
If they do that, chances are they'll hear again from local citizen Jim Hart, the only citizen that spoke on the issue Tuesday.
He said he was against the tax and offered some statistics supporting his position.
"I was born in Greenwood 85 years ago and now live on my grandfather's homestead," he said. "My roots run deep and I love my county and want it to prosper. However, I am against increasing the taxes on gasoline for several reasons."
He went on to talk about all the federal, state and local fuel taxes already in place, in addition to state fees.
According to Hart, federal, state and local taxes, combined with state fees, total 54.1 cents per gallon.
He broke those pennies down in summarizing the total.
Federal taxes are 18.4 cents per gallon, he said.
"State of Florida taxes and fees, including six cents in local taxes which were recently renewed for another 30 years: 35.7 cents per gallon as spelled out in State of Florida Tax Information Publication No. 20B05-02 with rates effective January 1, 2021," he said. "Federal, state and local taxes currently total 54.1 cents per gallon. Don't you think that's enough?" he commented.
"If you add an additional five cents per gallon the total will then be 59.1 cents per gallon. That amounts to a 19.7 per cent sales tax on every gallon of gasoline purchased in Jackson County," he continued.
"For comparison, the current total tax rate per gallon in Alabama is 42.4 cents per gallon and in Georgia it is 46.3 cents per gallon. If you go to Alabama today the price difference in a gallon of gasoline is 24 cents. Gasoline costs $2.75 cents per gallon in Dothan vs. $2.99 per gallon in Marianna. Gasoline is already taxed enough. No other commodity, so widely used, is taxed as much as gasoline."
He offered several comments on his opposition, some related to the burden that would place on low-to-moderate income households. He also predicted that the extra tax would spur locals to more often fill up their tanks when they're in neighboring states because the fuel there would then be even more significantly cheaper than it is in Jackson County.