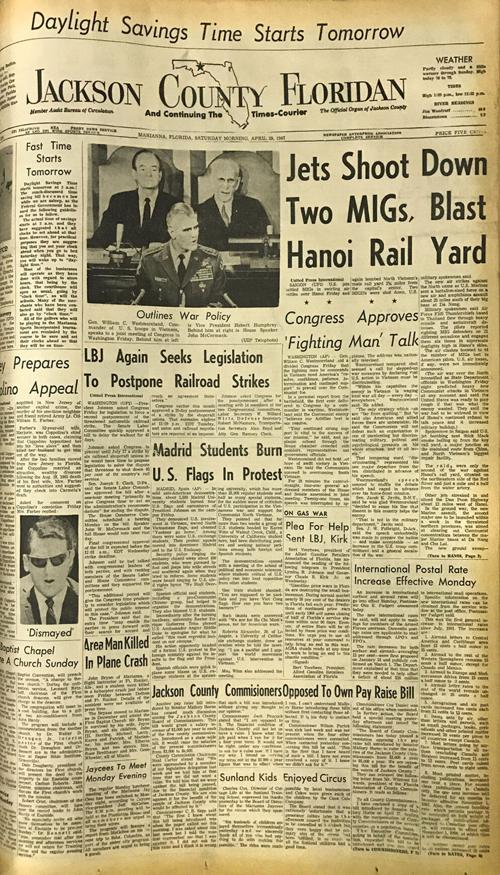 County commissioners opposed to own pay raise bill
Another pay raise bill introduced by Sen. Mallory Horne has caused much discussion among the Jackson County Board of Commissioners.
This bill would grant a salary increase of $3,000 per year to each of the five commissioners. Introduced as a statewide bill, it would raise the salaries of the present commissioners from $3,000 to $6,000.
"We were approached by a member of our legislative delegation last week and we told him at that time that we did not want a raise," County Commission Chairman Neal Carter said.
"We told him that we were against the bill being passed due to the financial condition of Jackson County."
At a special meeting yesterday, the Board issued a statement opposing the bill. —Jackson County Floridan, Saturday, April 29, 1967
Area man killed in plane crash
John Bryan of Marianna, a flight instructor at Ft. Rucker, Ala., and a student were killed in a helicopter crash just before noon Friday, between Dothan and Ft. Rucker. Details of the accident were not available at press time.
The Bryans moved to Marianna in December and attended First Baptist Church. Mr. Bryan is survived by his wife, Joyce Bryan, and six children. —Jackson County Floridan, Saturday, April 29, 1967
Jets shoot down 2 MIGs, blast Hanoi rail yard
U.S. jets battled MIGs in swirling air battles over Hanoi Friday and again bombed North Vietnam's main rail yard near the capital's center. Two MIG17s were shot down, U.S. military spokesmen said.
The air war over the North intensified as State Department officials in Washington Friday night predicted heavy new Communist attacks in Vietnam at any moment and said the U.S. was ready to play rough if that was what the enemy wanted. —Jackson County Floridan, Saturday, April 29, 1967
Congress approves 'fighting man' talk
Gen. William C. Westmoreland told a divided Congress Friday that the fighting men he commands in Vietnam need America's "resolve, confidence, patience, determination and continued support" to prevail over the Communist foe.
Interrupted by applause 21 times during his televised address, Westmoreland said American and allied forces there are unbeatable. —Jackson County Floridan, Saturday, April 29, 1967