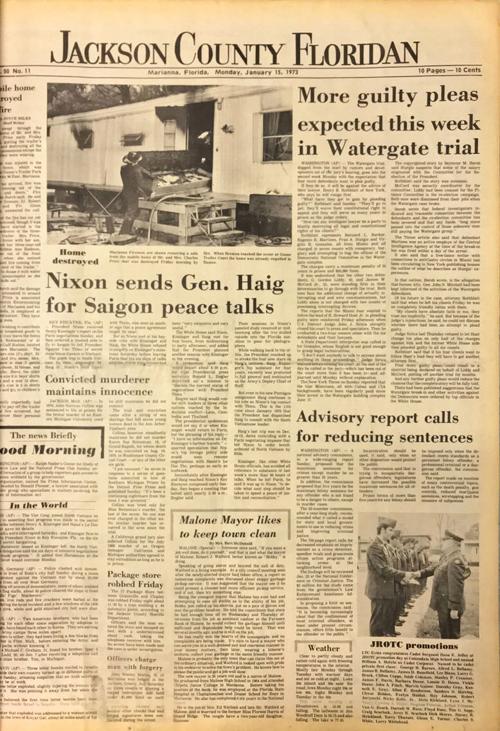 Malone mayor likes to keep town clean
Someone once said, "If you want a job well done, do it yourself," and that is just what the mayor of Malone, Robert J. Watford, better known as "Bobby," is doing.
At a city council meeting soon after the newly elected mayor had taken office, numerous complaints of sloppy garbage pickup were discussed. Being the youngest mayor Malone has ever had, and attempting to ease doubts about his abilities, the mayor just rolled up his sleeves, put on a pair of gloves and met the problem head-on.
Watford told the councilmen that since he had enough time off on Wednesday and Thursday afternoons from his job as assistant cashier at the Farmers Bank of Malone, he would collect the garbage himself until sufficient help could be hired.
That was several months ago, and he's still on the job. — Jackson County Floridan, Monday, Jan. 15, 1973
Package store robbed Friday
The 77 Package Store between Graceville and Chipley was robbed Friday night around 11:30 by a man wielding a .45 automatic pistol, according to the Jackson County Sheriff's Department.
Officers said the man entered the store and escaped on foot with an undetermined amount of cash, taking the telephone receiver with him.
No arrest has been made and the case is under investigation. — Jackson County Floridan, Monday, Jan. 15, 1973
Advisory report calls for reducing sentences
A national advisory commission, in a wide-ranging report Sunday, proposed that the maximum sentences for crimes except murder be no greater than 25 years.
In addition, the commission proposed that five years be the maximum felony sentence for any offender who is not found to be a danger to others, except in murder cases.
The 22-member commission, after a year-long study, recommended what it called a model for state and local governments to use in reducing crime and improving criminal justice. — Jackson County Floridan, Monday, Jan. 15, 1973