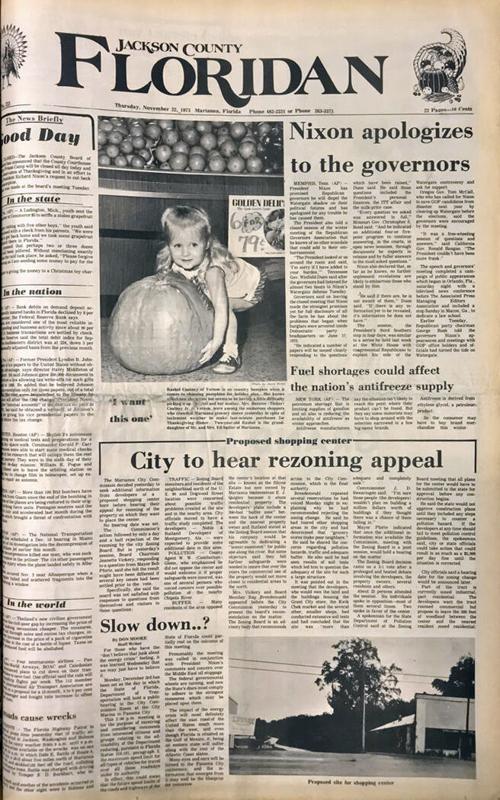 City to hear rezoning appeal
The Marianna City Commission decided yesterday to seek additional information from developers of a proposed shopping center here before hearing their appeal for rezoning of the property on which they want to place the center. No hearing date was set.
The Commission's action followed by only a day and a half rejection of the rezoning by the city Zoning Board. But in yesterday's session, Board Chairman Jeanette Vickery, responding to a question from Mayor Bob Pforte, said she felt the result might have been different if several key issues — traffic, pollution, and a proposed buffer — had been settled prior to the vote.
Part of the tract is currently zoned industrial, part residential. The developers want the tract rezoned commercial but proposed to leave the 300 feet of woodland between the center and the nearest resident zoned residential. — Jackson County Floridan, Thursday, Nov. 22, 1973
For those who have the "don't believe that junk about the energy crisis" feeling, it was learned Wednesday that we may just have to believe it.
On Dec. 3, the state Department of Transportation will hold a public meeting in Panama City to receive comments relating to the state reducing the maximum speed limit for all types of vehicles over roadways under its authority. — Jackson County Floridan, Thursday, Nov. 22, 1973
Fuel shortages could affect the nation's antifreeze supply
The petroleum shortage that is limiting supplies of gasoline and oil also is reducing the availability of antifreeze as winter approaches.
Manufacturers of antifreeze, which is derived from ethylene glycol, a petroleum product, say the situation isn't likely to reach the point where their product can't be found. But they say some motorists may have to shop around with the selection narrowed to a few big-name brands. — Jackson County Floridan, Thursday, Nov. 22, 1973
Nixon apologizes to the governors
President Nixon has promised Republican governors he will dispel the Watergate shadow on their political futures and has apologized for any trouble he has caused them.
The President also told a closed session of the winter meeting of the Republican Governors Association that he knows of no other scandals that could add to their embarrassment. — Jackson County Floridan, Thursday, Nov. 22, 1973
Be the first to know
Get local news delivered to your inbox!