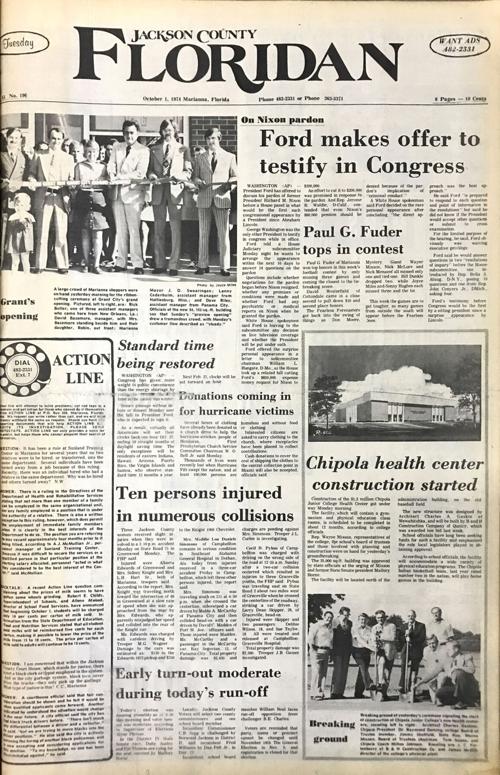 Chipola health center construction started
Construction of the $1.2 million Chipola Junior College Health Center got underway Monday morning.
The facility, which will contain a gymnasium and physical education classrooms, is scheduled to be completed in about 12 months, according to college officials.
Rep. Wayne Mixson, representatives of the college, the school's board of trustees and those involved with planning and construction were on hand for yesterday's groundbreaking.
The 35,000-square-foot building was approved by state officials at the urging of Mixson and former state Senate president Mallory Horne.
The new structure was designed by architect Charles A. Gaskin of Wewahitchka, and will be built by B and H Constriction Company of Quincy, which was awarded low bid last week.
School officials say the facility will accommodate a wide variety of physical education programs. The Chipola Indians basketball team — last year rated number two in the nation — will play home games in the building. —Jackson County Floridan, Tuesday, Oct. 1, 1974
Standard time being restoredCongress has given more weight to public convenience than the energy shortage by voting to restore standard time in the nation this winter.
Senate passage without debate or dissent Monday sent the bill to President Ford, who is expected to sign it.
As a result, virtually all Americans will set their clocks back one hour Oct. 27, ending 10 straight months of daylight saving time. The only exceptions will be residents of eastern Indiana, Hawaii, Arizona, Puerto Rico, the Virgin Islands and Samoa, who observe standard time 12 months a year. —Jackson County Floridan, Tuesday, Oct. 1, 1974
Early turn-out moderate during today's run-offToday's election was running smoothly as of 8:30 this morning and voter turnout was moderate, according to Supervisor of Elections Alyne Pittman.
In the District IV state Senate race, Duby Ausley and Pat Thomas are vying for the seat vacated by Joy Mallory Horne. Locally, Jackson County voters will select two county commissioners and one school board member.
Incumbent Commissioner C.B. Sapp is challenged by Norwood Jackson in District II, and incumbent Fred Williams by Dan Pelt Jr. in District IV.
Incumbent school board member William Neel faces run-off opposition from challenger B.E. Charles. —Jackson County Floridan, Tuesday, Oct. 1, 1974