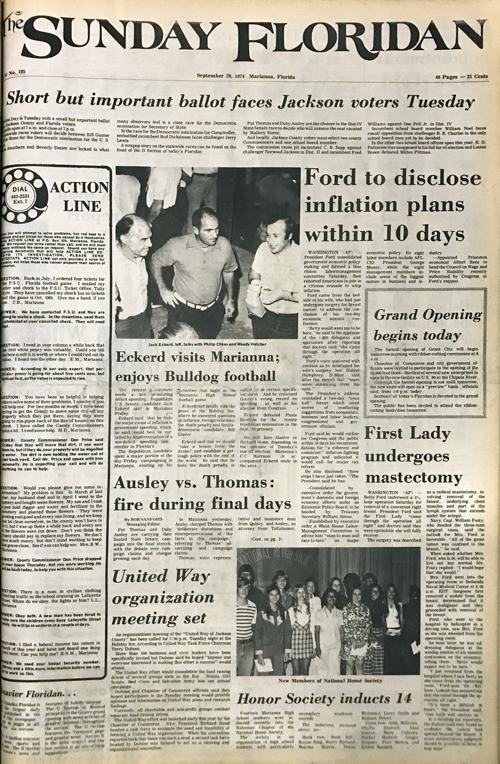 Eckerd visits Marianna, enjoys Bulldog football
The federal government needs a law prohibiting deficit spending, republican U.S. Senate candidate Jack Eckerd said in Marianna Friday.
Eckerd said he feels the major cause of inflation is government spending, which, he said, could best be curtailed by implementation of a non-deficit spending law similar to Florida's.
The candidate spent a major portion of the day Friday campaigning in Marianna, winding up his activities that night at the Marianna High School football game.
Eckerd met briefly with the press at the Holiday Inn, where he answered questions on inflation, foreign relations, the death penalty and Senate democratic candidate Bill Gunter.
Eckerd said he would "take a lesson from the Arabs" and establish a get-tough policy with the rest of the world. He said that he feels the death penalty is called for in certain specific instances. —Jackson County Floridan, Sept. 29, 1974
Grand opening begins today
The formal opening of Grant City will begin tomorrow morning with ribbon-cutting ceremonies at 9 a.m.
Chamber of Commerce and city government officials were invited to participate in the opening of the 55,000-foot store — the first of several new enterprises to open in the new facility on U.S. 90 at the Chipola River.
Although the formal opening is not until tomorrow, the new store will be open 1-6 p.m. today, on a "preview" basis, officials said. —Jackson County Floridan, Sept. 29, 1974
First lady undergoes mastectomy
Betty Ford underwent a two-and-a-half hour operation Saturday for removal of a cancerous right breast.
President Ford said the first lady "came through the operation all right" and doctors said they were optimistic she will fully recover.
The surgery was described as a radical mastectomy, involving removal of the breast, underlying chest muscles and part of the lymph system that extends under the armpit.
Navy Capt. William Fouty, who headed the three-man surgical team, said the outlook for Mrs. Ford is favorable. "All of the gross tumor was confined to the breast," he said. —Jackson County Floridan, Sept. 29, 1974
Be the first to know
Get local news delivered to your inbox!