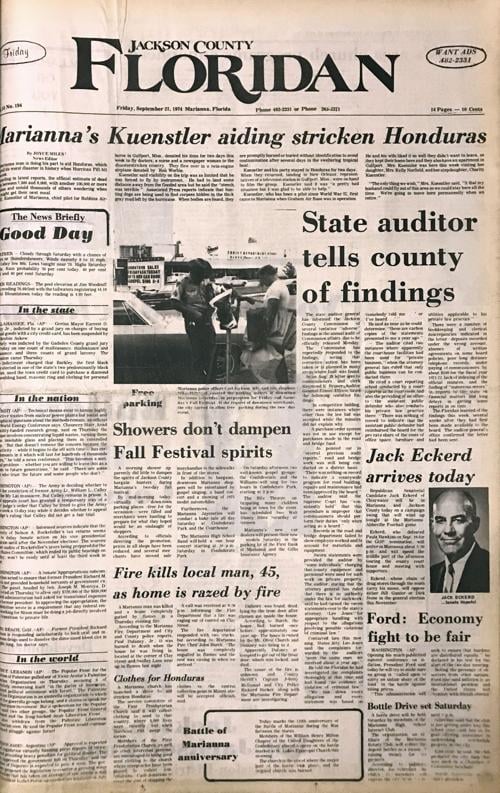 Marianna's Kuenstler aiding stricken Honduras
A Marianna man is doing his part to aid Honduras, which suffered its worst disaster in history when Hurricane Fifi hit last week.
According to latest reports, the official estimate of dead is between 7,500 and 8,000, with another 100,000 or more homeless, and untold thousands wondering when they might get their next meal.
R.E. Kuenstler of Marianna, chief pilot for Robbins Airborne in Gulfport, Miss., donated his time for two days this week to fly doctors, a nurse and a newspaper woman to the disaster-stricken country. They flew over in a twin-engine airplane donated by Ron Worbie.
Kuenstler said visibility on the trip was so limited that he was forced to fly by instrument. He had to land some distance away from the flooded area, but he said the "stench was terrible." Associated Press reports indicate that hunting dogs are being used to find corpses hidden in the thick, gray mud left by the hurricane. When bodies are found, they are promptly burned or buried without identification to avoid contamination after several days in the sweltering tropical heat.
Kuenstler and his party stayed in Honduras for two days. When they returned, landing in New Orleans, representatives of a television station in Gulfport were on hand to film the group. Kuenstler said it was "a pretty bad situation, but I was glad to be able to help."
Kuenstler, who has been a pilot since World War II, first came to Marianna when Graham Air Base was in operation. He and his wife liked it so well they didn't want to leave, so they kept their home here and they also have an apartment in Gulfport. — Jackson County Floridan, Friday, Sept. 27, 1974
Battle of Marianna anniversary
Today marks the 110th anniversary of the Battle of Marianna during the War Between the States.
Members of the William Henry Milton Chapter of the United Daughters of the Confederacy placed a spray on the battle marker at St. Luke's Episcopal Church this morning.
The church is the site of where the major part of the battle took place and the original church was burned. — Jackson County Floridan, Friday, Sept. 27, 1974
Jack Eckerd arrives today
Republican senatorial candidate Jack Eckerd of Clearwater will be in Marianna and Jackson County today on a campaign swing that will wind up tonight at the Marianna-Abbeville football game.
Eckerd, whose chain of drug stores through the south carries his name, will oppose either Bill Gunter or Dick Stone in the general election this November. — Jackson County Floridan, Friday, Sept. 27, 1974
Be the first to know
Get local news delivered to your inbox!