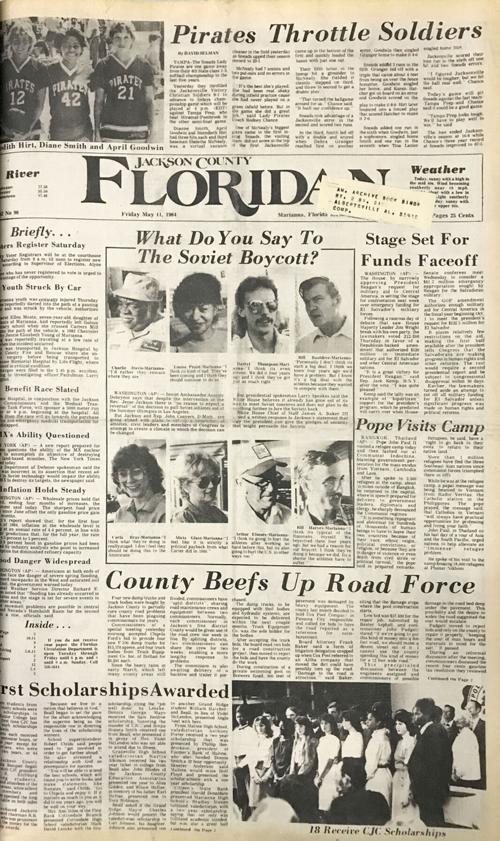 Pirates throttle Soldiers
The Sneads Lady Pirates are one game away from their fourth State Class 1-A softball championship in the last five years.
Yesterday they throttled the Jacksonville Victory Christian Soldiers 9-1 to advance to today's championship game against Tampa Prep, who beat Miramar-Pembrook in the other semi-final game.
Dianne Smith, April Godwin and Meredith Hirt had three hits each and third baseman Sheletha McNealy was a virtual vacuum cleaner in the field yesterday as Sneads upped their season record to 23-1. McNealy had seven assists and two put-outs and no errors in the game.
"I figured Jacksonville would be tougher, but we hit the ball really well," Lady Pirates Coach Rodney Chance said. "Tampa Prep looks tough. We'll have to play well to win." —Jackson County Floridan, Friday, May 11, 1984
County beefs up road forceFour new dump trucks and truck bodies were bought by Jackson County to partially cure county road problems that have been plaguing commissioners for years.
Commissioners at a special meeting yesterday morning accepted Chipola Ford's bid to provide four new F-700 dump trucks for $13,578 a piece, and four truck bodies from Truck Equipment Co. Inc. of Dothan for $3,291 each.
Also discussed was a section of Brewers Road that was damaged during construction of a private swimming pool.
The County last month decided to hold Cox Pool Company in Panama City responsible, though board attorney Frank Baker said a form of litigation delegation cropped up when Cox Pool referred to an Altha company that moved the dirt could have possibly torn up the road. —Jackson County Floridan, Friday, May 11, 1984
Youth struck by carA Marianna youth was critically injured Thursday after she reportedly darted into the path of a passing motorist and was struck by the vehicle, authorities say. The 7-year-old had reportedly left Golson Elementary School when she crossed Carters Mill Road into the path of the vehicle, which was said to have been traveling at a low rate of speed.
The child underwent surgery at Jackson Hospital before being transported to Tallahassee Memorial Hospital and is listed in critical condition.
No charges were filed in the 2:45 p.m. accident, according to investigating officer Patrolman Larry Whittington. —Jackson County Floridan, Friday, May 11, 1984