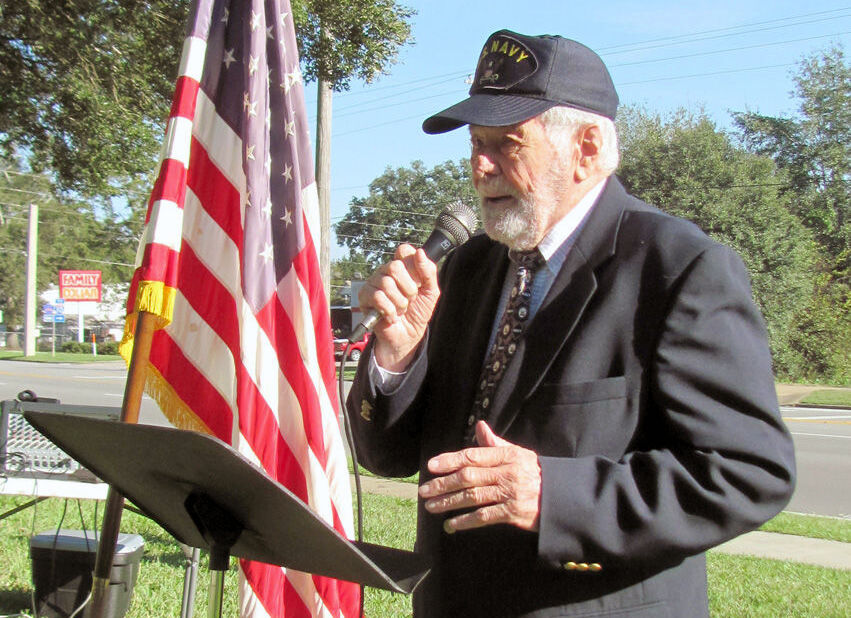 The home of community icon Homer Hirt was destroyed by fire Tuesday night, taking with it a lifetime of treasures amassed by the soon-to-be 92-year-old Navy veteran. He lost nearly everything but the clothes on his back.
Among the most grievous losses was a watercolor painting of the last ship he served on, the USS Tweedy, a destroyer escort. Hirt had commissioned it's creation by a premier maritime artist of the day, Richard S. Moore, who was also a friend and had served with Hirt in the Navy aboard another ship.
Also consumed in the fire were all of Hirt's old uniforms and his service medals. He'd retired from the service as a Lt. Commander and had served 23 years.
He also lost the 1957 Thunderbird that he was restoring.
Hirt, though, is counting his blessings.
He said he wanted to thank all the fire teams that responded to the fire, including volunteer units from his hometown of Chattahoochee, his current town of residence, Sneads, as well as from Grand Ridge and Dellwood, and units from Jackson County Fire Rescue. Hirt said there were others, as well. The fire teams saved his small Mercedes sports car, he added, pulling it from harm's way, since the keys to the vehicle were inside the burning house.
He also said he was grateful for all the people that showed up with supplies and encouragement after the fire.
"I have better clothes now than I had before," Hirt said. "So many people, some of whom I didn't even know, have come in to help, to encourage. That means so very much to me."
Immediately after the fire, he checked in at the Seminole Inn near Sneads Park. He thanked the proprietor for getting up and getting him settled that night. The fire caught up around 7:30 p.m. Tuesday and rekindled briefly around 4 a.m. Wednesday, but the majority of damage had been done by then. It's practically burned to the ground, with little more than concrete blocks remaining.
He said the fire apparently started on a stove top, and that flames had reached the ceiling by the time the fire alarm sounded.
The house on Dairy Road in Sneads was built in 1967, and Hirt had lived in it ever since.
Despite all the losses, including all the things his late wife had treasured in her lifetime, all his Navy memorabilia, his World War II-era photographs, special numbered prints and so much more, Hirt said he's looking toward tomorrow and what he can do for his community.
"I owe a big thank you to a whole lot of people," Hirt said.
"My phone has been busy ever since it happened, people checking in to see what they can do for me. My goal is to do something worthwhile for my community. It's a new starting point for me.
"My computer's gone, so I'm back to snail mail...all my artwork and the keepsakes, all of those things are now just memories, nothing you can put your hands on anymore. But I'd like find something that's worth doing. I know I can.
"There's miles to go before we sleep, like the poet said."