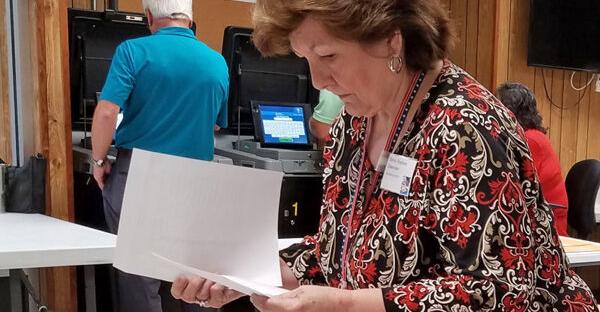 With the General Election set for Nov. 3, Supervisor of Elections Sylvia Stephens is reminding voters they must be registered by Oct. 5 to cast a ballot.
If you've changed your name and need to update that information with the elections office, or if you've moved and need to update your address, all that should be handled by then as well.
You can visit the election website at www.jackoncountysoe.org to complete a registration application, make a request to vote by mail, view early voting dates, times and locations, check your voting status to ensure you're registered, view a sample ballot, and access more information.
Stephens also prepared the following press release to guide voters through the process this election season.
Any citizen of the United States who is at least 18 years of age, and meets state requirements, may vote in County, State and Federal Elections. This has not always been the case. When the United States first won its independence, there were many restrictions on who could vote. In some states, only white male landowners over the age of 21 could vote. Beginning in 1870, however, a series of Constitutional Amendments (15th, 17th, 19th, 23rd, 24th, and 26th) and passage of certain pieces of legislation have extended voting privileges to more and more citizens.
You can apply to register to vote at any time; however, the deadline to register and vote in an upcoming election is 29 days before the election date. You are entitled to register to vote in your home county and state even though you may be temporarily living elsewhere. (ex: work, military, school, etc.).
It is everyone's civic responsibility to vote, but to do so you must be registered. Requirements for registration and registration deadlines vary from state to state. In Florida, a person may pre-register at the age of 16 and vote when they turn 18. A Florida Voter Registration Application may be obtained from the following places:
•Government Public Assistance offices
DUTIES, RESPONSIBILITIES, 3 WAYS TO VOTE
The right to vote is a duty as well as a privilege. It is important for all citizens to vote in every election to make sure that the democratic, representative system of government is maintained. Persons who do not vote lose their voice in selecting their choice in our government. It is also very important that each citizen be well informed about the issues and candidates on the ballot before voting. A voter may choose to vote from the three following methods:
1. Vote By Mail: The voter or an immediate family member may request a ballot be mailed to the voter. The voter may pick up their own ballot from the Elections office once they are printed and ready for distribution. Florida law allows a request to be placed for two general elections: otherwise for four years. A voter wanting to vote by mail should check with the Supervisor of Elections office each election year to make sure a request is on file. Ballots are not mailed out to everyone; only to the voters who have requested a ballot be mailed.
•Voting by mail is a safe and secure way to vote. State laws, rules and regulations are in place at the elections office to verify who is requesting a mail ballot, what address it is being mailed to and it has been received by the election's office. A second verification process is initiated when the Voter's Certificate Envelope containing the voted ballot is returned to the election's office. There are several check and balance verifications to track the number of physical ballots received and compare that number and name of voters to the number of ballots received and name of voters shown on our reports.
•The voter must be responsible and diligent in returning their voted ballot in sufficient time so that it is returned to and received by the Supervisor of Election's office by 7 p.m. Election Day. It can be delivered by the voter or someone else to the Elections' office, deposited into our Official Ballot Boxes offered at our three Early Voting sites during the dates and times of early voting, or if mailed, placed in the mail at least a week before Election Day. It must physically be in the Supervisor of Elections' office by 7 p.m. Election Day.
•When canvassing the vote-by-mail ballots, two members of the canvassing board and several poll workers are present in the process. A couple of poll workers removes the ballot from the voter's certificate envelope and different workers take those ballots and unfolds them. This process ensures the secrecy of the vote. Another worker inserts the ballots into the tabulating voting equipment, the DS200.
2. Vote Early: Any eligible voter may vote before Election Day and place their ballot into the voting tabulating equipment just like on Election Day. Early Voting is useful way for voters who wish to vote at a time and day convenient for them. Information on the dates, times and Early Voting locations is advertised in the local newspapers, listed on our sample ballot and on our website www.jacksoncountysoe.org.
•There are three (3) locations any eligible voter may vote during the dates and times listed before Election Day. The locations are 1) Graceville City Hall 2) Sneads City Hall 3) Supervisor of Elections office. Early Voting also includes Saturdays and Sundays.
3. Vote on Election Day: Election day the polls are opened 7a.m. to 7p.m. for voters to vote at the polling place located in the precinct of the voter's record of residence.
•On Election Day, Florida law requires that a voter must vote in the precinct where they live and are registered. Any voter who is registered in the Florida, may update their record any time and then be eligible to vote in the county where they live. Any changes should be made in advance of Election Day so that the voter has sufficient time to obtain information of where and when they may vote.
•Florida law does require that a voter present a signature and picture ID when voting in person. If the voter cannot provide their ID, the voter may vote a Provisional Ballot.
•A Provisional ballot is a regular ballot but is placed inside a special envelope. The voter and the poll clerk will complete requested information and sign the envelope. The voter is given a tab from the envelope containing information and a specific security number. A couple of days after the election, the voter can check our website or call our office to find out if the Canvassing Board accepted their ballot and if it was counted. If the voter is registered, votes the correct party (primaries only) and the correct precinct ballot, then it is deemed valid and is counted and added in with the other election totals.
The Canvassing Board for an election pursuant to Florida Law consists of the County Judge, County Commissioner and the Supervisor of Elections.
Totals for any election are not obtained until after 7 p.m. Election Night.
Jackson County's voting tabulation equipment is a stand-alone system and is not connected to the internet.
Voting history is notated in the voter's record the minute their vote-by-ballot is checked in, when the voter checks in to early vote or when the voter checks in to vote at the polls; therefore, a voter is unable to vote twice during an election and if attempted, the voter could be convicted of a felony.
Stephens and her staff can be reached at 850-482-9652.
Be the first to know
Get local news delivered to your inbox!