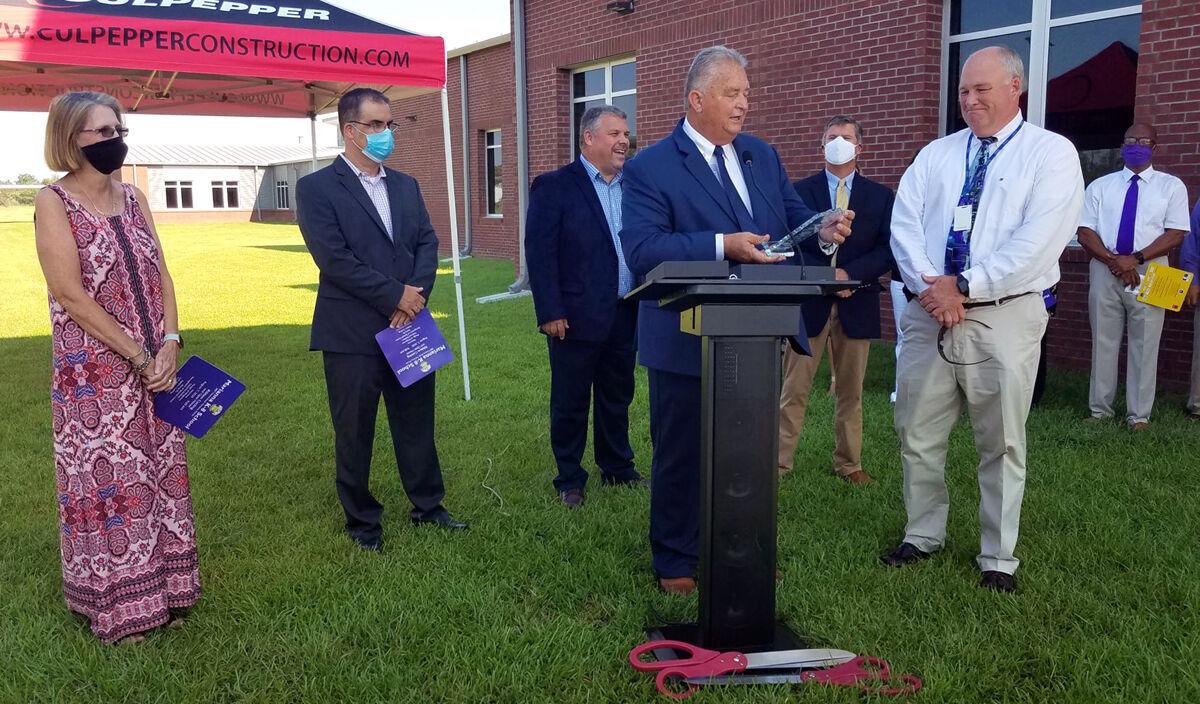 In October, 36-year Jackson County School Board employee Stuart Wiggins will clock his last day with the school system he's served in many capacities through the years.
The job he's leaving, Facilities and Construction Director, is one he's held since 2008.
In that time he's helped secure some major projects and then oversaw them as they came to fruition. Last August, for instance, the school system celebrated the opening of the new K-8 school in Marianna and the construction project that combined grades PreK-12 in Graceville. He was such a key player in those that the Superintendent of Schools in office at that time, Larry Moore, presented him a plaque acknowledging his successful efforts.
In these last months on the job, Wiggins is largely focused on training his replacement, Dallas Ellis.
And as he prepares to say goodbye, he thinks often of his career with the school system. He'd left an accounting position with UniMac to become a teacher after he realized in doing some volunteer work with children that he liked working with kids. When he got his degree in education, Grand Ridge principal Joe Houston hired him in 1996 to teach at Grand Ridge.
And that first day...well, it didn't go great. Wiggins was overwhelmed.
"After that first day, I sat at my desk and took out an index card, numbered it from 180 to zero. I said to myself, 'At the end of this 180 days, I'm quitting this,'" he confesses.
But he survived those first difficult days to serve not just another 179 days but 14 more years as a teacher at that school. He was also a baseball coach there for a time and his teams went to state twice, finishing as runner-up one year.
He next moved to Marianna High School as a tech coordinator, then obtained a specialist degree that made him eligible to serve in an administrative role. He managed the school's warehouse system after that, and then was assigned to transportation for a period of about four years.
At MHS, he also coached baseball in a time that included the years that eventual major-leaguers Allen Horne and Jeff Mathis played for the MHS Bulldogs. He also coached current School Board member Chris Johnson when he was a teen, and, coincidentally, Charlie Johnson, the man that is now expected to buy the old Marianna Middle School property. Wiggins left coaching when he took on administrative duties that demanded more of his time, but fondly remembers all those years on the field.
After his assignment in transportation, Wiggins was transferred to facilities and it was there that he found his most comfortable fit. It was a natural one, he said.
"Back when I was still in the classroom, I'd started drafting house plans on the side to supplement my teaching income. I did that for six or seven years. My dad owned a hardware store, my granddad was a master carpenter, and my uncle was a contractor, so I really grew up in the construction industry and had always enjoyed that," Wiggins explained.
He had to quit drafting house plans because any association with contractors in that aspect of his life could have represented the appearance of a conflict once he got into the administrative realm at work, and especially in his job as Facilities and Construction Director.
But he didn't have much time for side concerns at that point anyway. "I had to work a lot of extra hours once I got into administration, but this job was a great place for me because, for one thing, as a former teacher I understood what teachers needed in terms of their space, and it also fit right into my business background," he said.
Wiggins said he said he's been fortunate in his years with the Jackson County school system.
"I've worked under four different superintendents and they've all been good to me, even going through the tough years when we were building two schools at the same time," he said.
Wiggins said he's also been blessed at home.
"My sweet wife (Charlene Richards Wiggins) is a guidance counselor here and before that she was a teacher. Even with all her own responsibilities she's been a constant source of support for me," Wiggins said. "She used to follow me around to every ballpark and keep the score book for me. We've been married 35 years...we just celebrated that anniversary...and she's been understanding of all those extra hours I had to spend on work projects over the years. She's always been someone I could depend on to help me get through the most demanding times."
There's another thing Wiggins finds rewarding as he prepares to take his leave of the school system: Before he's out the door, his daughter Amanda Fowler will be coming in the door. She's just secured a job as a math teacher at Marianna High and will start before his retirement date. "I didn't even know she was applying or even thinking about coming back here. It was a great surprise," Wiggins said.
His younger daughter, Christen Wiggins McBride, is also a teacher. She works at a Christian school in Dothan, Alabama.
His son, Bryan, better known as "Bo," is a mechanic, a field of work akin to some extent to his dad's asset management background.
Wiggins said it's nice to see his children following in his footsteps.
He said he'll be finding things to keep him busy in retirement: He enjoys golf and woodworking and he might just be seen out on the landscape of some construction site when he's not on the greens.