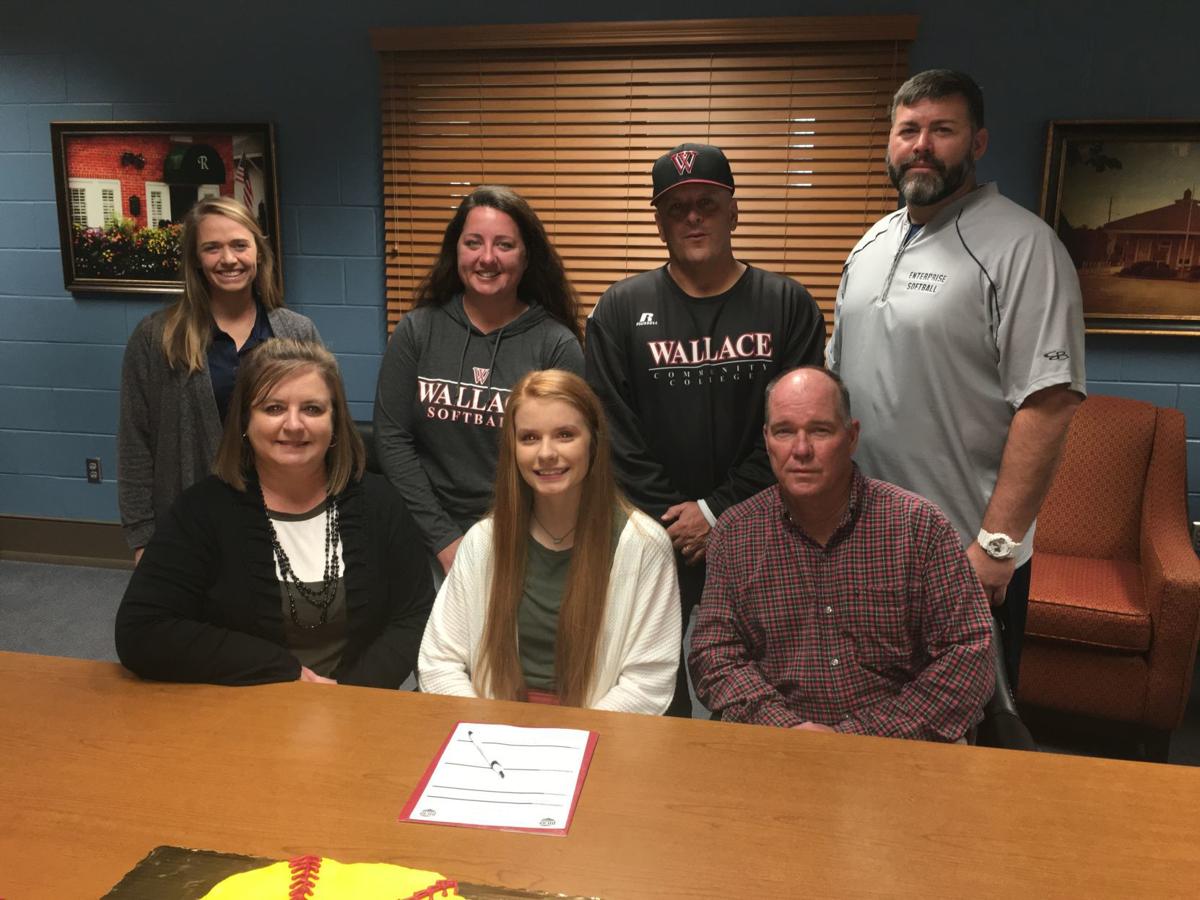 Enterprise softball player Mattie Bowden signed to play for Wallace of Dothan at a signing ceremony at the high school on Thursday.
"I couldn't even put this day into words. It was amazing," Bowden said. "I've been looking forward to this day all my life. I don't even know what to say — the best day."
Surrounded by coaches and teammates and flanked by her parents Alan and Tanya Bowden, the 6-foot pitcher-outfielder may play several roles for the Lady Govs, who have won 50 or more games the past three seasons.
"I've always wanted to play for them," Bowden said of signing with Wallace. "I met (assistant) coach (Clair) Goodson three years ago and I've always wanted to play for her. I went to her camp and she recruited me. I'm really blessed now. They have a really good program."
Bowden's versatility stood out to Wallace coach David Russo.
"I think she's going to be an outstanding defensive outfielder, very versatile, she can also pitch a little bit," Russo said. "Just a great work ethic and an outstanding young lady.
"The first thing I saw that really attracted me to her is she's a really, really, really good defensive outfielder. … She can run the bases. I think her role as a utility player will be a big contributor to our program."
What Russo also noticed on Thursday morning is how Bowden's teammates were genuinely happy for her at the signing ceremony. Enterprise High head coach Kate Stump said that is real and it's every day.
"She will do anything in the world for her teammates," Stump said. "Mattie is a fantastic student-athlete. She plays with a lot of grit. They're just getting a quality, quality person and player with Mattie."
Stump, like Russo, touted Bowden's versatility.
"She gives you lots of options. She can pitch, she can play infield, she can play outfield," Stump said. "She's great at running bases. She has the ability to be a huge role player in many different areas — not just a great pitcher, not just a great outfielder. I think she brings a lot to the table. She's an ideal utility player."
Bowden said her speed is an asset.
"I'm fast on the bases and moving towards the ball," she said. "When I pitch I'm like a drop pitcher. I get a lot of ground balls."
Bowden, who wants to study ultrasonography, was happy to have her teammates at the signing ceremony.
"I grew so much closer to my teammates. We just have so many memories together. They're crazy," she said. "It feels great to still continue my career in softball. I've been playing it for a long time and now, two more years. I'm pretty happy."
Those ties with her teammates are a big part of her favorite Enterprise softball memory.
"It would have to be the Gulf Shores trip every year, because we stay in this really nice condo for days, making all these bonds with my teammates," Bowden said.
"We go out to the beach and play this game, like we kick the ball around. We go in the freezing cold water — and it's usually freezing cold outside, too.
"One time — I'm a redhead so I get burned really easily — I got sun poisoning because I slept on the beach. I had to play the next day, so that was fun."
There are more memories coming as she prepares for her senior season.
Be the first to know
Get local news delivered to your inbox!