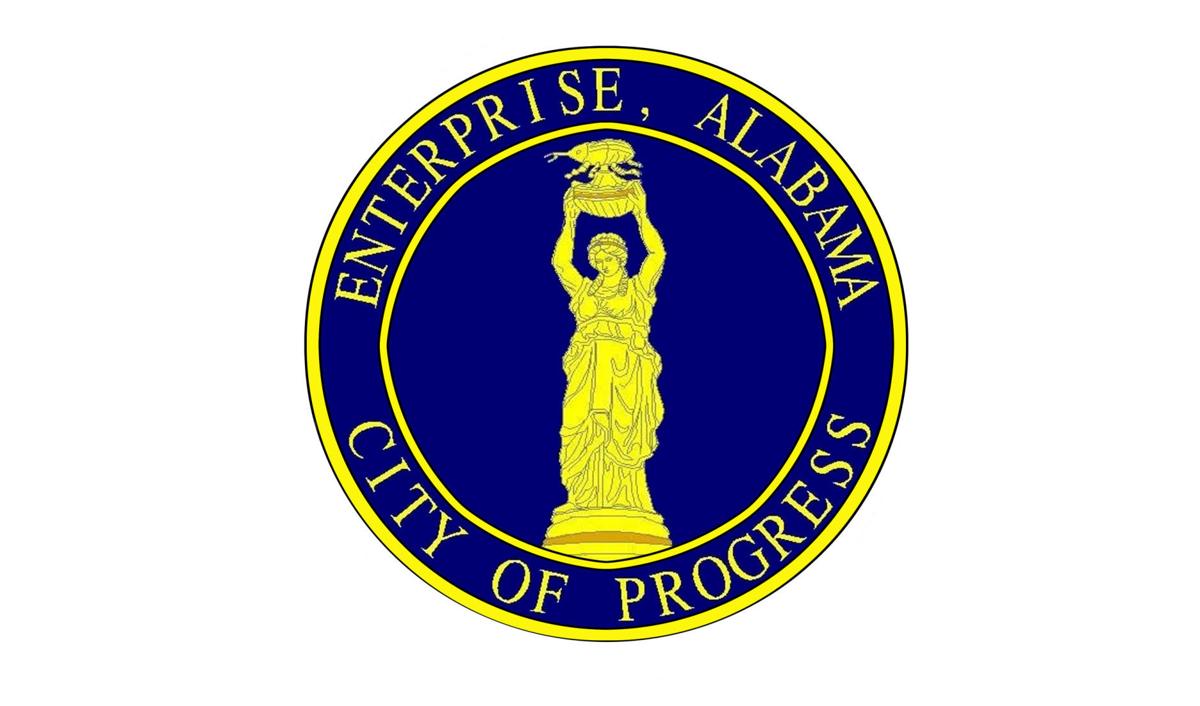 The Enterprise City Council continued to approve improvements for the Enterprise Municipal Airport at its Tuesday night meeting.
Work on and around the aprons has been ongoing for months. The council unanimously approved Interim Director of Engineering Staci Hayes' recommendations for a new terminal building, a new airport fueling system and the hiring of a company for a grant submission and eventual land acquisition services associated with the runway extension project.
Construction of the new terminal building went to Beasley Construction Services, Inc., for $968,500. That includes the base bid of the civil and building packages ($963,000) and the construction of a custom conference table ($5,500).
Beasley was the bid of five submitted. Bullard-Cook, Inc., had a base bid of $985,400 with the custom table addition of $4,300; GenCon Associates, Inc., bid $1,115,622 for the base project and $4,400 for the table; Hollon Contracting, LLC, submitted a base bid of $986,642 and $4,359 for the table; and Wyatt Sasser Construction, LLC, had a bid of $1,006,000 for the terminal and $6,100 for the table.
The new fueling system contract went to Rebel Services for $14,996.69. It will require equipment and installation. Rebel Services outbid QB Technologies, which bid $17,745.
Barge Design Solutions was awarded the work authorization in the amount of $54,383 for preparation and submission of a grant application and land acquisition services associated with the extension of the runway.
In other business, the Enterprise City Council:
Authorized the Mayor to enter into an agreement with International FCStone as the city considers refinancing its bonds at a better rate.
District 4 Council member Al Miller voted no on that authorization, adding he thought other companies besides International FCStone should be considered.
"For the record, I think that anytime the city of Enterprise starts to refinance millions of dollars of taxpayers' money that we need to go out and get request for proposals from more than one underwriter to make sure the taxpayers' money is being spent in a wise manner and they are getting the best deal possible," Miller said.
District 5 Council member Turner Townsend said the city is going through that process and asked Mayor Bill Cooper to bring more than one proposal to the Council before it is time to act.
"Why do we have the gun to our head tonight?" Miller asked.
"This gives us the flexibility to take advantage of current markets. Nobody's holding a gun to anybody's head," Townsend said.
"We're moving fast. Mighty fast," Miller said.
Authorized the Mayor to enter into an agreement with Tyler Technologies for the installation, maintenance and technical support of a computer software system for Municipal Court.
Approved the rezoning of property owned by Michael S. Brooks at 1408 E. Park Avenue from R-85 (residential district) to B-3 (highway commercial district).
Approved a request from Hayes to seek bids for renovations to the existing maintenance shop located at 407 Mills Avenue.
Approved permission to the Engineering, parks & Recreation and Public Works departments to sell vehicles and equipment on GovDeals.com.
Approved permission to dispose of surplus property no longer needed and to authorize disposal in a manner in accordance with state law for Parks & Recreation and the Police Department.
Approved Hayes' request to install a street light on an existing pole at 203 Woodlawn Drive.
Approved upcoming travel requests by the Police Department. Chief T.D. Jones will attend the AACOP Winter Conference in Montgomery Feb. 16-20 at an estimated cost of $1,163.08; FTO Chris Byrd will attend a DRE Instructor Training Course in Montgomery Feb. 17-27 at an estimated cost of $400; Sgt. Mark Anderson and Detective Matthew Saxon will attend a Managing the Property & Evidence Room Course March 31-April 1 for $1,140; Officer Diana Baker will take an Interviews Y Interrogations Course in Meridian, Miss., March 16-20 for /$250; and Detective Tanner Bruhn will take a New Criminal Investigator Course in Trussville May 11-15 for $1,365.
Authorized accounts payable for $398,943.78 for the City of Enterprise and for $94,084.16 for the Water Works Board.
Authorized payment of contract billings to Harrison Earthmovers for $38,040.
Mayor Cooper reported Enterprise Park & Recreation will have its Youth Basketball All-Star team traveling to other cities for district tournaments. Those events, depending on the age groups, will be played in Daleville, Andalusia, Dothan and Greenville. The state tournaments are all scheduled for Trussville March 13-15.
Youth baseball and softball programs are assigning players to teams now. There are 582 players signed up for youth baseball and 207 players signed up for youth softball.
Adult softball and church youth softball registration is scheduled for Feb. 17-20.
The City of Enterprise is hosting the 2020 Dixie softball state tournaments for all age divisions. Those tournaments will bring about 40-plus teams to Enterprise and are scheduled to begin July 10.
Parks & Recreation Director Billy Powell said Enterprise has hosted at least one Dixie state tournament or a World Series every year since 1997.
The Mayor also stressed citizens to be prepared for severe weather in the area this week, including multiple ways to hear weather updates and recommendations.
Townsend used his time for remarks to talk about some new projects that could be headed for Enterprise.
"It's got to the point where we can start talking about these," he said. "We've got a major retail development that is right on the cusp of moving to Enterprise that's going to bring strong national brands that are not currently in Enterprise."
That project has 185,000 square feet with over $70 million in new revenues to the business base in Enterprise, he said. He estimated it could be work $2 million to the city alone and $3.3 million to the schools, county and city combined.
"This is money our citizens, our residents are currently spending, but they're spending it outside of the community," Townsend said. "We're working hard to capture that leakage."
He talked about an 80-bed hotel coming to the city and noted the 50 miles of roads that are being paved in town. He mentioned a new soccer complex that could include walking and bike trails.
"These are things our residents are asking for," Townsend said. "We're talking about doing all this and we're not talking about raising taxes. We're talking about growing the economy in order to pay for the services that the citizens are asking for.
"Traditionally, governments have looked at raising taxes to provide these services. This council, this mayor's been working hard to grow our economy and I think some of the fruits are about to show."
Be the first to know
Get local news delivered to your inbox!