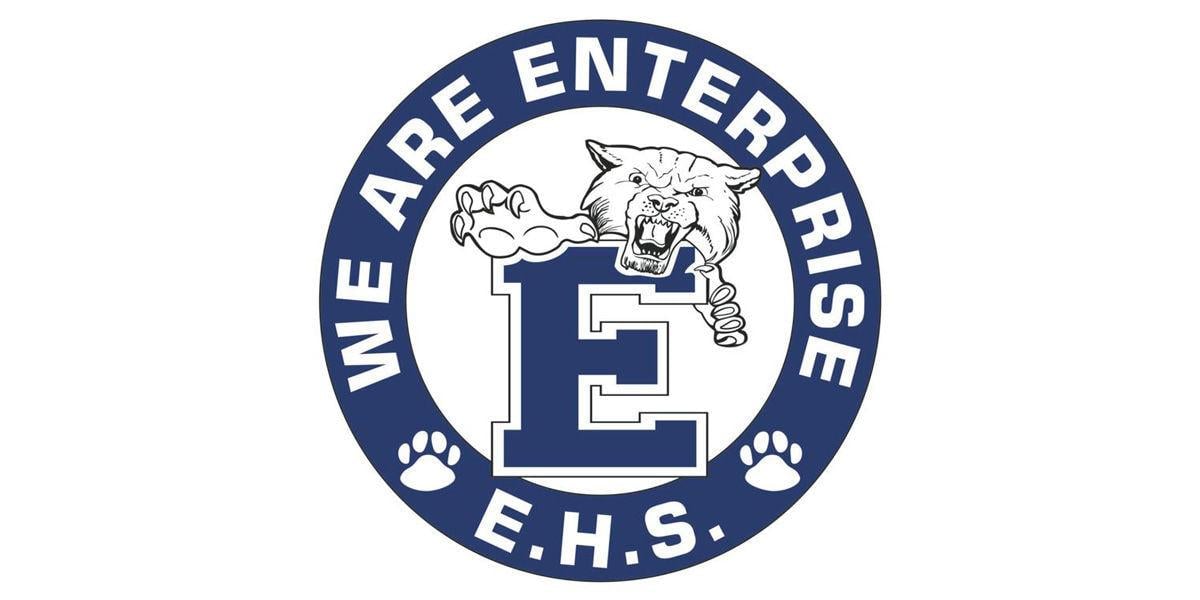 Enterprise High School has announced names and times for its four graduation ceremonies May 21 at the football stadium.
The 8 a.m. ceremony will include the valedictorian, salutatorian, top 10, honor seniors, SGA officers and, alphabetically, graduates with last names Adams through Casey.
The 11 a.m. ceremony will include graduates Caskey through Howell.
The 2 p.m. graduates will range from Hudson through Peebles.
And the 5 p.m. ceremony ranges from Perez through Zinn.
Hard copies of all names and times were posted on the front doors of EHS on Friday.
On Monday and Tuesday from 10 a.m. until 1 p.m. students will be able to pick up tickets for guests to enter graduation. Each graduate will receive six tickets. Non-school age children do not need a ticket.
Students and guests will park in the Red Lot and enter at the ticket booth at the top of Red Lot. The school is asking that students and families try to only bring one vehicle, but two vehicles will be allowed.
From there, students will be separated from the families and the families will sit on the home side and students will walk towards the visitor side. Gates will open 45 minutes prior to the ceremony — that is, either at 7:15 a.m., 10:15 a.m., 1:15 p.m. or 4:15 p.m.
It is imperative that students are at the gate 45 minutes before their ceremony. Any student that shows up after the ceremony begins will not be allowed to participate.
Students should check the high school's Facebook page, web page, or the front doors at EHS for their specific time.
After the ceremony has ended, no guests will be allowed to go on the field. All guests will stay in the stands and will be asked to exit the stands and get back in their vehicles shortly after the ceremony has ended.
Students will be directed to a location after the ceremony to collect final report cards and diplomas. After gathering these materials, students will exit the stadium and walk towards their cars and leave.
The school is asking guests and students to be mindful of the ceremony preceding theirs and leave in a timely fashion for the one following theirs. EHS will need as much time as possible to set up in between ceremonies and need the parking lot empty for the next group, as well.
All seating in the stadium will be first come first serve. The parking spots behind the end zone will be for handicapped parking only. The chairs at the top of the lower section of the stadium are for handicapped patrons only.
Lastly, graduation is a formal ceremony. The school has granted a few liberties for seniors that it traditionally has not done before. It is fine for seniors to decorate the tops of their caps as long as it stays within the guidelines of what is allowed and/or prohibited at school.
Extra caps will be available should school officials deem a cap offensive or not to our standards. Graduates should be dressed for a formal event. Males should wear slacks of a dark color (no jeans) with a dress shoe (no tennis shoes).
Male students will be allowed to wear a short sleeve polo style shirt (white or a light color is best). In the past, male students have worn long sleeve button up shirts with a tie.
Female students should wear dresses or a business style pants suit, but most importantly should wear a low heel shoe or flat. High heels or high platform shoes are discouraged as heels will stick in the turf and platform shoes are a tripping hazard on the stage.
All ceremonies will be streamed. There will be links on the ECS website at www.enterpriseschools.net, or its Facebook page at Enterprise High School.
There ceremony will be filmed and be available to purchase on DVD form. A link for a form online will be made available next week.
Be the first to know
Get local news delivered to your inbox!