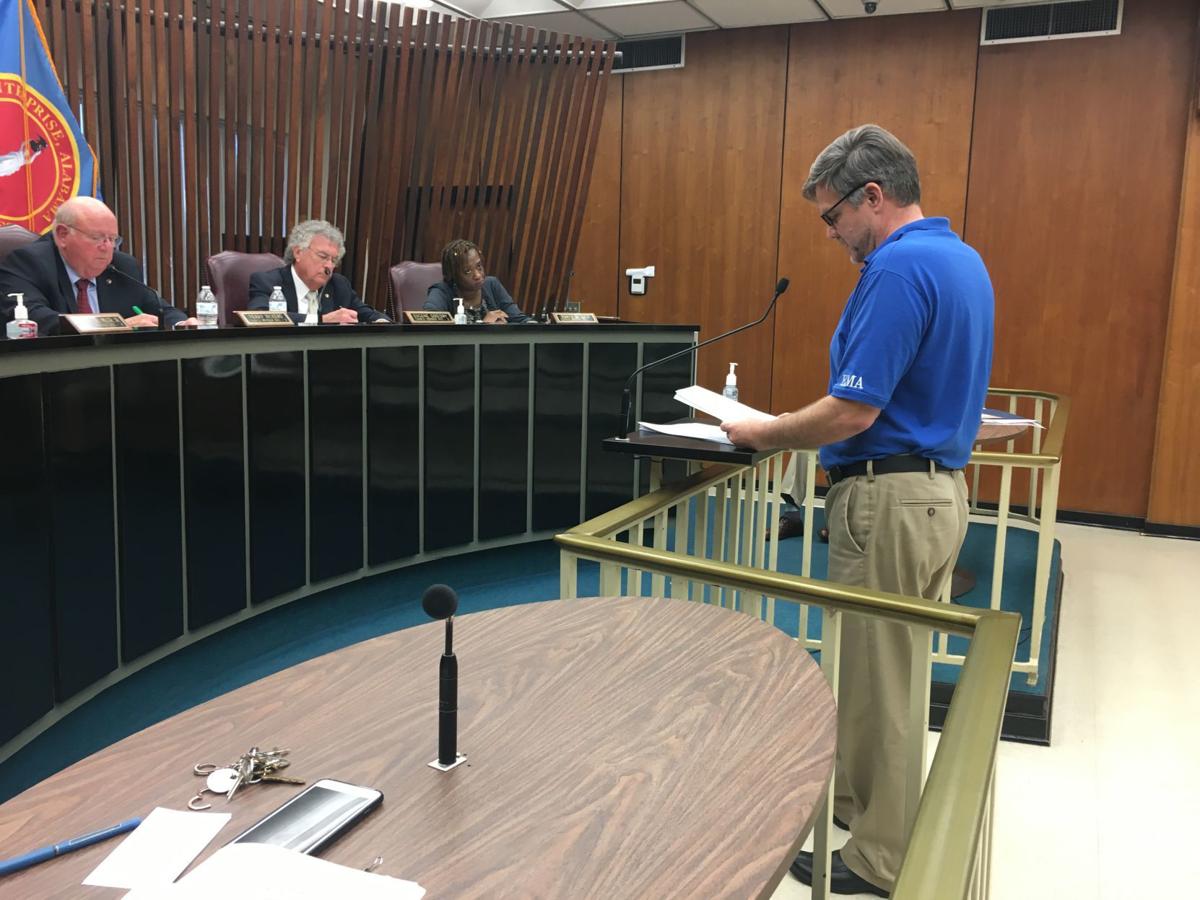 Coffee County EMA Director Dave Brown was happy to report good news that no cases of the COVID-19 coronavirus have been confirmed in Coffee County.
He also had to deliver the bad news in an update to the Enterprise City Council.
"We're just waiting for it to happen here, unfortunately," Brown said at Tuesday night's meeting. "I think it's a matter if 'when' rather than 'if.'"
When that happens, Brown detailed some of the measures that likely will be taken here. He noted the lead agency on this is the Alabama Department of Public Health. Nationally, the Department of Health and Human Services (HHS) is over the crisis.
"Working together with HHS, ADPH will direct what happens in the state as far as restricting anybody from travel, from quarantining people, things like that," Brown said.
"When we get into emergency powers — that the President just gave — that gives us a little more freedom in what happens and what we can do. If we get to the point where we have a case in Coffee County or in Enterprise, we would probably recommend that we also declare a local state of emergency.
"That would allow us to close public buildings. We would not, however, have the ability to close down businesses. We would not have the ability to restrict gatherings of whatever number. Those are all left to the Alabama Department of Public Health and Dr. (Scott) Harris, who is the director of that. Dr. Harris would look at our area and decide what things he needed to restrict in order to keep people from passing on this virus."
Brown explained the phrase "flattening the curve" and its goal.
"What we're trying to do is prevent a big spike in cases and that way we don't want to be overpowered from the medical system so we can still treat everybody that we need to," the EMA director said. "If we had all the cases at one time, we would be overwhelmed. If you take the typical 1 percent rate of mortality and about a 2 percent rate of being hospitalized, and you just figure out if we had 40 percent of our population affected it would overwhelm our system.
"What we're trying to do by using social distancing, by using hygiene, by using all these things that you've been hearing about on the news, we're trying to 'flatten out' that spike so we get infected over a longer period of time and everybody isn't infected all at once. That's why we closed the schools, that's why we're doing things like this."
Brown outlined some of the more aggressive measures that have already been implemented in the northern part of Alabama, where most of that state's positive cases have been confirmed.
"Those restrictions are no gatherings of 25 persons or more unless they can maintain a six-foot distance from each other. They have closed all the senior centers. They're still allowing curbside delivery and pickup of food for that," Brown began. "They've closed all private schools, all preschools with more than 12 children. They've closed any visitors and non-essential health personnel to all the nursing homes.
"They've closed all the restaurants, bars, breweries, etc., except for curbside takeout — but that's all. So that's some of the powers that are given to the health officer and he's able to make these decisions.
"If we have a case down here or get more than one case we would expect these same type of restrictions to come on us. Again, that would be at the total discretion of the health department. The part that we would be responsible for would be closing the public buildings."
Senior citizens have been most vulnerable to the virus. Tougher visitation policies at hospitals and nursing homes have been implemented.
Brown also said out-of-state travel should be cut as much as possible.
Even religious services have been affected. Again, the six-feet distance rule should be observed as much as possible.
Brown said one concern he has now is the limit on personal protective equipment (PPE).
"That's primarily for our health care workers and for our EMS personnel and some of our firefighters go to those areas," he said. "We're trying to find as many masks as we can. HHS has ordered 500 million of them, so hopefully we'll start getting some of those soon. Right now we are pretty low.
"We have requested the activation of what we call the Strategic National Stockpile. That's a federal government thing that keeps a stockpile of medical equipment. They are going to move some of that into here so that we can fill up our supplies where areas are low. There is going to be, however, a priority with that. The first one is acute area in hospitals. The second one is nursing homes. The third one is ADPH because they are getting ready to do collections. So we will be starting tests pretty soon. The final one is our EMA personnel."
Brown said EMA is looking into steps that would make having to go into some public buildings not necessary.
"We're looking at allowing expired carry permits, drivers licenses and tags so people don't have to go in and get them renewed at the DMV," he said. "We're going to see what we can do to do more of it by mail and waive some of the fees that come with that."
What's next? Brown said EMA has worked with the Alabama Hospital Association.
"We think by next week for sure we're going to have 20 collection sites around the state for testing," he said. "Testing is one of the most important things that we can do. Before, it was limited because we didn't have many tests. We still have to report anything that comes in as a positive result, but we don't have to jump through as many hoops in order to get testing done.
"We're hoping soon we'll be able to test more individuals. How that will be done should be coming out soon."
Brown said of the 20 collection sites, two will be in the Wiregrass first — in Houston County and Pike County.
"They're talking about opening a third. It'll probably be in Coffee County, but I can't guarantee that," Brown said. "They're looking at doing some drive-through testing so you can pull up in your car, you don't have to get out and they can test you."
He added that two private companies in the county are performing tests, but didn't name them.
Be the first to know
Get local news delivered to your inbox!