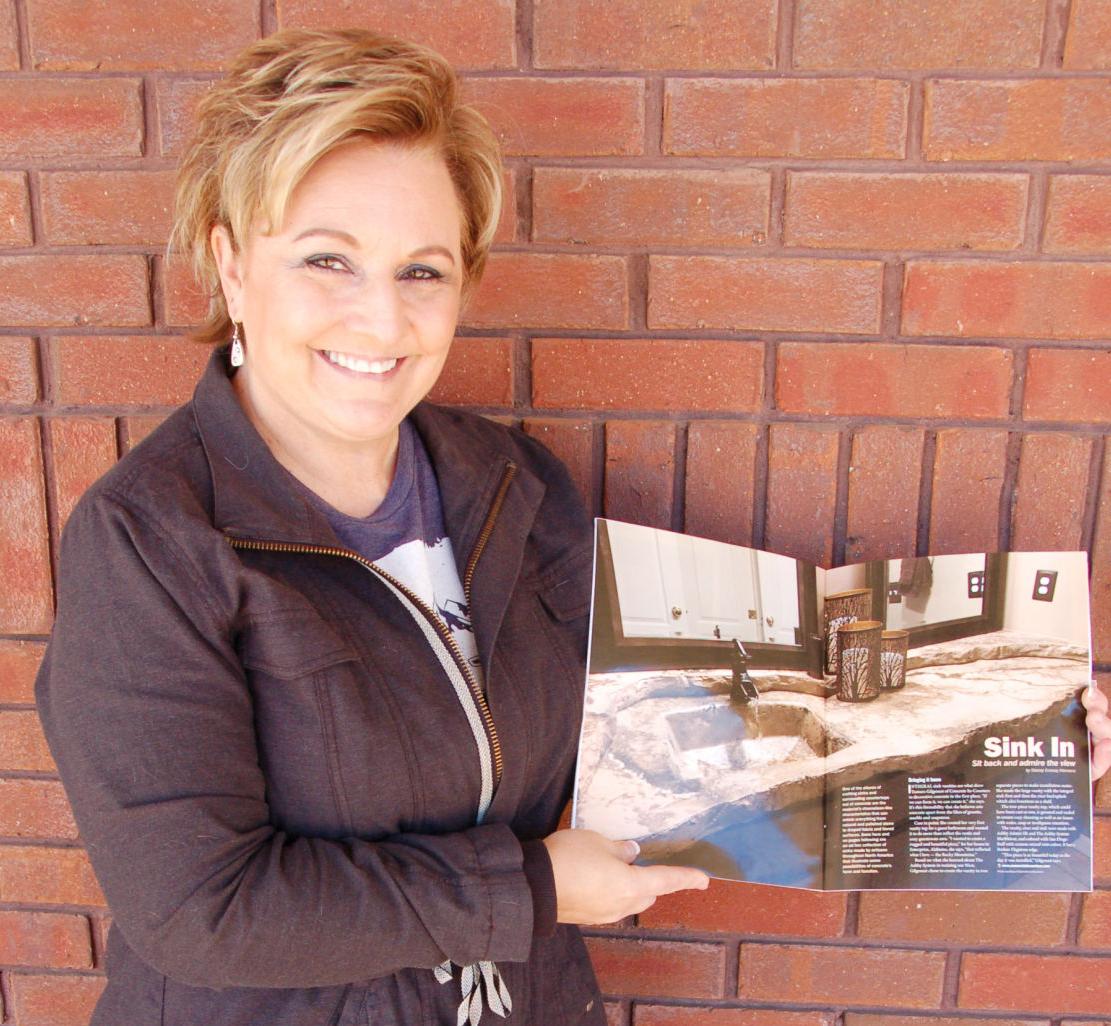 Two is currently a very lucky number for Concrete In-Counters owner Tamara Gilgenast, who recently achieved her second feature in Concrete Décor magazine for her work with sinks and countertops.
Gilgenast, a certified concrete artisan who has been in business for five years, was first featured in the magazine in January of 2018 following a chance encounter with Senior Editor Stacey Klemenc at a Concrete Décor show in Tampa.
"I met the senior editor at the Concrete Décor show down in Tampa, and my instructor who taught me how to do this (Ben Ashby, creator of the Ashby System of concrete work) was also there being inducted into the Decorative Concrete Hall of Fame," Gilgenast said. "He said, 'I've got a student who's doing absolutely beautiful work and I wish you could see her work.' I showed up, we sat down, and over two or three hours she looked through all my photos and portfolio on my iPad and was really impressed. She said they'd love to feature me as an artisan, and it happened, it happened fast. She contacts me when people are looking for concrete designers down in this area."
Gilgenast said that after the first feature article, Klemenc contacted her again earlier this year to inquire about another feature piece.
"She asked us to submit, and we ended up being the lead-in for the whole article," Gilgenast said. "She messaged me and said, 'Hey, we're doing a special sink article and we'd like you to submit some of your finished photos.' Then she selected from those photos and notified me right away which one she wanted to use so we could give the backstory on it. It just went from there."
The selected photo is of a project that holds special significance for Gilgenast and her husband Ralph, both of whom are retired military and now work in the concrete business.
"This piece is in our house, and I miss the Rocky Mountains terribly, so I wanted something that was rustic but beautiful with the integral sink -- I mean, this is what drew me to wanting to do concrete in the first place, the integral sink options," Gilgenast said. "I just wanted something really rustic and pretty in the guest bathroom, and this is my first one I ever did. I was just shocked when she picked this one."
Gilgenast added that the new feature is as much of an honor as the first opportunity was and gives her a platform to share her talent and love of concrete.
"I love what I do, so being featured in something like this is a very humbling experience because you're putting yourself out there," Gilgenast said. "This is a worldwide magazine, so it goes out everywhere, and it leaves me very open to criticism as well as compliments. I haven't received any criticism on it; I'm sure there are people that look at it and go 'Eww,' but what's cool about the concrete is it can take on so many different looks. Someone can look at (this piece) and go, 'Oh, I don't like that,' but they might like something sleek and smooth. Being in there, being featured now for the second time… It gives us incredible credibility, because not many people can say that."
Business is booming for the Gilgenasts too following the articles, she said.
"This is our fifth year, and I believe we are here to stay," said Gilgenast. "We're busy -- we're down at Panama City Beach, up in Prattville, in Auburn, Albany… It's become a very viable product and people love it. It's not the cheapest thing out there, but to me, it's one of the most beautiful, customizable options for people living down here."