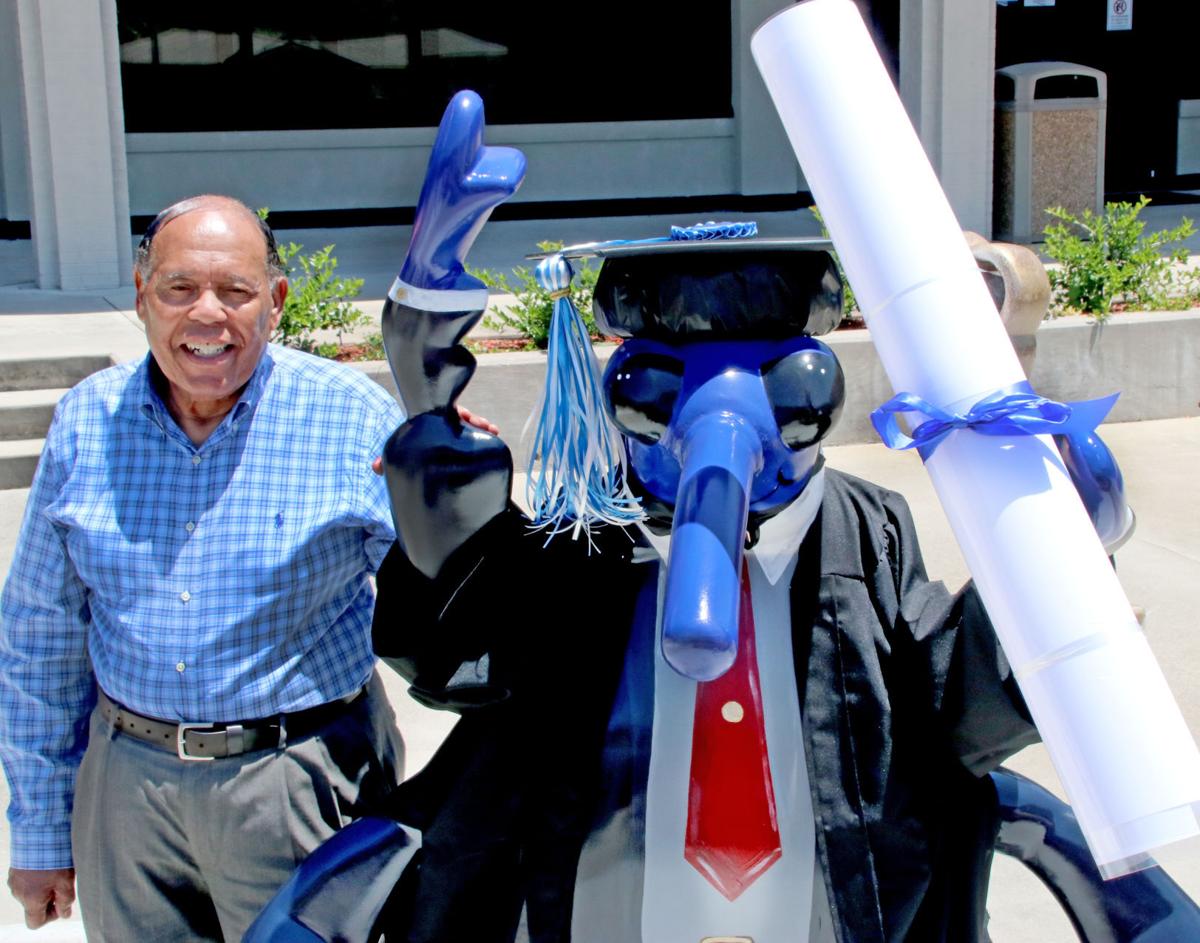 It's that time of year again, when senior high school students make one of the most momentous transformations of their lives.
This week, Enterprise High School students will be taking that step from the familiarity of school and home and start a new journey.
But Enterprise Tourism Director Tammy Doerer hopes the graduates will take a little side trip first. The side trip was mapped out in a collaborative brainstorm by the Enterprise Tourism Department, the Enterprise Chamber of Commerce, Replica Plastics and Go Digital with Donnia.
"The Weevil Way Graduation Walk is a fun social media contest to support the Class of 2020," said Erin Grantham, executive director of the Chamber of Commerce. "The campaign was created to give a shout-out to seniors and support local businesses at the same time, and in a safe manner."
Enterprise Tourism Director Tammy Doerer said the contest provides a whimsical, memorable touch to the last days of the upcoming graduates' senior year, and accomplishes several purposes, Doerer explained.
"First, it is a little adventure right here in our community to help showcase one of our newest tourist activities, the Weevil Way," Doerer said. "Two, this contest supports the graduates and provides some 'stimulus' funding, actually $500, to the winner to help kickstart them onto their new journey. Thirdly, the contest gives graduates who perhaps haven't chosen their path, some ideas to get them started.
"As the seniors travel along Weevil Way, some of the Weevils may represent career paths they may be interested in," she said. "Some of these seniors may one day own a restaurant, be a pharmacist, a realtor, an orthodontist … or they may aspire to be mayor of our beautiful city. Whatever the case may be, we just want them to have fun and make great memories to look back on one day."
Whether they will pursue a college degree or enter the working world, they will have choices to make, new goals to set and new responsibilities to live up to.
"They are entering a whole new world," said Doerer in anticipation of the May 21 EHS graduation. Ceremonies will be conducted much differently than the traditional gathering of all class members and their families. This year, graduation will be conducted in four ceremonies of four groups in order to follow COVID-19 safety guidelines.
"The road to this Thursday's graduation hasn't been an easy one, and one that these graduates never expected to travel," Doerer said, noting the school shutdown two months ago, the virtual classroom and the cancellation of most of the classic events that make the senior year special.
EHS seniors can play by having their photos taken with the Weevils of Weevil Way, a self-guided tour activity created last year during the city's Centennial Celebration for the Boll Weevil Monument. The 6-foot Weevils designed and sold by Replica Plastics are dressed and embellished to showcase the businesses they represent around town. Weevils include the Mayor Weevil and Officer B. Weevil stationed at City Hall, Wattsworth Weevil at Alabama Power Company Hom-er at ReMax Realty and TWeevil at TW Orthodonics of Enterprise.
The more Weevils the seniors have their photos taken with, the more chances they'll have of winning the $500 prize sponsored by Replica Plastics and Weevil Way.
The contest started May 15 and a winner will be drawn May 29.
See the full participation details below:
Calling the Enterprise High School Class of 2020!
Weevil Way would like to invite you to participate in the Weevil Graduation Walk Contest
• Dates of Contest: 15-28 May
• Who can participate: EHS Seniors/Class of 2020
• The contest is brought to you by the Enterprise Tourism Department, the Enterprise Chamber of Commerce, Replica Plastics and Go Digital with Donnia
• Each Weevil has a QR Code that can be scanned and a hang tag with the contest rules and instructions.
• Find the Weevils along Weevil Way by logging onto our website www.WeevilWay.com or scanning the QR Code on each Weevil.
• Take your photo with the Weevils around Enterprise.
• Create a picture collage with your photos.
• Go to our website, www.weevilway.com, and submit your entry by midnight on the 28th of May.
• Take photos with as many Weevils as possible. Each Weevil you are photographed with qualifies you for an additional entry into the drawing increasing your chances of winning. . The more Weevils you take pictures with the better your chances are of winning the $500 prize. Sponsored by Weevil Way and Replica Plastics.
• We will draw the winner's name live on the Weevil Way's Facebook page, Friday, May 29.
Be the first to know
Get local news delivered to your inbox!