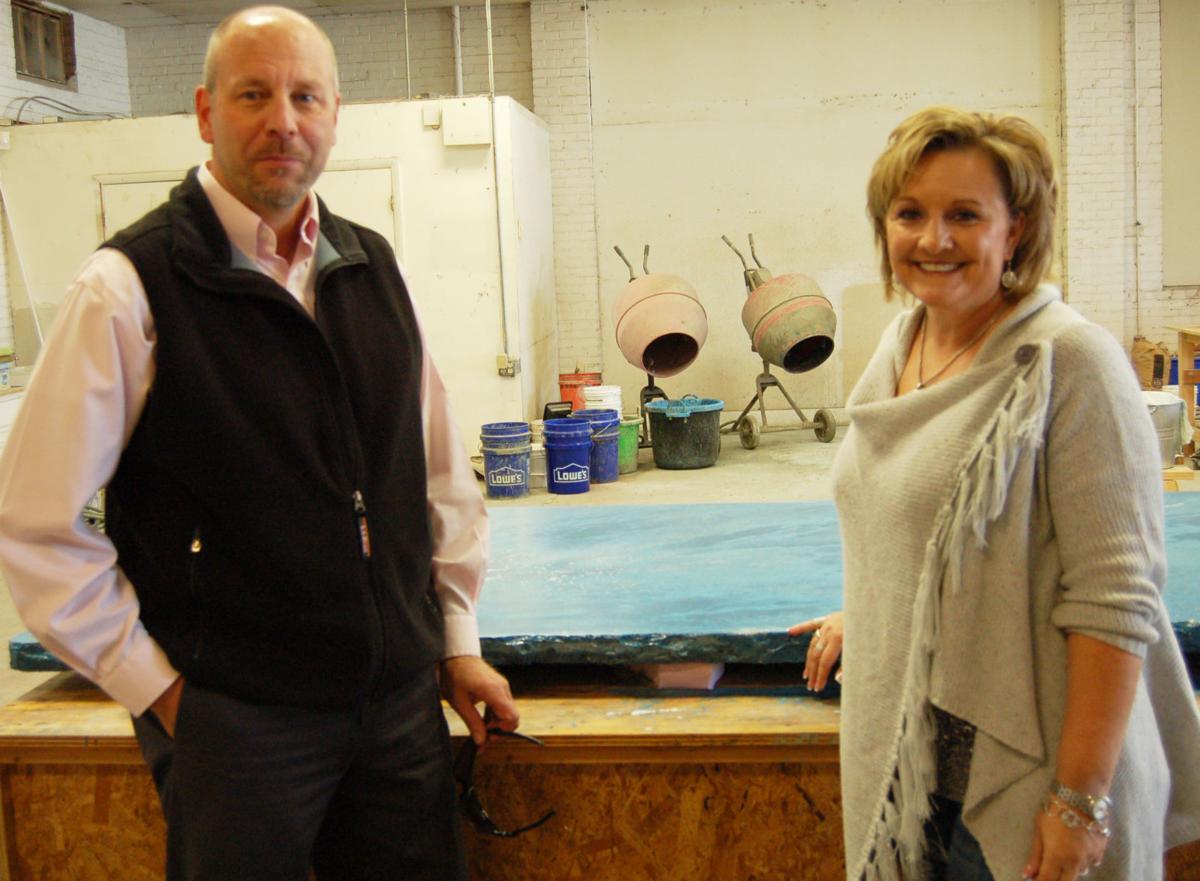 The word "concrete" may summon up images of a flat, dusty, dull gray surface at first thought, but Tamara and Ralph Gilgenast are proving that there is much more to concrete than meets the eye.
The Gilgenasts, who own and operate Concrete In-Counters in Enterprise, have spent the last four years crafting beautiful concrete countertops that look like natural stone. Tamara's passion for concrete and her work with the medium recently landed her a feature article in the January 2018 issue of Concrete Décor magazine, an experience she said was somewhat sudden but very welcome.
"I went to the Concrete Décor show in Tampa, and the creator of the Ashby System, Ben Ashby, was inducted into the decorative Concrete hall of Fame at this last show, so I went down for that," Tamara said. "While we were at the show, we ran into the senior editor for Concrete Décor magazine, and Ben introduced me as one of his top students and told the editor to look at my work because it's amazing. So I sat down with Stacy and she looked at pictures, and she was incredibly impressed, and asked me then if I would be willing to be one of their featured artisans at some point. I said, 'sure.' I got the call a lot sooner than I expected, but it's a huge honor to have been asked and to have it happen. I think it's important that people understand the level of quality of this particular system in what I do, and this article completely legitimizes what I do."
The system the Gilgenasts use to give their concrete such a unique and natural look is known as the Ashby System, named for its pioneer, Ben Ashby. According to Tamara, Ben Ashby and HGTV were the two catalysts that got her into the concrete décor business at the start.
"I watched a lot of HGTV when I quit my job at Fort Rucker, and I was just enamored -- I absolutely loved the concrete countertops and beautiful integral sinks that they would bring out," Tamara said. "So I started researching more about it, how I could make this myself, and when I told Ralph what I wanted, he said 'Well, you'd better figure it out.' I think he figured it would keep me busy for awhile to just try, but I came across several different classes that were available, and I absolutely loved the looks of the Ashby system, so I went out to Las Vegas for training. I was initially certified upon completing my first course, but I've been to several advanced courses."
Ralph Gilgenast added that the Ashby System is completely unique and delivers a level of craftsmanship no other system has mastered.
"It's a chemical make-up that he's put together to produce that look," Ralph said. "Anybody can pour a sheet of concrete, and they can tabletop it, but to get what this does and have it where it lasts… This will last forever. It's literally art in concrete. No two pieces are ever going to be alike -- they can look similar, but it's not going to be identical. Quality concrete is not cheap, but if you want something unique, this can be formed and customized -- that's the difference."
Though Tamara's work in concrete has won her acclaim, the business hasn't always been easy. Certain challenges and circumstances provided complications she had to work to overcome early on.
"At first, the most challenging thing was being a woman in what they say is a man's world," Tamara said. "But I also dealt with the fact that somebody locally was doing some bad concrete, and decorative concrete had been stigmatized here, very stigmatized. When I first came out and told people what I was going to be doing, I had a lot of good friends that asked me, 'Are you crazy? Why do you want to do that?' I said 'because I love it, because I absolutely believe in this system.' So I just kept going, and there are enough people out there who've been looking for it, and it's kept us going. It's finally coming around now."
The Gilgenasts, who are both retired military, said their honesty and love for what they do sets them apart in the concrete décor business.
"You get an honest deal here," said Tamara. "We're military, part of the military community, it's a privately-owned business and we're both veterans -- I served and he served. We carry on a very honest business -- we are on time, and we are on target. If I say I'm going to be somewhere, I'm there. We deliver as promised, we back up our product, and we absolutely love what we do. We're really putting ourselves out there, putting something we love out there. But I've been doing this for four years, and I made it in Concrete Décor magazine, and I love what I do."