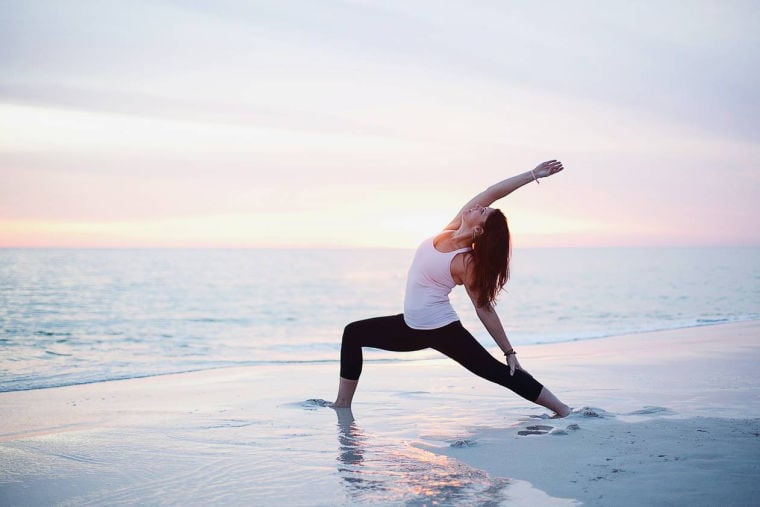 A former self-professed class clown during her high school days at Enterprise High School, Sally Wilkerson's health issue was no laughing matter.
Now, at 37, Wilkerson has come home to Enterprise carrying a smorgasbord of activities and 136 pounds less pounds on her frame.
Wilkerson has teamed with Lauren Lewey to give two free yoga classes a week for Get Fit Enterprise, beginning Tuesdays and Thursdays at 8:30 a.m. at the Enterprise School of Dance at North Pointe Center. Wilkerson, who became a certified yoga instructor in November, will teach classes four evenings a week in her hometown, then travel to Seacrest Beach, Fla., to do likewise on the beach.
"This is home," Wilkerson said. "There are 20 yoga instructors on the Florida beach, but Lauren is the only one here, and our energy together is special."
Wilkerson was recently featured in People Magazine's "Half Their Size" issue. On People's online version, Wilkerson is interviewed by her sister-in-law, actress Melissa Joan Hart of Sabrina, the Teenage Witch fame. Hart married Wilkerson's brother, Mark.
A 1994 graduate of EHS, Wilkerson went on to get a degree in public relations from the University of Alabama-Birmingham in 2000. She became a pharmaceutical rep, working Alabama and Florida territories. However, when her brother and sister-in-law began having babies, she moved to Los Angeles to help out, remaining in the sales business.
Hart eventually convinced Wilkerson that she should do something on the television and movie sets that included her love for fashion. When Hart began filming in Atlanta, Wilkerson followed and began working in the costume department on a variety of sets.
"My love of fashion kinda comes back to my weight-loss because in high school I could never shop at normal stores," Wilkerson said during as visit to The Ledger earlier this week. "I was a size 22-24. There was only one store over in Dothan and I always wanted to shop where the other girls went. When I lost weight, I had the desire to be into clothes."
Today, Wilkerson is a size 6-8.
"With Melissa being an actress, I'd look at her to see what she had on and say, 'Hey, wear that,' or 'Don't wear that.' It became a hobby. I never knew what all went into doing a television show. There are so many facets in the movie business."
Wilkerson's parents still reside in Enterprise. Walt is a longtime CPA, while Jennifer had a dance studio in town.
Wilkerson moved to Atlanta during a one of Hart's sets, and stayed on as a Set Costume Designer and design Assistant for such movies as The Blind Side, Zombieland, Vampire Diaries, Flight, and The Three Stooges.
"I honestly don't think I would have left the business except that you work about 72 hours a week for five days," she said. "You have time to go sleep, maybe do laundry. Some mornings, I'd get up at 2:40 to be on the set by 5. It's a challenging lifestyle."
During her stay in Los Angeles, Mark Wilkerson, a former football standout at EHS, took his sister to her first yoga class, a Hot Yoga class where the room temperature is set between 95 and 105 degrees. She later joined Yoga Booty Ballet, a combination dance and yoga class. Both her mother and sister, Holly Wilkerson Cole, had been excellent dancers and both had been crowned at one time Alabama Junior Miss.
Mark Wilkerson would become immersed in music, but at 6-4, 185 pounds, he knew that yoga had given him more power and flexibility. Former NFL star Terrell Owens was a member of the same yoga class with Sally Wilkerson.
"On the weekends, that was my release," Wilkerson said. "I found a teacher in Atlanta, so that was my escape there, too."
During a vacation to the Florida beach, Wilkerson was persuaded to leave the movie business, turning down a chance to work on the set of Identity Theft to work on a new line of clothing. While at Santa Rose Beach, she said she made a trip to the beach that changed her life.
"Balance Health Studios," she said. "I took a 10-month course to become a yoga instructor; teaching, training, studying chiropractor and wellness. I made my schedule around yoga. I completed the training two years ago. I started teaching in August and became certified in November. My goal is to get people healthy.
"I lost 136 pounds. I'm passionate about it because I've been there."
Wilkerson became an independent distributor of Herblife, attending a nutritional boot camp in Minnesota.
"It's about lifestyle and what you can do 80 percent of the time when 20 percent is fun," she said.
At the classes taught by her and Lewey, a variety of levels are offered.
"If you're committed and want to take it a step further, I am committed to help you on your journey," Wilkerson said. "Every pose has modifications. There's a difference between pain and the burn you feel from growing stronger."
The classes are predominantly women, but Wilkerson noted that she hopes to get enough men involved to have a men's power hour. She said such professional sports franchise as the Super Bowl-bound Seattle Seahawks and the 2012 World Series-champion San Francisco Giants have mandatory yoga classes.
Wilkerson said she offers health and wellness coaching with Herbalife.
"I've reinvented myself so many times," she said. "I have found my passion. Julia Child didn't start cooking until she was 37. I'm 37."
Wilkerson can be found on Facebook at Sally A. Wilkerson. The Get Fit Enterprise classes taught by Lewey and Wilkerson can be found at www.poweryogaal.com, or by calling 334-390-0506.