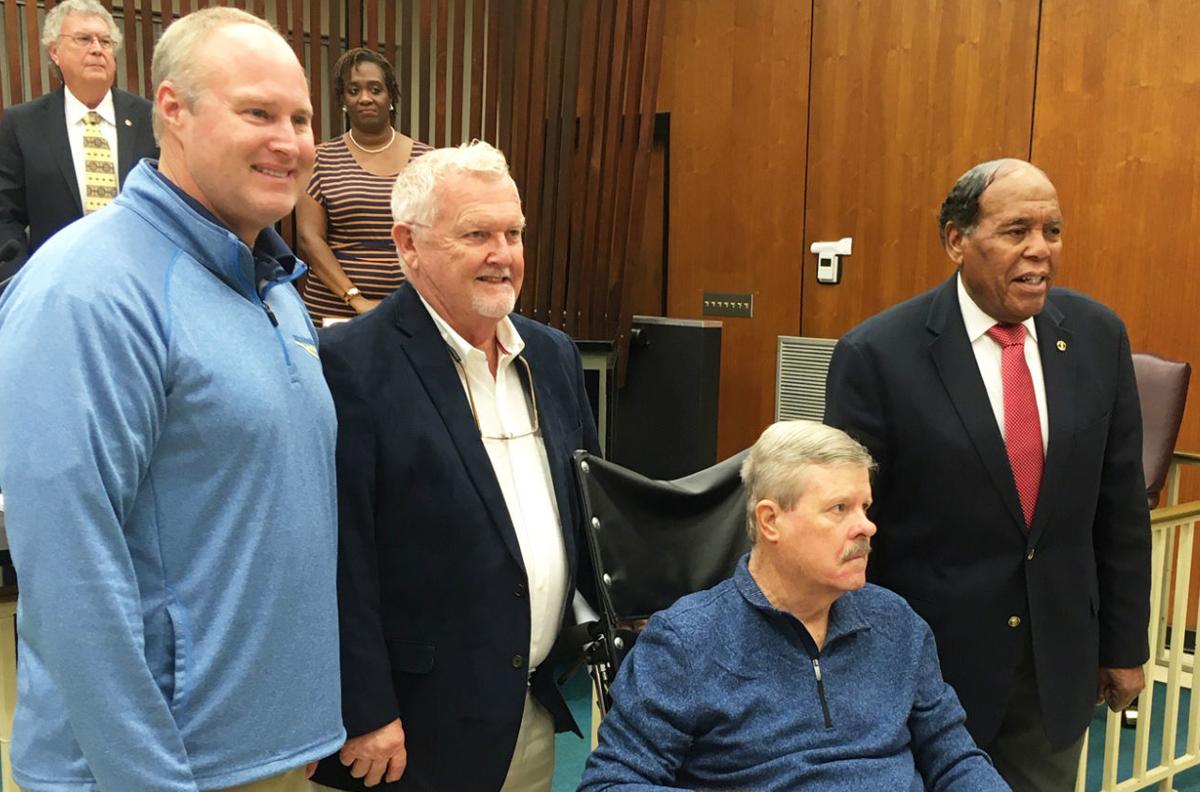 Local tennis instructor and advocate William "Bill" Morris will have the tennis courts at Enterprise's Donaldson Park named after him.
Members of the Enterprise City Council Tuesday night voted unanimously to adopt Resolution 11-19-19-A, allowing for the courts to be named after Morris and for Billy Powell, Parks and Recreation director, to begin working to make the change happen.
Cost of the change will be shared with the Enterprise Tennis Association (ETA).
Morris has taught tennis since the early 1990s, and he impacted hundreds of athletes in his time as a tennis instructor. Frank Zerbinos, of ETA, said Morris had an impact on several players and was instrumental in athlete development leading to several Enterprise High School state championship appearances in recent years.
Among those players, according to Zerbinos, are professional Janie Hampton, James Madison University head coach Shelley Godwin Jaudon and assistant coach at Mississippi Gulf Coast Community College Sam Blackburn.
Due to health complications, Morris is not expected to return to coaching.
"We've been working on this for a long time and I do appreciate everyone's support," Zerbinos told the council. "Bill (has impacted) hundreds if not thousands of kids. If you put the number of lessons he gave (since the early 90s), I know it's in the thousands. Kids that went on to play professional tennis, college tennis and being coaches. We're just so pleased that we finally can recognize Mr. Tennis here in Enterprise."
Morris received a standing ovation during the council meeting for his work to benefit the community.
Enterprise Mayor Bill Cooper said Morris did an "outstanding job" impacting the youth of the area, and each council member thanked Morris for his service.
Zerbinos told The Ledger that ETA "intends to undertake an ambitious fundraising initiative" in the future that includes steps after the name change to the William "Bill" Morris Tennis Complex.
Those steps include the purchase and installation of shade structures at the courts, as well as a tennis rebound board and additional court amenities as needed. Plans also include purchasing and installing a City of Enterprise Boll Weevil in full tennis apparel with a racket.
Zerbinos said ETA will "continue to support court and facility improvements for the benefit of tennis in our community and the Wiregrass."
Regarding the fundraising initiative, it has not been finalized but the initial concept is to offer different levels of sponsorship for individuals — with the goal being to get as many of Morris' former students to sponsor the basic level amount — and corporate-level.
ETA is a 501-c-3 tax exempt organization and donations and contributions are tax deductible. For more information, contact Zerbinos at zerbinos47@hotmail.com, or by phone at 334-447-8092.
Be the first to know
Get local news delivered to your inbox!