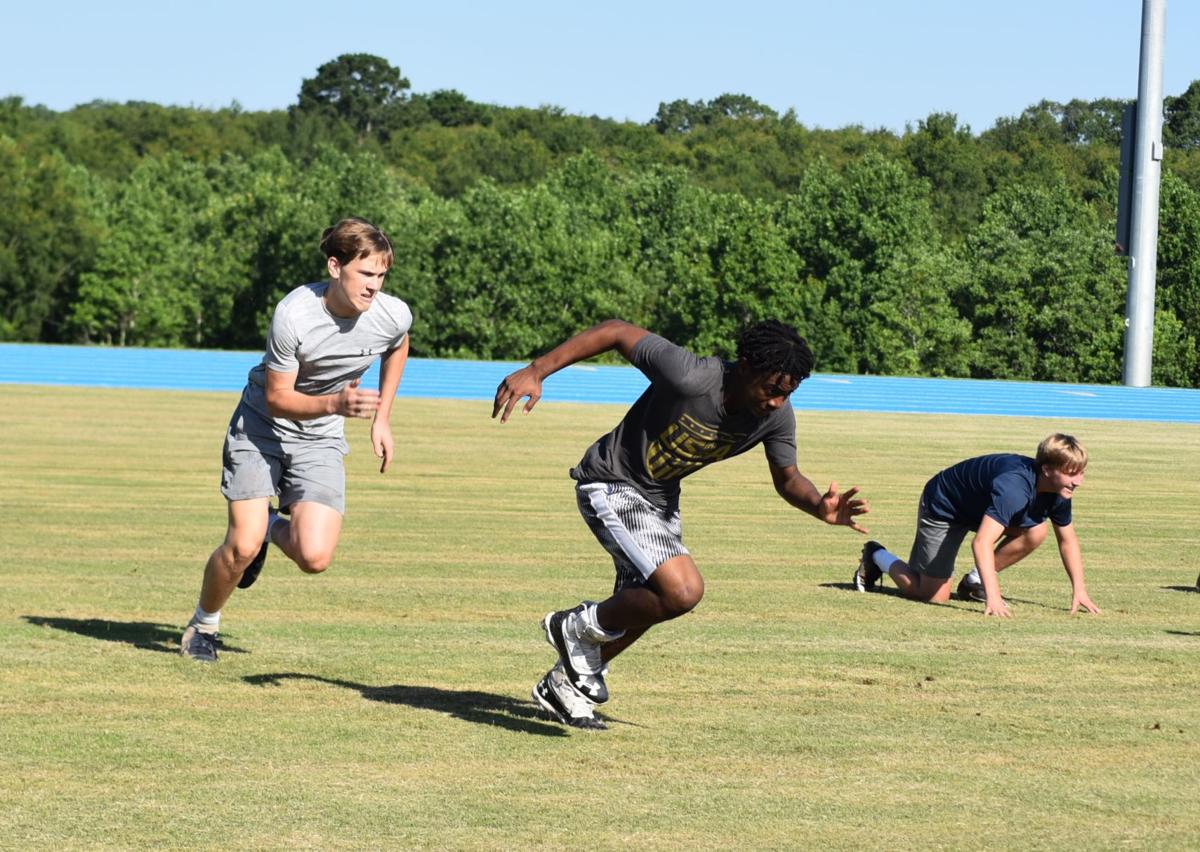 The Enterprise Wildcats enter their fourth week of summer workouts and head coach Rick Darlington.
"Well, they're eager to work," Darlington said over the weekend. "I mean, it's kind of like we picked this up after the break like we were before the break."
The team worked out in the early offseason from December and January through mid-march — before COVID-19 sacked the school year at that point.
With the resumption of workout this month, Wildcats coaches were eager to see their players return.
"The first thing we were concerned with was losing speed," Darlington said. "We trained so hard on the speed from December until March. But, actually, 38 percent of our players got faster when we timed them (recently). Only 10 percent got slower. Those are probably the boys that sat on the couch and ate PopTarts and Twinkies for three months.
"The speed was good. We've got to build back up some strength and then try to catch up on the straight football that we lost."
The Wildcats work on all three phases — speed, strength and, of course, football skills. Each one is crucial.
"The kids didn't lift weights for 2½ months," the coach said. "Any (strength) gains that we had made from December through March probably aren't there anymore. We've got to get a new baseline and start building up from that.
"We want to get as strong as we can as fast as we can. We can't sacrifice time in the weight room just to catch up in football. We can't stop the other things. They're too important. It's still all those phases."
There is time to work on all three areas. The Wildcats will work the next two weeks, then take week following the Fourth of July off.
"Then when we come back we'll only have two weeks until we start," Darlington said.
The coach also noted that July will offer more extended football time.
"June, we're not going quite as long as we might next month because we have so many kids that play football and basketball," Darlington said. "The kids that do both, they come in at 7:30 (a.m.) and do football until 10:30 and then go to basketball at 11. We've got to get them out of there on time to get them in with (head coach) Rhett (Harrelson) to do basketball.
"I think Rhett's going to take more time off in July, so we won't have to have that out-of-here-by-10:30 mentality with the crossover kids, we'll call them. Right now, our freshmen are coming in at 11, when the basketball kids go to basketball and the other varsity kids are done. We'll have more time to take our time and not rush as much in July."
Darlington said the relationship between he and Harrelson benefits both programs.
"It's great to be able to share the football and basketball kids," the coach said. "I know Rhett likes it; I like it. I think out of 30 basketball players in his programs 17 play football. That's pretty rare. I know that we definitely want the basketball-football kids and I know he does, too. We do a good job of sharing them."
Darlington also spent some of the past weekend sharing ideas with fellow coaches at a clinic. Enterprise hosted the National Single-Wing Symposium.
"It was good. We had about 40 coaches in from around the country — Indiana, Tennessee, Maryland, Virginia, Georgia, North Carolina; pretty much the East," the coach said. "We had some speakers and stuff like that. It was just single-wing coaches."
The Enterprise coach discovered most of the national guys still haven't reunited with their players.
"Everyone's concerned because they're not like Alabama. Most schools haven't gone back yet," Darlington said. "Florida's saying July 6. Virginia, nothing. So most people haven't seen their kids in about four months. We're ahead of the curve there, thank goodness. I'm glad Alabama's doing it the way it is."
Be the first to know
Get local news delivered to your inbox!