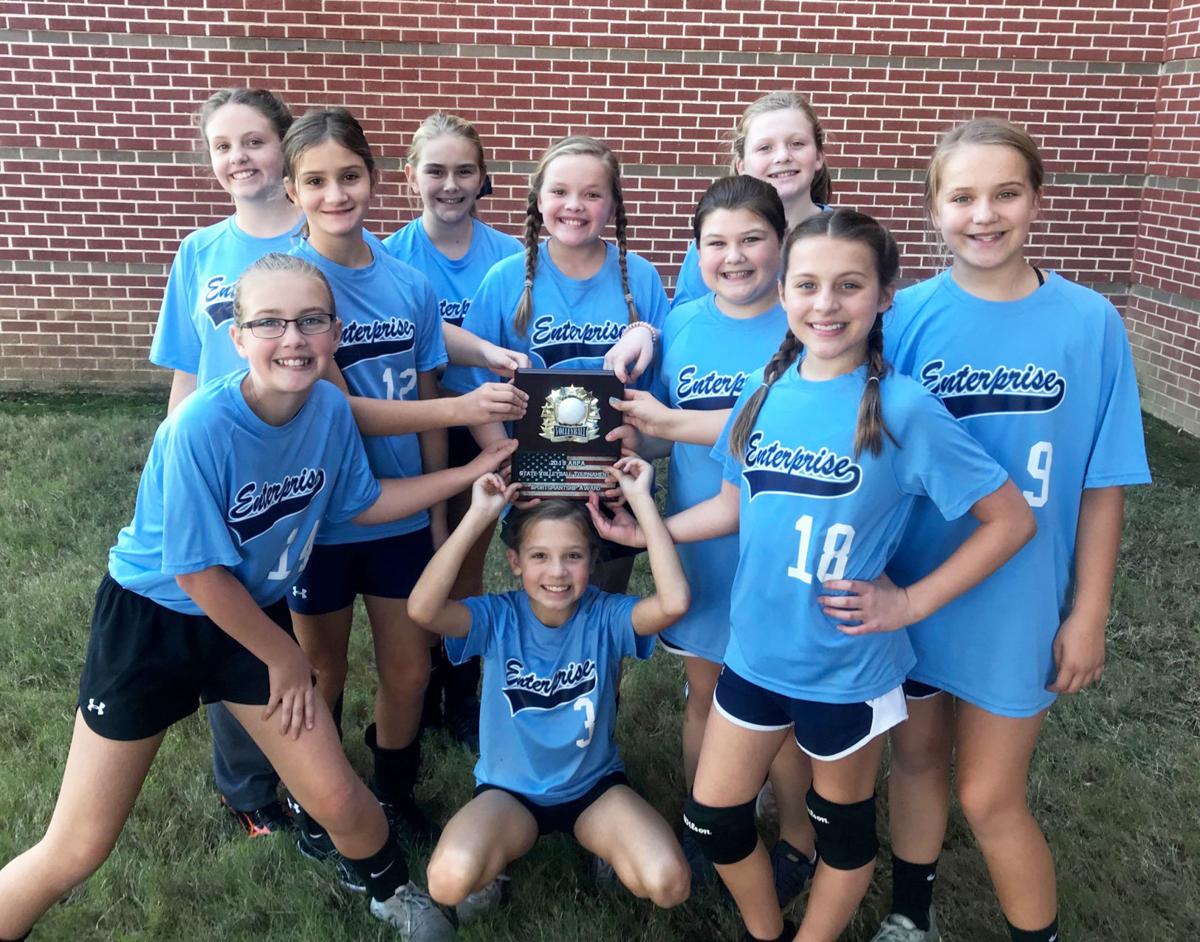 Enterprise Parks and Recreation, for the first time ever, sent teams to the Alabama Recreation and Parks Association Volleyball State Tournament, held in Jasper on Saturday.
Both Enterprise all-star teams — one made up of third- and fourth-graders and the other of fifth- and sixth-graders — were the only teams south of Montgomery represented at the tournament. A total of six teams competed in the third/fourth grade state tourney; 12 teams in the fifth/sixth grade tourney.
According to Enterprise Parks and Recreation Assistant Director Blake Moore, the eventual first-ever feat began as a vision two years ago.
"I noticed the success we were having with volleyball on the high school level at EHS," Moore said. "I went to see EHS head coach Janie Wiggins to see what we could do to bring volleyball to the rec department. We noticed for a lot of girls, the first time they ever picked up a volleyball was in seventh grade."
The department decided to offer a volleyball clinic for third-sixth grade, which would meet one day a week for six weeks.
"Coach Wiggins provided her staff and girls to help with the instruction and to get it off the ground running," said Moore. "Our first year of the clinic was a success, and it garnered 47 girls. With the success of that first year, we knew we were on to something and we were beginning to grow the sport."
This year, 78 girls signed up to participate in the volleyball clinic.
"We grew so much, and only having one net at the old Coppinville gym where we held the clinic, we had to break it down into two different days," he said. "We had the third and fourth grade on Monday and then the fifth and sixth grade on Tuesday nights. Coach Wiggins still provided her varsity, junior varsity and freshman teams to help out with the clinic, as well as two coaches who played at the college level in Rylee Segrest and Kris Clay."
Because of the growth, Moore said, the decision was made with Wiggins to draft a third/fourth grade all-star team and a fifth/sixth grade all-star team to play in the ARPA State Tournament — a tough task due to the short period of time from completing the clinic to drafting girls on a team, practicing and then going to play.
Segrest decided to coach the third/fourth grade team and Clay coached the fifth/sixth grade team.
"These girls only had five practices to get ready to go play in the state tournament," said Moore. "For some of these girls, it was the first time they have ever played in a volleyball game."
Moore added that there were "no expectations" heading into tournament play.
"I, for one, just wanted to see how far off our program was compared to everyone there," he said. "I knew that most of the teams there had already established programs and it would be tough competition."
The fifth/sixth grade team played Russellville, Jasper and Haleyville. They finished 0-3, but Moore said they competed close in every game and played hard to represent Enterprise well. For their efforts, they received the 2019 ARPA Volleyball Sportsmanship Award.
The third/fourth grade team, Moore said, "blew the doors off my 'no expectations.'" They scored wins over Russellville and Sylacauga before eventually falling to Winfield.
They took home third in the state.
"I have never been prouder of two groups like I am with both of these volleyball teams," he said. "Both teams competed well and represented Enterprise in a first-class way. They will always go down as the first-ever teams we sent to the state tournament. Many teams at the tournament were so surprised that we formed two teams out of a six-week clinic and performed as well as we did.
"I got the answer to my question of how far off our program was compared to others in the state — not that for off."
Moore said both teams enjoyed the experience and the parents and coaches were wonderful.
Looking forward to the future, the vision for volleyball continues to grow.
"We recently installed two volleyball courts in the Moose Hope Gym to continue with volleyball clinics and leagues," said Moore. "I cannot thank Coach Janie Wiggins enough for her passion and excitement for the game and her help in getting our program started at the Rec Department. I also want to thank Rylee Segrest and Kris Clay for their passion for the sport and helping us form our first-ever all-star volleyball teams.
"Volleyball is a sport that is growing, and we look forward to being back in the state tournament next year."
Be the first to know
Get local news delivered to your inbox!